2018 FIFA World Cup: Know all about Spain squad
2018 FIFA World Cup: Know all about Spain squad
May 21, 2018, 07:14 pm
2 min read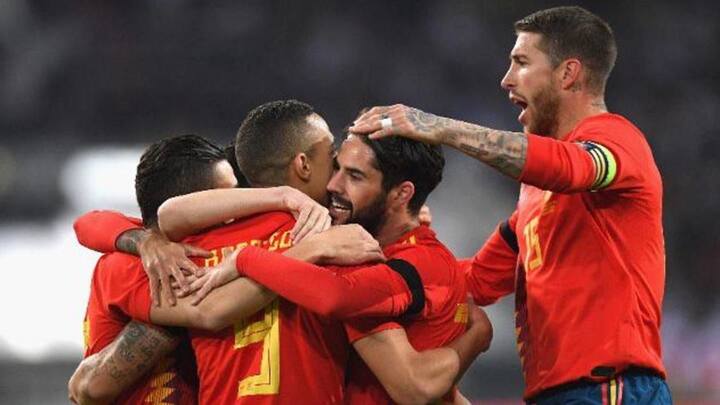 Spain announced their 23-man squad for the upcoming 2018 FIFA World Cup in Russia, which starts from June 14. It's a blockbuster squad with several Spanish club players. There were some notable names who missed out but given Spain's depth, one feels it would have been the attributes in key areas that determined the selection. Here is more about Spain's team.
Host of Premier League players left out
Only four players made the cut from the Premier League. They are David de Gea, Nacho Monreal, David Silva and Cesar Azpilicueta. But the striking name to miss out is Chelsea striker Alvaro Morata. Spain manager claimed that they did not want four players upfront. Even the likes of Marcos Alonso, Cesc Fabregas, Pedro and Hector Bellerin didn't figure in the final 23-man list.
Players from La Liga top three make merry
Real Madrid have a total of 6 players in the squad. Barca follow suit with four and Atletico have three. 13 players from La Liga's three big giants show the feature of this side. Spain are expected to wonders in this World Cup.
Spain go in as favourites
Spain, with all the richness in the squad, go in as the favourites. Even if they would have gone with players who have been omitted, they would still have been one of the better sides. This is the depth this Spanish side boast of. The 2010 champions kick off their campaign against Portugal on June 15 in Sochi.
The 23-man squad of Spain!