Englishman behind Archer's racial abuse? Kiwi fans say so
Englishman behind Archer's racial abuse? Kiwi fans say so
Nov 28, 2019, 04:12 pm
2 min read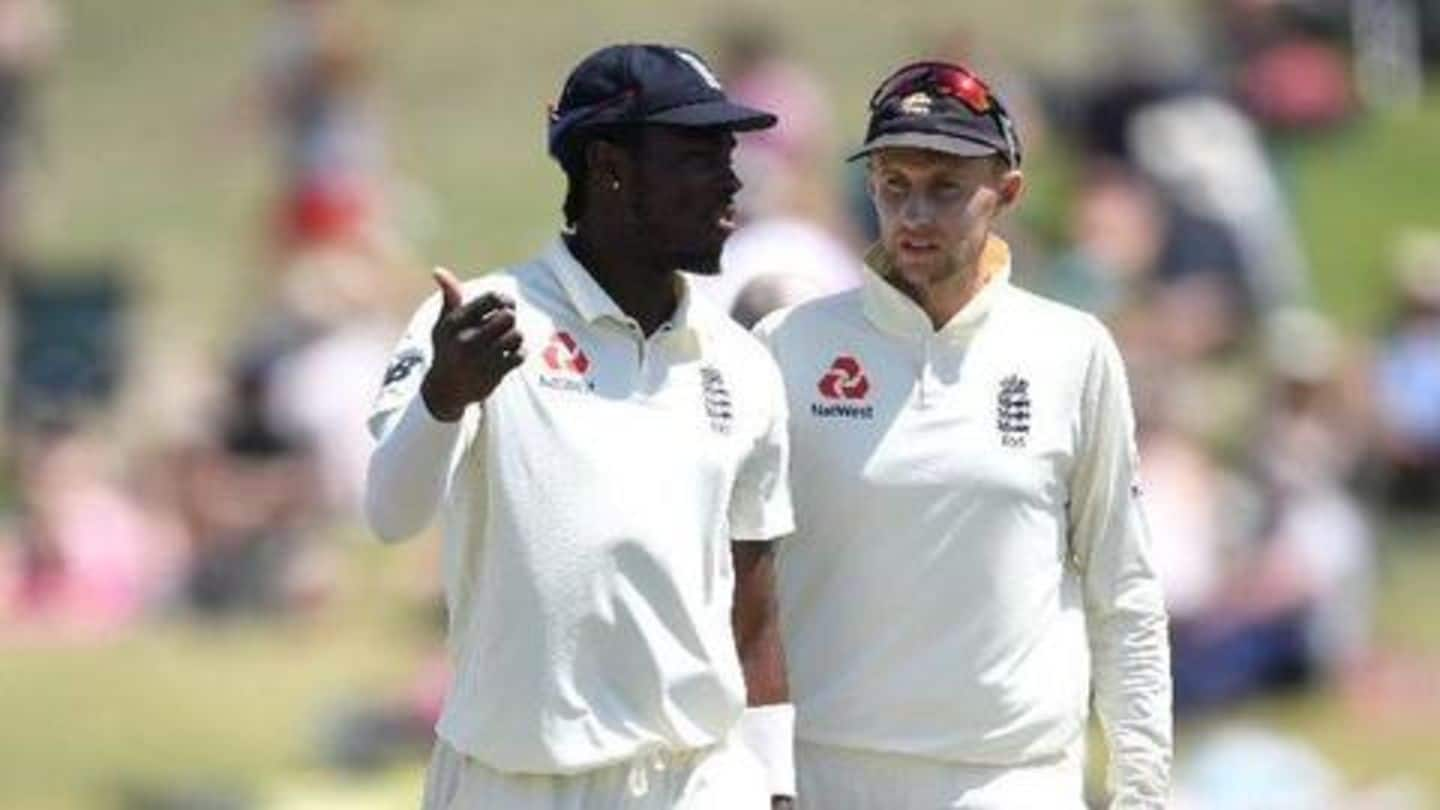 Last week, England's star fast bowler Jofra Archer was racially abused by a spectator in the first Test match against New Zealand. Archer took to Twitter and revealed the incident. The cricket fraternity rallied behind Archer with both boards promising more vigilance. And now, two Kiwi fans have alleged that an Englishman was responsible. Here are the details.
'He definitely wasn't a New Zealand supporter'
Two Tauranga brothers have said that the supporter did not even mention a Kiwi player once and believe he was an Englishman. "He was an English supporter. He definitely wasn't a New Zealand supporter, he never once mentioned a New Zealand player," one of the brothers was quoted by stuff.co.nz according to the Bay of Plenty Times.
Incident had occurred post Archers' dismissal in the first Test
Earlier, Archer said he heard comments from "one guy" at the Bay Oval. The incident happened when the pacer was sent back to the pavilion at the Bay Oval. He reported the comments to the team's security at the ground. After the match, the star bowler tweeted about the incident. Meanwhile, ESPNCricinfo reported the person who abused Archer, further contacted him on Instagram.
What happened after Archer made those comments?
After Archer's comments, the England and Wales Cricket Board (ECB) said it is conducting an investigation into the incident. Meanwhile, New Zealand Cricket (NZC) said it would be apologizing to Archer but added it has yet to identify the perpetrator. NZC has also promised increased vigilance in the matter. Kiwi skipper Kane Williamson said he will personally apologize to Archer.
England captain Joe Root rallies behind Archer
England captain Joe Root rallied behind Archer and said the pacer dealt with the incident very well. "Everyone has made sure he's OK and let him know we have his back and we're supporting him," Root said to BBC. "He has dealt with it very well; he'll be absolutely fine to play." The second Test starts from Friday onwards. NZ won the first Test.
I found the incident a real shame, says Archer
"I found the incident a real shame," Archer wrote in the Daily Mail. "If someone wants to shout at me and tell me I'm bowling badly - that's fine. To hear racism, though, that's another matter."