N Srinivasan hits back at the CoA
N Srinivasan hits back at the CoA
Jul 25, 2017, 07:51 pm
2 min read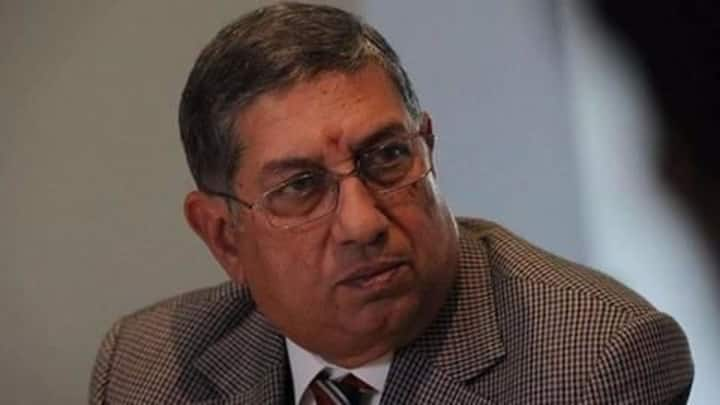 Former Board of Control for Cricket in India (BCCI) president N Srinivasan hit back at the Supreme Court appointed Committee of Administrators (CoA) saying that the committee submitted "incomplete and unsubstantiated facts" in their status report to the apex court. The CoA had stated in their report that Srinivasan and other disqualified members of the BCCI tried to disrupt the SGM in June.
SC bars Srini from attending BCCI's SGM
The Supreme Court restrained disqualified administrators of the BCCI, N Srinivasan and Niranjan Shah from attending BCCI's special general meeting on 26th July, stating that only office bearers of the state associations are qualified to attend the meet. Srinivasan and Shah had attended last month's meet as nominees of Tamil Nadu Cricket Association and Saurashtra Cricket Association respectively.
'Hijacking' claim false and misleading?
In his affidavit submitted to the SC, Srinivasan told the court that the charges of him hijacking BCCI's SGM on 26th June are not only false, but also misleading the court.
State associations not in agreement with CoA
Srinivasan's affidavit to the SC also stated that many state associations are against the reforms suggested by the Lodha Panel, and CoA's claim that they are in "mutual consensus" with the associations are totally false. The affidavit says, "The entire basis of the allegations made by the CoA is unsubstantiated, hypothetical and contrary to the facts on record."
Niranjan Shah too submits an affidavit
Former Saurashtra Cricket Association boss Niranjan Shah also submitted an affidavit to the SC, stating that the CoA's approach was not democratic. He also rubbished CoA's allegations of him being "disruptive and subversive."