Five epic Survivor Series moments in the history of WWE
Five epic Survivor Series moments in the history of WWE
Nov 20, 2018, 01:46 pm
3 min read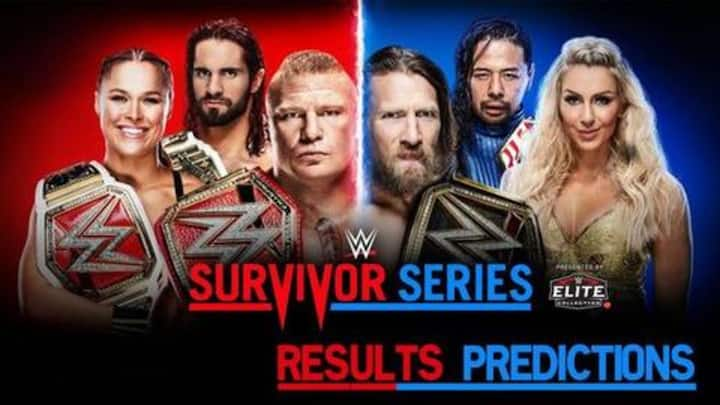 Survivor Series is one of the most anticipated events in the WWE's annual calendar. It is now the second longest-running pay-per-view event in the history of WWE after WrestleMania and thus has seen many historic moments during its long tenure. As the 2018 edition of Survivor Series is around the corner, here we bring to you the five most epic Survivor Series moments ever.
2002: Shawn Michaels winning the first ever Elimination Chamber match
Shawn Michaels returned to the WWE in 2002 after being out of action for nearly five years. His first feud was with his long-time best friend Triple H, and it culminated in the Survivor Series 2002 when they participated with Chris Jericho, Booker T, Rob Van Dam, and Kane in the Elimination Chamber match. Ultimately Michaels pinned Triple H for the World Heavyweight Championship.
The Deadman makes his debut
1990 Survivor Series gave WWE one of its greatest icons ever, when Ted DiBiase announced that his mystery partner in the eight-man tag team match would be 'The Undertaker'. The eerie appearance of the Deadman scared the kids present in the arena, and Undertaker wiped out the opponents including Bret Hart in no time. This moment marked the beginning of his decades long dominance.
Austin bids goodbye to his wrestling career
2003 Survivor Series saw a tag-team match between Team Austin and Team Bischoff, and the winner had to determine if Austin would leave the WWE. After a brutal fight, Shawn Michaels, on Austin's side, ended up bloodied, but could not help Austin save his job after interference from Batista. Austin, the man McMahon called the greatest draw in pro-wrestling, bid farewell that day.
The Rock turns heel at Survivor Series
The Rock was a babyface and dearly loved by all WWE fans, but in Survivor Series 1998, he took a bold step to turn heel and join hands with Vince and Shane McMahon. The Rock turning heel was not revealed until the end when he managed to win the WWE championship, shocking the entire audience including Stone Cold.
The ultimate betrayal: Montreal Screwjob
Montreal is the hometown of Bret Hart and it is where McMahon double-crossed him in real life. Hart was facing Shawn Michaels for the WWE Championship in Survivor Series when during the match McMahon suddenly instructed the referee to call for the bell to ring, ending the match in Shawn's favour. Hart was shocked and left WWE for World Championship Wrestling, WWE's rivals.