What is so great about the Number 10 jersey?
What is so great about the Number 10 jersey?
Nov 30, 2017, 11:46 am
2 min read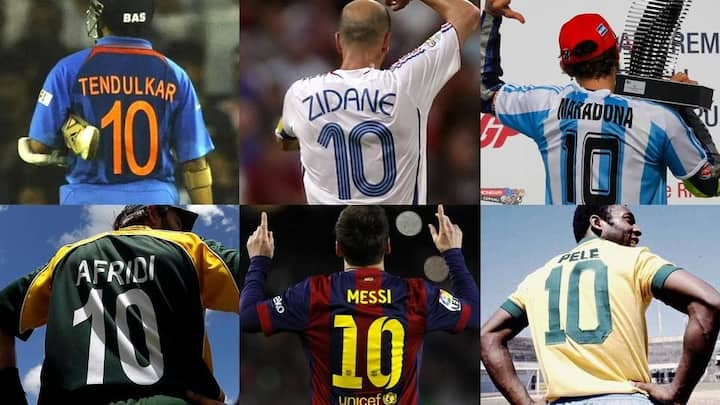 The BCCI has decided to unofficially retire Sachin Tendulkar's iconic Number 10 jersey, nearly 5 years after the legendary cricketer's retirement from the sport. There is something special about this Number 10 jersey. Most of the players who have worn it have left their mark on the field. Let us take a look at the other No 10 legends.
Argentina's legendary Number 10 Diego Maradona
Even if you hardly know anything about football, you must have heard about Diego Maradona. Maradona was a one man army and succeeded in scoring some of the most iconic goals the sport has ever seen. One of his goals against England in 1986 is even called the goal of the century. He single-handedly helped Argentina win the World Cup in 1986.
The 'King of Football' Pele
This man needs no introduction, the 'King of Football' as he is called, donned the iconic number 10 jersey during his time. The Brazilian is considered the first superstar in world football. He left the world amazed with his brilliant goal scoring feats and his amazing trickery. He helped Brazil win three World Cups. He even played a match in India.
In 1996, a 15 year old boy took cricket by storm, smashing a 37 ball century, a world record that stood for almost two decades, he goes by the name of Shahid Afridi. Over the years, Afridi developed into a complete all-rounder. Today, the former Pakistani cricketer is the leading wicket-taker in T20 internationals. He too wore the Number 10 jersey.
France's legendary Number 10 Zinedine Zidane
Zidane is one of the greatest players of the sport and his three 'World Player of the Year' trophies are a testament to that. However, the iconic number 10 is mostly remembered for his famous red card after head-butting Italy's Marco Materazzi in the final of the 2006 World cup. Italy won that night. Zidane currently coaches Real Madrid and has had great success.
The little magician, Lionel Messi
Lionel Messi is the only active player in this list who wears the number 10 jersey. The 5-time 'World Player of the Year' is arguably the best player on the planet but most of his critics say he cannot be termed the 'best of all-time' without a World cup to his name. Having said that, Messi's statistics alone are enough to shut them up.