Real Madrid not as good without Ronaldo: Messi
Real Madrid not as good without Ronaldo: Messi
Sep 04, 2018, 01:46 pm
2 min read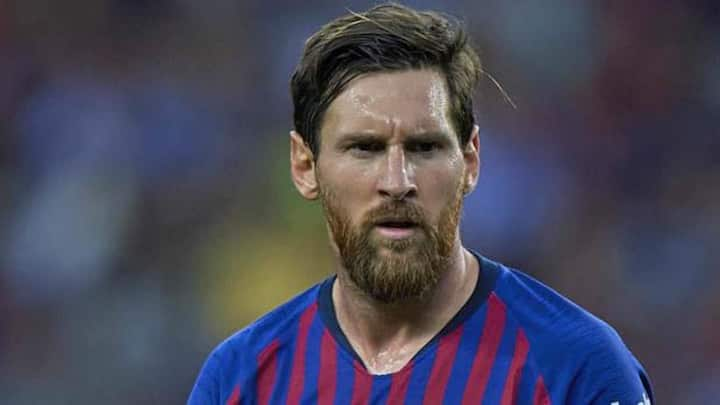 Lionel Messi recently spoke with Catalunya Radio where he said that Real Madrid are not as good now as they were with Cristiano Ronaldo. The Argentine legend also added that now that Ronaldo is with Juventus, it immediately makes them favorites to win the Champions League. Messi has also expressed that he is content at Barcelona and has no intention of moving anywhere else.
Real Madrid's achievements with Ronaldo
With Ronaldo in their squad, Real Madrid became one of the best clubs in modern football. Ronaldo clinched four Champions League titles in five years, along with two La Liga honors during his time with Madrid. Ronaldo scored 451 goals for Los Blancos in his nine seasons with the club. The Portuguese legend won a total of 16 trophies with the Spanish giants.
How good does Ronaldo's transfer make Juventus?
Juventus boasted of a star-studded squad even before Ronaldo's arrival. They have a strong defense with players like Bonucci, Chiellini, Cuadrado and Alex Sandro. The Old Lady's mid-field is pretty solid, with Cuadrado, Matuidi, Emre Can, Sami Khedira being a part of their squad. With Ronaldo, Dybala and Mandzukic as forwards, Juventus have a rock-solid line-up. Notably, Juventus have won 7 consecutive league titles.
Can Real Madrid do it in the Champions League?
Real have been playing good football in Spain this term, winning all their league matches with comfortable goal margins. However, the Champions League is a different game altogether since all the top clubs across Europe are in contention. And without someone as prolific as Ronaldo, who is the highest scorer in UCL history, the going will naturally get tough for Los Blancos.
How good are Barcelona right now?
Both Barcelona's recent form and their attacking firepower make them one of the favorites. Messi, Dembele, Suarez, and Coutinho have been in impeccable form and Barca have bought Arturo Vidal, Clement Lenglet, Arthur, and Malcom. Messi also praised Arthur highly in the interview, even calling him similar to Xavi. Messi also sounded highly enthusiastic about Vidal's signing.