List of top on-air marriages in WWE
List of top on-air marriages in WWE
Oct 31, 2019, 11:56 am
2 min read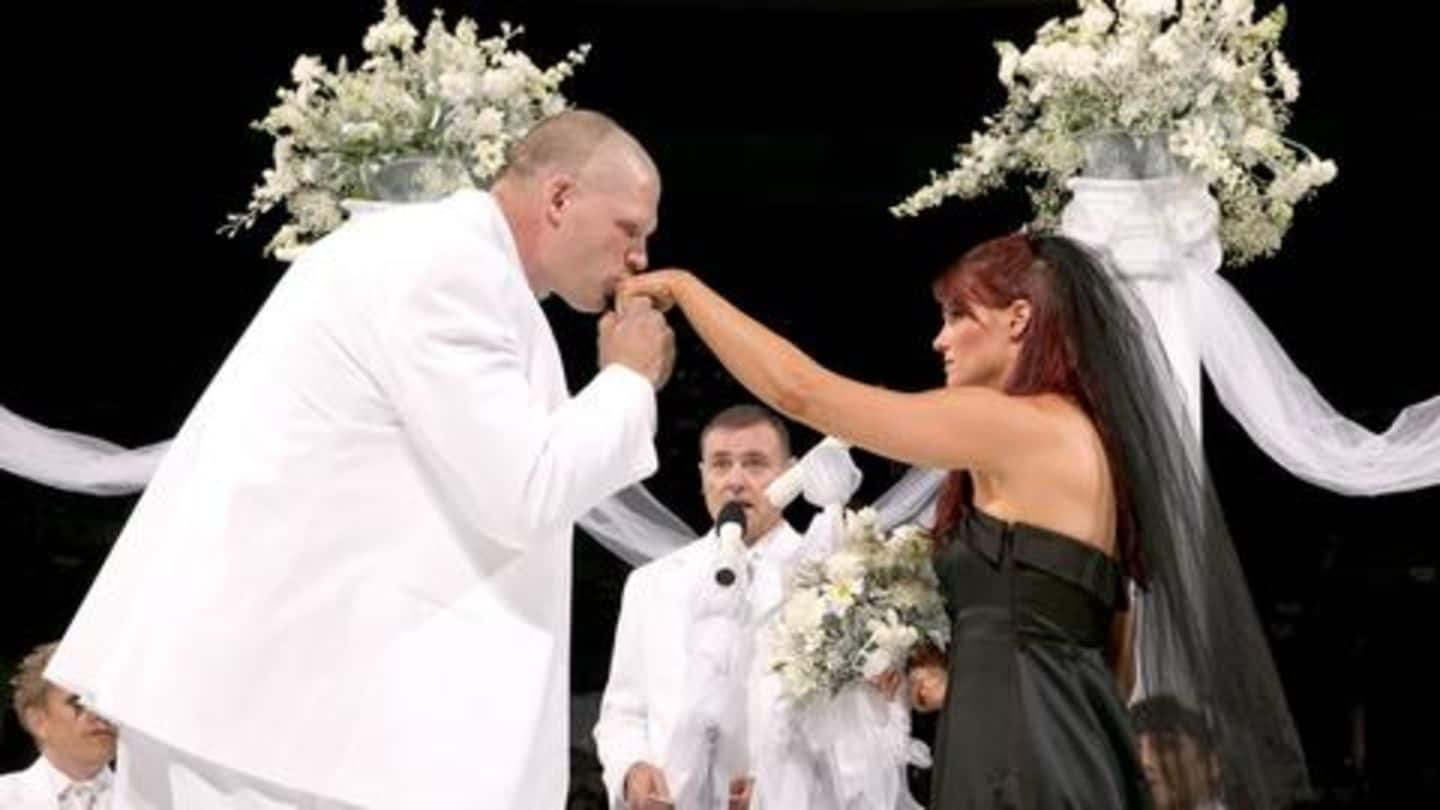 WWE is one of the best forms of sports entertainment. Speaking of entertainment, WWE tries to represent it in various forms and one of them is the relationship between two superstars. There have also been instances when some superstar couples get married, as we take a look and rank the best on-air marriages, or let us say the so-called weddings, in WWE.
Stephanie McMahon weds Test, or wait, it's Triple H
We start the list with the Chief Branding Officer of WWE, Stephanie McMahon, who had three weird on-screen weddings. While her unwanted wedding with The Undertaker was cut short, she was looking to marry her true love, Test, when Triple H interrupted and played a video, showing that the latter had already married her while she was passed out.
Lita says 'I do' to Kane, but never meant it
In 2004, Kane was obsessed with Lita as she got pregnant with his child in order to avoid him beat up her boyfriend Matt Hardy. Matt lost a stipulated match to Kane, forcing Lita to marry the latter. However, during the marriage ceremony, Lita said that she would always love Matt, before proceeding to say 'I do'.
Lita married Edge after finding true love!
Lita makes the list again as she double-crossed Kane and cost him his number one contender match against Edge, following which she kissed the latter. As she annulled her marriage with Kane, she went on to marry Edge, only to be interrupted by Kane, who ransacked the ceremony. Prior to Kane's interruption, the ceremony was interrupted by Matt Hardy's music, but Matt never came.
Edge blows up his own wedding with Vickie Guerrero
In 2008, Edge was dating SmackDown General Manager Vickie Guerrero to seek favors and pursue the World Championship. As a result, they agreed to get married and a wedding was set up. However, during the wedding, it was Hunter, who once again ruined the ceremony by playing a video, which showed Edge making out with wedding planner Alicia Fox.
Randy Savage ties the knot with Miss Elizabeth
Undoubtedly, the most memorable and emotional on-air wedding has to be the one involving Randy Savage and Miss Elizabeth. The ceremony was nothing but an extraordinary one, as the real-life couple gave the WWE Universe a glimpse of the true WWE power couple. Fans still remember this moment even till now.