Vinod Kambli's Friendship-Day post features Sachin Tendulkar and a promise
Vinod Kambli's Friendship-Day post features Sachin Tendulkar and a promise
Aug 05, 2018, 12:25 pm
2 min read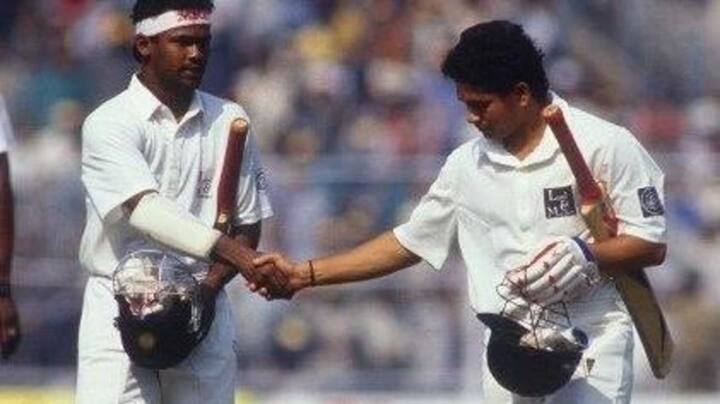 Today is all about cherishing your friends, and cricketer Vinod Kambli too joined the bandwagon. Taking to Twitter, Kambli wished cricketing legend Sachin Tendulkar and quoted the famous song from Sholay, 'Yeh Dosti Hum Nahi Todenge'. Kambli and Tendulkar forged a record-breaking partnership in their school and later went on to play for India. The post will move you to call your long-lost friends.
'Yeh dosti hum nahi todenge,' Kambli writes on Twitter
Sachin and Kambli: A friendship that started early
In February 1988, Kambli and Tendulkar, both in their teens, scored a 664-run partnership in a match against St Xavier's High School, which got them a place in record books. Later, they battled side by side in international cricket too, but things turned sour when Kambli said in an interview that Tendulkar didn't help him during his turbulent times.
Kambli, Tendulkar drifted apart before getting back together
Though they were thick once, Tendulkar not mentioning Kambli in his farewell speech in 2013 caught attention. Years later, in 2017, Kambli told TOI that both of them have buried the hatchet and are back to being friends. "Yes, everything is fine between us and I'm happy with it. We hugged each other. We want to tell people that we're back," said Kambli.
Last year, Tendulkar called Kambli his 'friend for life'
Last year, Tendulkar posted about his 'friends for life' on Instagram that further confirmed that the cricketers have let bygones be bygones. Sharing a photo, the God of cricket wrote, "One of the most amazing things cricket gave me is friends for life. In this company, there's never a dull moment both on and off the field." The post also featured Ajit Agarkar.
Never a dull moment: Sachin Tendulkar posted on Instagram