Here's what Virat Kohli said about Kuldeep and Chahal's exclusion
Here's what Virat Kohli said about Kuldeep and Chahal's exclusion
Sep 15, 2019, 06:17 pm
3 min read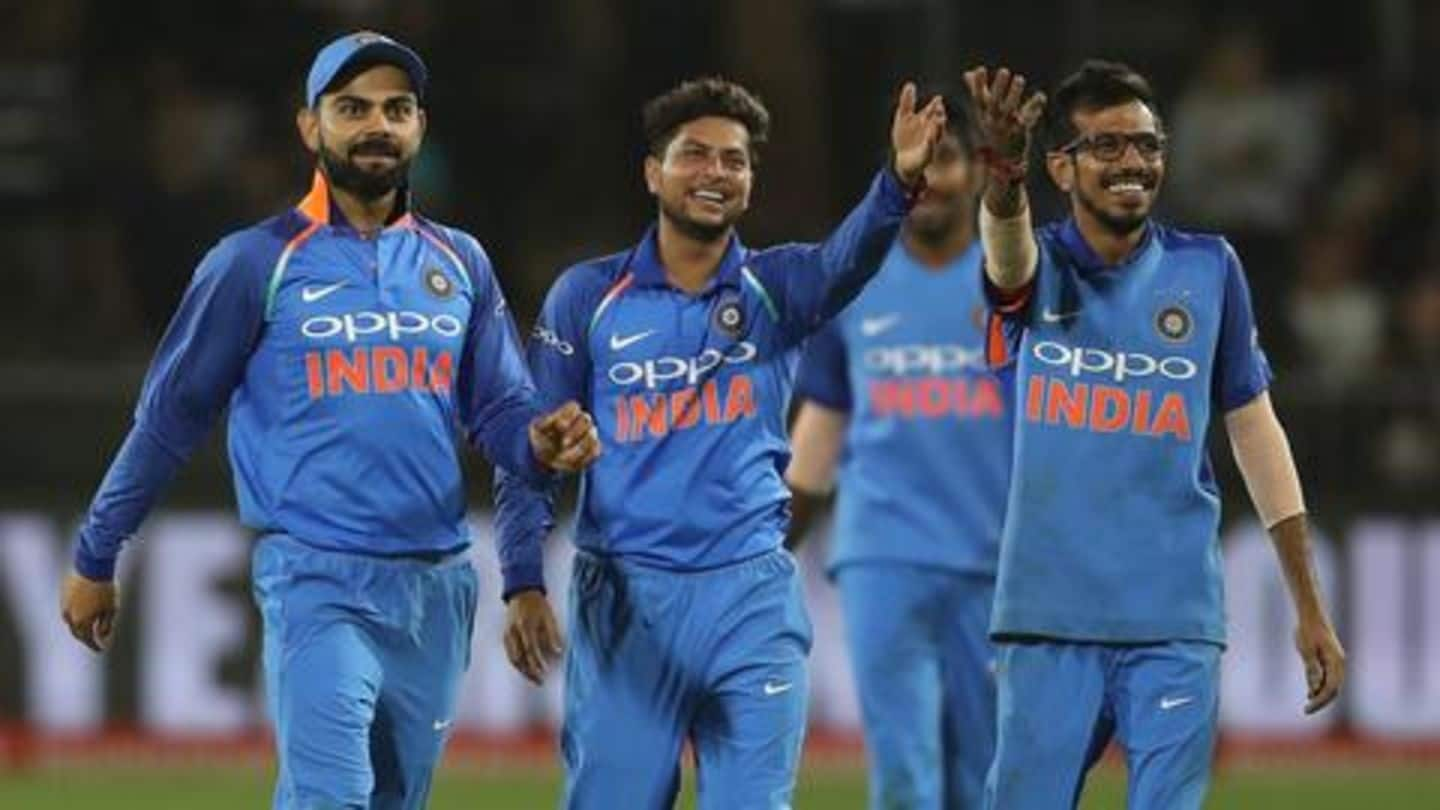 The Indian cricket fraternity was abuzz after the notable exclusion of star Indian spinners Kuldeep Yadav and Yuzvendra Chahal in the upcoming T20I series against South Africa. This was the second T20I series in a row they have been ignored for, as they did not feature in the series against the Windies. Meanwhile, here's what skipper Virat Kohli had to say about their exclusion.
Experimental and tactical
Kohli says exclusion is both experimental and tactical
Speaking on their exclusion, Kohli said that the move was both experimental and tactical. He reckoned that the aim was to give chances to the ones who have performed well in the domestic circuit, as well as the IPL, as they look to get the best combination. "If all teams across the world are batting till No. 9, 10, why can't we?" wondered Kohli.
Decision taken with ICC World T20 2020 in mind: Kohli
Kohli also said that these decisions have to be made at a stage, as he also gave the example of criticisms when Kuldeep and Chahal were brought into the side. "Look, whatever decisions are made, are to make sure that the team has the best and strongest balance that we can have, approaching the T20 World Cup that we have next year," Kohli added.
Kohli believes every team would follow a similar procedure
"As far as the road map is concerned, whenever there is a world tournament coming up, it is like a milestone and you start preparing from backward [back-calculate matches]. I think every team will go through the same process before T20 World Cup," opined Kohli.
Kuldeep has a decent T20I run, Chahal has struggled
Considering Kuldeep's performance in the T20Is, he has claimed 35 wickets in 18 matches at a sound average of 12.97. Since September 15, 2018, he has claimed 11 from six at a similar average of 12.45. Meanwhile, Chahal has claimed 46 wickets in 31 matches at an average of 21.13, while since September 15, 2018, he has claimed just four from five.
Kuldeep had a poor IPL run, Chahal flourished
Meanwhile, it is to be noted that Kuldeep had a poor run in the IPL 2019. Playing for Kolkata Knight Riders (KKR), he could only manage four wickets in nine matches, at a horrific average of 71.50. Meanwhile, Chahal flourished playing for Royal Challengers Bangalore (RCB), finishing as their highest wicket-taker, claiming 18 in 14 matches at an average of 21.44.
Kuldeep and Chahal deserve a future T20I chance
Both have a had a mixed performance in the T20 circuit of late. While their omissions, for the time being, is justified, they surely need to given another chance in T20Is. Dropping them for the Windies tour might have been justified after a grueling World Cup season, but they should have been picked against Proteas. Nonetheless, they should be picked against Bangladesh.