Happy Birthday, Shane Warne- Interesting facts about the legendary spinner
Happy Birthday, Shane Warne- Interesting facts about the legendary spinner
Sep 13, 2018, 03:31 pm
2 min read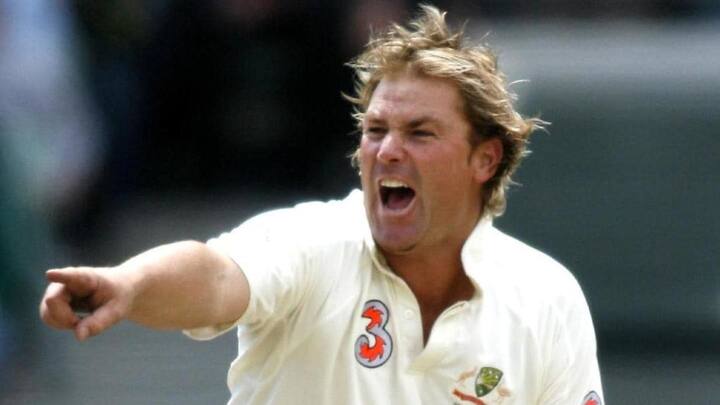 Australia's all-time spin king Shane Warne turned 49 today. The legendary cricketer was the first man to cross the 600 and 700-wicket barrier in Tests. One of Australia's greatest ever, Warne left behind a rich legacy in the game. His impact on the field was stupendous and that helped him etch his name in the record books. Here is wishing Warney a 'Happy Birthday'.
The legend Shane Warne turns 49!
Interesting facts about Warne
Warne started a foundation post his retirement that caters to seriously ill and underprivileged children. He has three children with his ex-wife Simone Callahan. He was also engaged to actress Elizabeth Hurley, but that was called off in 2013. In 1995, he was handed a fine by Cricket Australia for giving pitch information to a bookie. He was also a heavy smoker.
Warne made his Test debut versus India at the SCG in 1992. In 145 Tests, he picked up 708 wickets with a best of 8/71. He is the second highest wicket-taker in the history of 5-day format. Warne also picked 293 wickets in ODIs in 194 matches. Warney also led the Rajasthan Royals to the Indian Premier League title in 2008.
Warne known for his 'Ball of the Century'
Warne announced himself in the first ball of his career, against England, in the Ashes series in 1993. He dismissed Mike Gatting from round his legs which was then termed as the 'Ball of the Century'. Richie Benaud went on to describe back then that Warne's delivery was "the most beautiful delivery". The ball went to clip Gatting's off-stump after pitching on leg.
WATCH: Ball of the century
Some of Warne's off-field controversies
Prior to the 2003 ICC World Cup, Warne was tested positive for a banned substance. The ban extended to a year as Warne claimed to have taken a fluid substance. Warne never got along with Steve Waugh and called him the most selfish cricketer. In 2000, he reportedly nagged and harassed a British woman that cost him the vice-captaincy of the side.
Warne's autobiography 'No Spin' to release in October
Warne's autobiography 'No Spin' is set to have a global release on October 4. The book is set to challenge some enduring myths and untruths that surrounded him. He is also set to reveal many details about his extraordinary career.