How can Brazil, Germany and Argentina qualify for last 16?
How can Brazil, Germany and Argentina qualify for last 16?
Jun 26, 2018, 01:47 pm
3 min read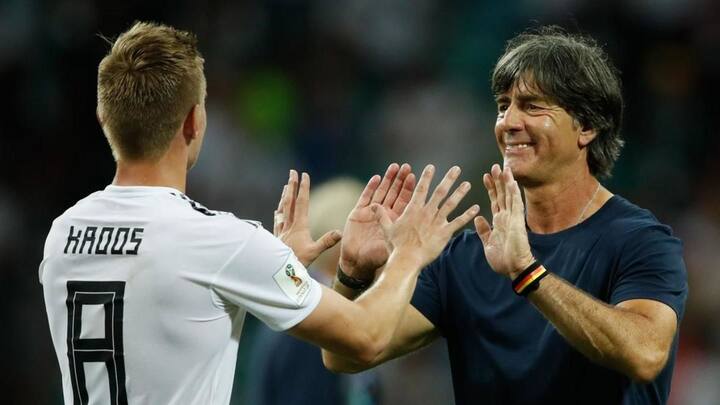 The 2018 edition of the FIFA World Cup has reached a pivotal stage and the excitement of fans is at another level. 8 teams have already made it to the round of 16, with another 8 now waiting for their chances. Among big teams, Brazil, Germany and Argentina are yet to qualify. Here is what they need to do to keep their campaign alive.
What would happen if two teams have same points?
Many of you must be wondering about which team will qualify if two sides have equal points. Well the first thing, which is taken into consideration, is the goal-difference. If the goal-difference is same, then who ever has scored more goals will go through. If that's same as well, then head-to-head, head-to-head goal-difference, head-to-head goals, fair-play points and drawing lots come into the scenario.
Group A saw Uruguay finish as toppers with Russia finishing second. From Group B, Spain and Portugal have qualified but it happened only after plenty of drama. The VAR came into consideration in the last two group games and dictated the results.
Group C and D to be determined tonight
France have already qualified for the knock-outs and Denmark will be looking to join them. The Danes need a draw to qualify as they take on France. If Denmark lose, then they will expect Australia to draw or lose against Peru. Argentina need a win and so do Nigeria, when these two sides face in Group D. Iceland need to beat Croatia to qualify.
Group E featuring Brazil in a tight situation
In Group E, Brazil, Serbia and Switzerland are all in contention to qualify. 5-time champions Brazil need a draw or a better result against Serbia to reach the next round. If Serbia win, then they go through. Switzerland will need to beat Costa Rica to qualify. If they draw, then they need Serbia to either lose or draw against Brazil.
Group F still not done yet as Germany await fate
Germany need a victory against South Korea to qualify. Toppers Mexico need a point against Sweden to go through. If Mexico lose, then Sweden will have a chance to go through as all three teams will have six points each. If both matches end in draws, then tie-breaker will come into picture between Germany and Sweden. It would get really interesting.
Group H too sees three sides in fray
In Group H, Japan need a point to qualify. They have four points from 2 matches. Senegal and Colombia are in fray and the latter need a win at any cost to get through. If Japan lose and the likes of Senegal and Colombia draw, then Senegal are through. A tie-breaker between Japan and Colombia will come into fray.