#NewsBytesExclusive: Wasim Jaffer backs these youngsters to represent India
#NewsBytesExclusive: Wasim Jaffer backs these youngsters to represent India
Apr 06, 2020, 07:07 pm
5 min read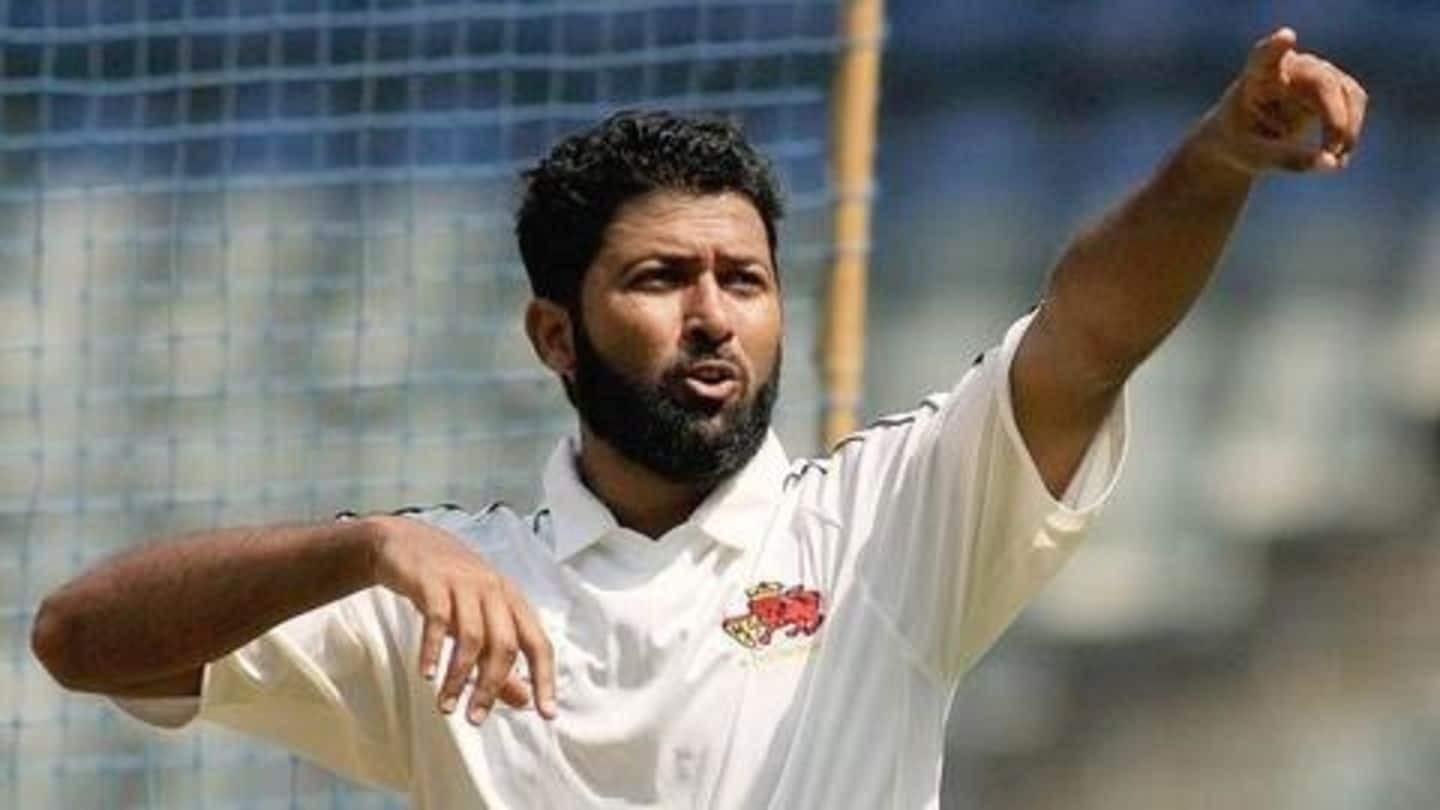 In an exclusive interview with NewsBytes, former Indian cricketer Wasim Jaffer backed young guns Shubman Gill, Sarfaraz Khan and Yashasvi Jaiswal to represent Team India in the near future. The veteran, who announced his retirement from all formats of the game last month, revealed his favorite memory in the Ranji Trophy as well. He also opened up about the impact of COVID-19 on IPL.
Jaffer boasts of these records in Ranji Trophy
Jaffer is the only batsman to have scored 12,000-plus runs in Ranji Trophy (12,038). The right-handed batsman also tops the list for the most number of centuries (40). Jaffer also finds himself in the list for most runs in a season. He had amassed 1,260 runs for Mumbai in the 2008-09 season, which remains the seventh-most in terms of runs scored in a season.
Lifting multiple honors remains Jaffer's favorite memory
Jaffer said lifting 10 Ranji titles remains the favorite memory of his career. "Lifting the Ranji Trophy must be the greatest moment. I was lucky to have featured in 10 Ranji Trophy finals. I have been blessed and I thank Almighty Allah that I was able to win all of them," the former Indian opener said.
'The joy of playing, scoring runs kept me going'
Jaffer had a career spanning over 20 years and his longevity and hunger for runs stood tall. When asked what kept him going for these many years, Jaffer said, "I think the joy of playing, scoring runs and being there. Well, I obviously loved the sport and that joy kept me going." "I was also scoring runs and kept enjoying my batting," he added.
Jaffer had these words for today's young cricketers
Today's generation faces a challenge to keep the focus on red-ball cricket amid the demands of the shorter formats. "Today's cricketers need to fit in all three formats. I feel many players are trying to take shortcuts. They are focusing on one particular format, where they perhaps don't have to bowl 20-25/day. That isn't the right attitude for youngsters to go forward," opined Jaffer.
Joy of playing Tests is different: Jaffer
"The joy of playing Tests or four-day cricket is different. In one-day and T20 cricket there are many limitations. However, there aren't limitations in the longer format," said Jaffer. "Only the good players, who have got the skills and temperament can do well. The joy you get from the longest format is next to nothing." He felt youngsters need to be ready for everything.
'Youngsters need to build their game on all three formats'
Jaffer highlighted that players like Virat Kohli, KL Rahul and Rohit Sharma can play all three formats. Similarly, pacer Jasprit Bumrah has also settled in well. "Youngsters need to build their game for all three formats and shouldn't specialize in just one format," said Jaffer.
Shubman has a lot of potential, feels Jaffer
When asked about who is his favorite player in domestic cricket, Jaffer claimed it's unfair to pick one. Meanwhile, Jaffer picked Gill, Yashasvi and Sarfaraz as the players who can make it to Team India in the future. "I feel Shubman is definitely one of them. He has a lot of potential. Yashasvi is another good young player. Sarfaraz has been batting really well."
There's no official communication: Jaffer on becoming Vidarbha coach
Recently, it was reported that Jaffer may take over as the new coach of Vidarbha cricket team. Jaffer, who represented Vidarbha in the final few years, is said to be in line to replace former coach Chandrakant Pandit. However, he refuted these claims. "These are talks in the air and there's no official communication. Until I speak to the concerned people, I cannot comment."
I want to help the youngsters develop: Jaffer on coaching
When asked if coaching was always a part of his plans, Jaffer said, "Definitely. Coaching and commentary can keep me connected with the game. Coaching is something that will help me be involved because you have to look after a bunch of players. I want to help youngsters develop." "The more I stay connected to the game, the more it will help me."
The Indian Premier League (IPL) 2020 got postponed earlier in relation to the coronavirus pandemic. The virus has claimed 70,000-plus lives. With the IPL likely to be canceled, it's a blow for several youngsters. Jaffer said, "It's disappointing for everyone but the need of the hour is to stay home. Sporting events can wait, however, saving human lives is the most important thing now."
Jaffer on what Team India needs during tour of Australia
Team India performed awfully during the tour of New Zealand and lost the Test series 0-2. India's next assignment is against Australia later this year. Jaffer said, "India need to win. I feel this Indian team has the character to do well anywhere. All batsmen have to take responsibility. India need to score 400-450 consistently and we have the bowlers to back that up."
Finally, the star cricketer shared this message for our readers in relation to COVID-19. "Try and understand this is a serious matter and don't take this situation lightly. Don't just think about yourself but others as well. We need to stay indoors," Jaffer said.