World Chess Championship: Carlsen-Caruana draw fourth match amid video controversy
World Chess Championship: Carlsen-Caruana draw fourth match amid video controversy
Nov 14, 2018, 06:27 pm
2 min read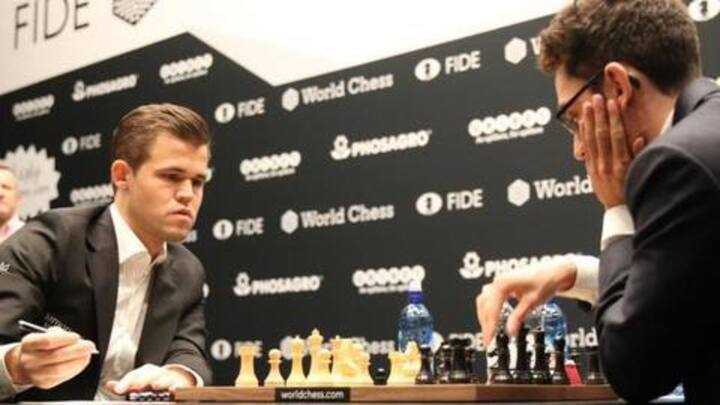 World chess champion Magnus Carlsen is currently defending his title against America's Caruana and the 12-match game is yet to produce a leader. All four matches have ended in draws and before the fourth match, a leaked video of the challenger Caruana's training session created a huge controversy. Here is more on the match and the leaked video.
Details on Fabiano Caruana and his achievements till date
Caruana won the Candidates Tournament 2018 and became the first American since Bobby Fischer to do so and qualify for the World Chess Championship. His current FIDE rating is an unbelievable 2,832. Further, he was the joint winner of the 6th Sinquefield Cup along with Carlsen and Aronian. He has a universal playing style and can pose a serious challenge to Carlsen.
How have the matches panned out till now?
Four matches have been played as of now, and all of them have ended in draws. Carlsen was close to winning in the first match but a few errors forced the match into a draw. The second match ended in a draw after 49 moves, and so did the other two despite a video leak of Caruana practising his moves surfaced on YouTube.
Details on the video leak of Caruana's session
The leaked video of Caruana practising his moves is being considered one of the biggest blunders in the tournament's history. Carlsen admitted he has heard of the video though didn't see it. Since such high-level encounters require opponent-specific preparations, there were doubts whether Caruana will be able to win after the leak, but with the fourth match drawn, all such speculations are over.
Details of the tournament
The Championship started on November 9 and will go on till November 28, and will comprise of 12 matches. If a winner cannot be determined after 12 rounds, a tie-breaker will establish the new world champion. The prize money is worth €1 million and will be divided between the champion and the runner-up in a 3:2 format, and 11:9 in case of a tie-breaker.