WWE introduces women's tag-team titles, Elimination Chamber to crown champions
WWE introduces women's tag-team titles, Elimination Chamber to crown champions
Jan 15, 2019, 08:26 pm
2 min read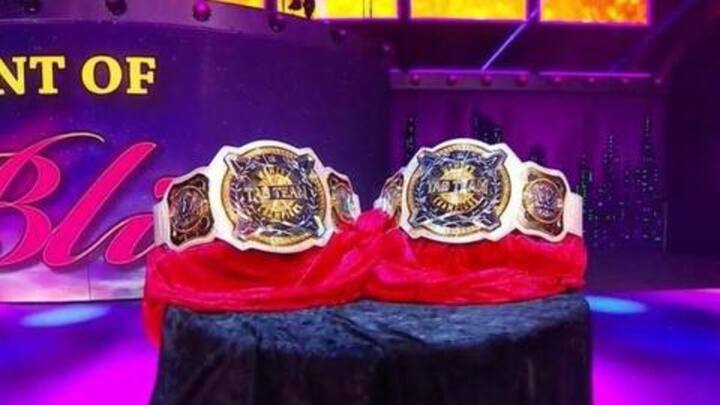 Last night on Raw, WWE took a historical step by reintroducing the women's tag-team championship titles. WWE superstar Alexa Bliss unveiled the titles during the segment called 'Moment of Bliss' named after her. She also announced that an Elimination Chamber match will be held on February 17 to determine the champions. Here are further details on the announcement.
Why was it important to introduce the women's tag-team?
With the women's division in WWE getting a massive push in recent years, it was only imperative that the tag-team championships were reintroduced. Wrestlers like Sasha Banks, Becky Lynch, Charlotte Flair and others have taken WWE by storm and are among the most popular wrestlers in the current roster. The titles will further reinvigorate the women's section and add more firepower to it.
The previous title was shelved almost 30 years ago
WWE did have the women's tag team championships from 1983 to 1989 before they were permanently shelved. Velvet McIntyre and Princess Victoria were the first champions while The Glamour Girls (Leilani Kai and Judy Martin) were the last.
Women's wrestling was not taken seriously earlier
Earlier, especially during the Attitude and Ruthless Aggression eras, women were treated as mere props and not granted the serious status of a pro-wrestler. They were not even called wrestlers, but 'divas', and were heavily objectified in the storylines. What Trish Stratus and Lita started in the ring has finally seen a result, with the women's wrestling being given the honor, it always deserved.
Who will be the participants of the match?
While WWE has not yet revealed who shall be the competitors, but considering it is an Elimination Chamber match, three teams from Raw and SmackDown will be competing. After Evolution, this is another major step WWE has taken for the women's division.