5 most shocking tag team break-ups in WWE history
5 most shocking tag team break-ups in WWE history
Sep 23, 2018, 03:56 pm
3 min read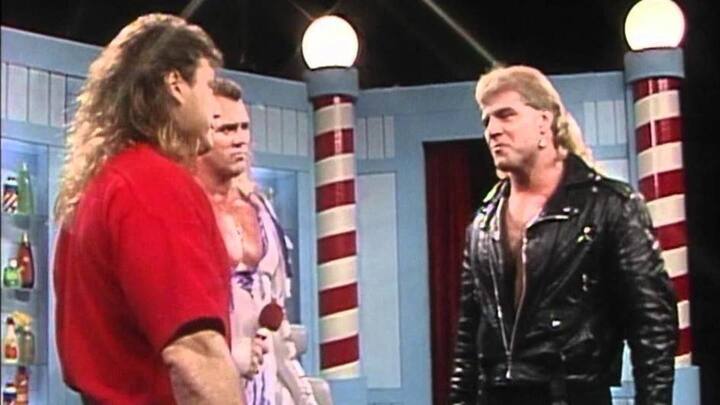 Tag team wrestling has created memorable moments that would be cherished in wrestling history forever. The most important thing, for a tag team, is the friendship between the two partners, which helps them overcome all obstacles. It makes for great story-lines when such tag teams break and friends turn their backs on each other. Here are five most shocking tag team break-ups ever.
Eddie Guerrero walks out on his friend Rey Mysterio
Eddie Guerrero and Rey Mysterio were friends, who finally teamed in 2005 to win the Tag Team Championship. The duo then went on to fight against MNM. But, to the shock of the WWE universe, Guerrero walked off midway during the match, leaving Rey to fight alone. The break-up gave birth to a different story-line, where Guerrero claimed Mysterio's son to be his.
The Rock 'N' Sock connection broke over a book
The Rock and Mankind's tag team was one of the most entertaining in WWE history. They were successful as well, winning the WWE Tag Team Championship thrice together. However, things turned sour when Mankind discovered in the trash, the book he had given to Rock (Mick Foley is also a novelist). Then during their title defense, Mankind sat by, watching Rock lose the match.
Christian turns on his best friend Edge
Edge and Christian debuted in WWE together and went on to achieve numerous successes in the business throughout their tag team career. However, at King of The Ring 2001, Christian lost to Kurt Angle in the semi-finals, who would go on to lose to Edge in the final. Then on Raw, Christian attacked Edge, turning against his friend to the surprise of the world.
Matt Hardy turns on his own brother Jeff
Matt and Jeff Hardy are real-life brothers who carved out a niche for themselves in wrestling history. Both were high-fliers, and their team was adored by fans all over. Matt Hardy, first, attacked his brother when Jeff was given a shot at the Intercontinental Championship. Though the duo reunited, Jeff would be again twice betrayed by his brother whenever he succeeded alone.
The Rockers break-up as Michaels turns on Jannetty
The Rockers was a fan-favorite tag team with members Shawn Michaels and Marty Jannetty, who stayed together from 1985 to 1992. In an infamous heel turn, Michaels, out of nowhere, super-kicked his long-time friend, saying that he didn't need him anymore. Calling someone the Marty Jannetty is considered shameful these days, since the action is what propelled Michaels to superstardom.