France's Emmanuel Macron arrives in India, gets Modi's hug
France's Emmanuel Macron arrives in India, gets Modi's hug
Mar 10, 2018, 10:51 am
2 min read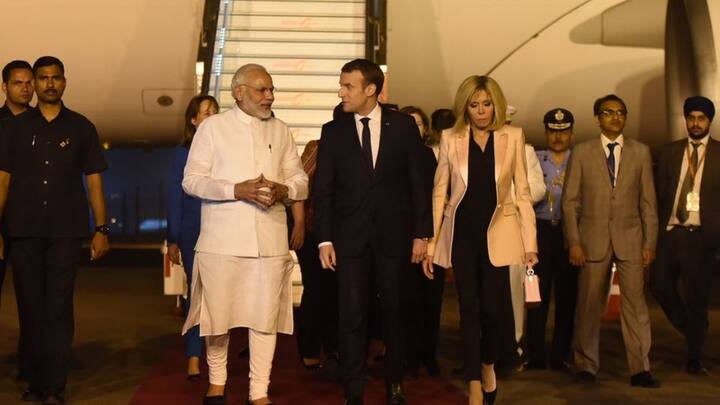 PM Narendra Modi's greeting of foreign head-of-states indicates a distinct pattern. If he disapproves or doesn't consider them strategically important, he doesn't meet them at the tarmac with his now-famous jhappis, as Canadian PM Justin Trudeau discovered the hard way. However, France's Emmanuel was received by PM Modi with a warm hug on his 4-day visit to India. Here are the details.
Why is PM Modi's gesture significant?
Modi breaking the protocol and meeting Macron at Delhi Airport signifies the strategic nature of India-France relations. The two countries will strengthen their ties, especially in maritime security, counter-terrorism, nuclear energy and space. Further, the two will give a thrust to ties in fields of renewable energy, high-speed train connectivity and trade. Macron is accompanied by wife Brigitte Marie-Claude Macron and senior cabinet ministers.
What is Macron's itinerary?
After a ceremonial welcome at Rashtrapati Bhavan and wreath-laying at Rajghat, Macron will meet External Affairs Minister Sushma Swaraj. Then, he will proceed to a bilateral meeting with PM Modi. He will also undertake an almost-obligatory visit to the Taj Mahal. He will visit PM Modi's constituency Varanasi, where he will inaugurate 100 MW solar power plant.
Modi-Macron will co-chair International Solar Alliance's founding conference
The highlight of Macron's visit is the founding conference of the International Solar Alliance (ISA) on March 11. This initiative was mooted by India-France on the sidelines of the Paris climate conference in 2015. After President Trump led US decided to withdraw from the Paris accord, this initiative attains significance. The conference will discuss "harnessing of solar energy" with the goal of reducing emissions.
Meanwhile, Opposition Congress played spoilsport ahead of Macron's visit
Separately, Congress raked up the 36 French-made Rafale fighter-jets 2016 deal. They claimed there was new information that India was paying much more than countries like Qatar and Egypt for these jets. It claimed, "India is clearly paying an extra price of Rs. 350.90cr/aircraft or Rs. 12,632cr for 36 aircraft." BJP slammed Congress for misleading nation over a sensitive issue like "defense".
What is the significance of Macron's visit?
Macron will also engage with students and academicians at a Town Hall meeting and Knowledge Summit, respectively. Since his appointment, Macron has tried to present himself as a dynamic new face of the European Union. He sees India as a natural economic and diplomatic partner in Asia. More importantly, he sees India as a counter-weight to the resurgent China.