To promote gender-equality, all-women flight took 120 girls to NASA
To promote gender-equality, all-women flight took 120 girls to NASA
Written by
Siddhant Pandey
Oct 14, 2019, 08:59 pm
3 min read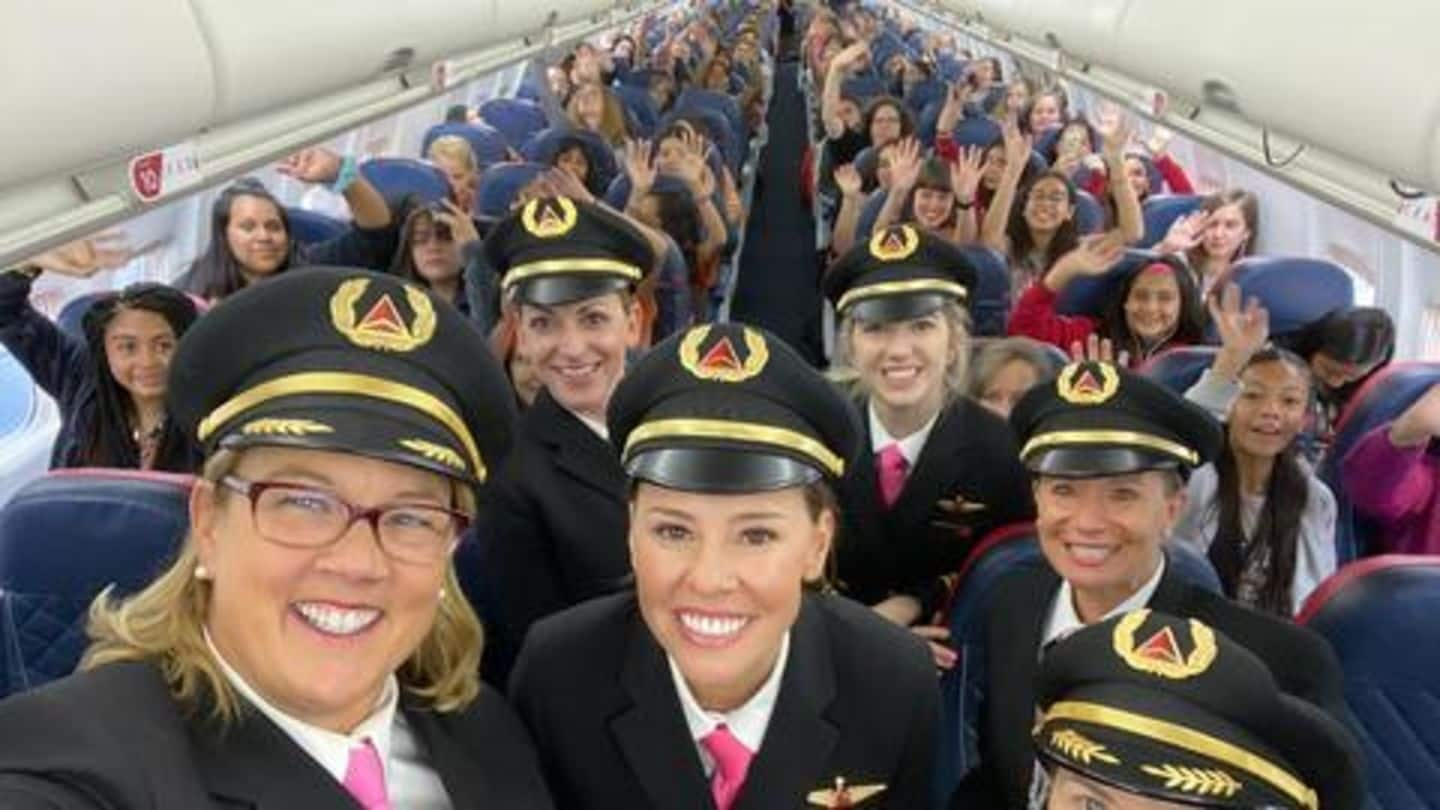 To promote gender equality in the male-dominated aviation industry, Delta Air Lines recently flew 120 girls to NASA in Houston on an all-women crew flight. From start to finish, the flight was planned and orchestrated by women, including the pilots, the crew, the ramp team, and even the gate agents boarding the flight. The girls (aged 12-18) then looked at careers in aviation, aerospace, and engineering.
The Delta flight celebrated International Girls in Aviation Day
The Delta flight flew from Salt Lake City to NASA in Houston and marked the fifth-annual WING Flight ("Women Inspiring our Next Generation") on International Girls in Aviation Day (October 5). Since 2015, the WING flight program has reached out to 600 female students in an attempt to expose girls to STEM (Science, Technology, Engineering, and Math) careers and diversify the male-dominated industry.
Girls toured NASA; met women mentors in field
After landing in Houston, the 120 girl students were given a tour of NASA's Mission Control Center, Building 9, Johnson Space Center and Space Center Houston. During their trip, the girls also met mentors in the field, including a female technician from Delta's Technical Operations team, and NASA astronaut and aerospace engineer Jeanette Epps, who had lunch with them, Delta said.
'Today I realized, 'Hey, I can do this too.''
Katelyn J. (17), who participated in the program, said, "It didn't seem realistic to go after a career in aviation, but today I realized, 'Hey, I can do this too.'" Shanae C. (17), added, "I've loved being able to look at all of the things these successful women have accomplished. I think we will learn from them and build on their foundation of success."
We're taking ownership to improve gender diversity: Delta General Manager
Delta Air Lines General Manager (Pilot Development) Beth Poole said, "We're taking ownership to improve gender diversity by exposing girls at a young age and providing a pipeline so that 10 years from now, they'll be the pilots in Delta cockpits inspiring generations of women who follow." Poole helped start the WING Flight program in 2015 and has continued to work on it since.
80% women flight attendants; only 5% make pilots
According to the International Institute for Sustainable Development (IISD), a Canada-based think-tank, almost 80% of flight attendants are women, however, barely 5% of pilots are women. The IISD report added that the gap is wider in technical or leadership positions. Delta said they've been trying to rectify this gender gap, adding that 7.4% of pilot hires, in the past four years, have been women.