Bangladesh: Dubai-bound flight makes emergency landing after hijack attempt
Bangladesh: Dubai-bound flight makes emergency landing after hijack attempt
Written by
Ramya Patelkhana
Feb 24, 2019, 08:40 pm
2 min read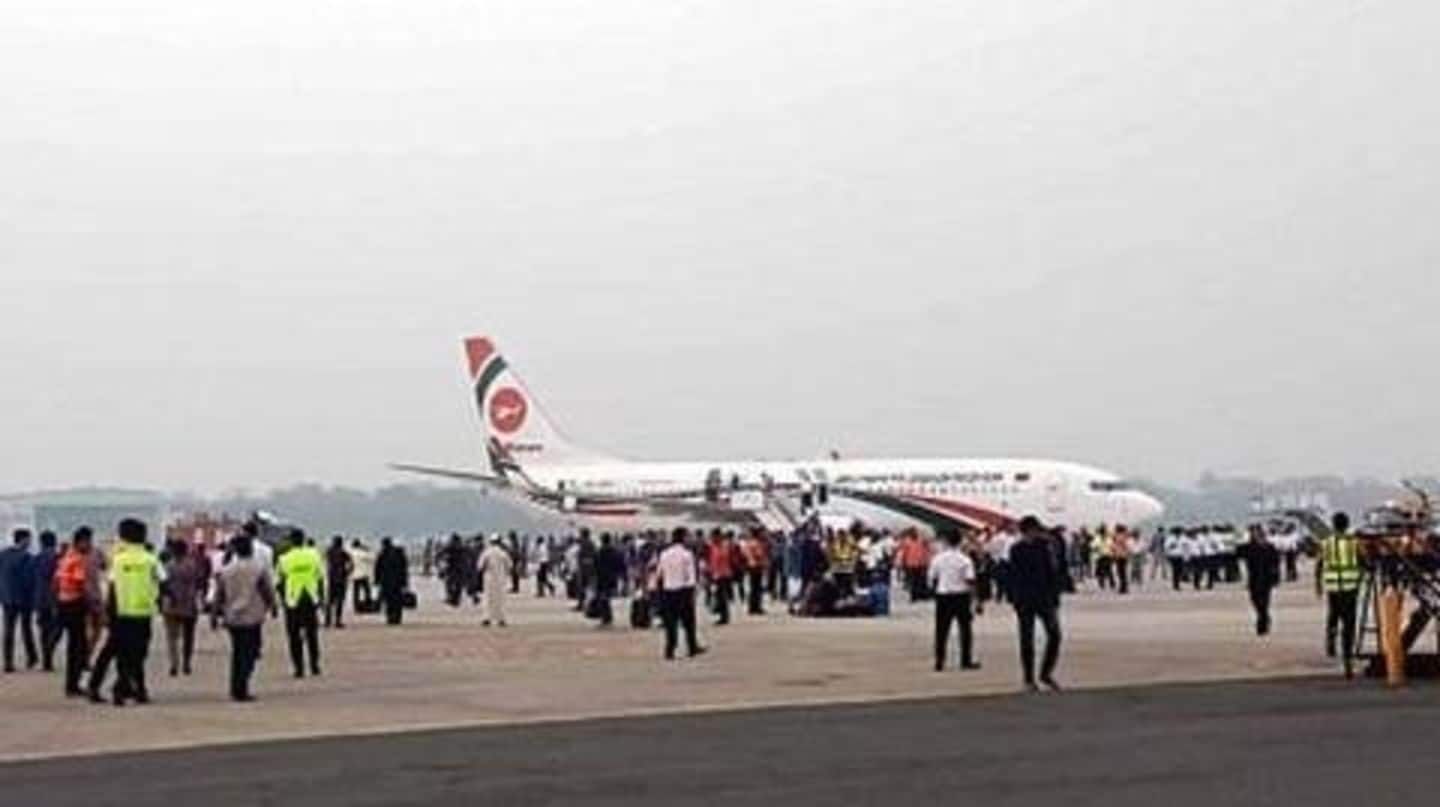 A Biman Bangladesh Airlines flight going to Dubai from Dhaka via Chittagong in Bangladesh made an emergency landing at the Shah Amanat International Airport in Chittagong reportedly after a hijacking attempt. Several reports claim that a gunman tried to enter the cockpit forcibly to take control of the plane. However, crew members reportedly overpowered the gunman, foiling the hijack attempt. Here are more details.
Passengers evacuated; gunman, crew members still on the plane
According to Bangladeshi media reports, passengers of flight BG 147 have been evacuated and a crew member was shot while security personnel have surrounded the plane after it landed at the airport. The gunman along with two crew members is still reportedly on the plane.
Armed man pulled a gun at pilot's head: Home Minister
Witnesses and the Chittagong airport officials said that the plane landed at around 5:40pm after which police and Rapid Action Battalion cordoned off the area on the runway. "So far we know an armed man pulled a gun at the pilot's head. But all the passengers have disembarked. The pilot has also got off," Bangladeshi Home Affairs Minister, Asaduzzaman Khan Kamal, told bdnews24.com portal.
Biman official confirms the flight was hijacked
Biman Station Manager at Shah Amanat Airport, Mahfuzul Alam, also confirmed the flight was hijacked. However, he declined to reveal more details. Authorities have reportedly suspended all flight operations. Biman General Manager, Shakil Meraj, told bdnews24.com, "I've heard many things. I can't confirm anything now."
Passenger reported seeing something like a gun with fellow-passenger: Official
"A passenger reported to the authorities that he noticed something like a gun with a fellow-passenger on-board the flight that was flying from Dhaka," said a senior Bangladeshi official who didn't want to be named, according to Gulf News. "As soon as the flight landed at Chittagong, the officials evacuated the passengers from the flight," the official added.
Initial reports suggest it's not organized hijack attempt: Official
"The efforts to control the situation and overpower the problematic person are continuing. The initial reports suggest that all passengers are safe as of now," the anonymous Bangladeshi official was quoted as saying. "The available information as of now suggests that it is not an organized hijacking attempt but a misadventure of a disgruntled individual," the official added.