Barack Obama turns Santa Claus for sick children, spreads joy
Barack Obama turns Santa Claus for sick children, spreads joy
Dec 20, 2018, 09:08 pm
2 min read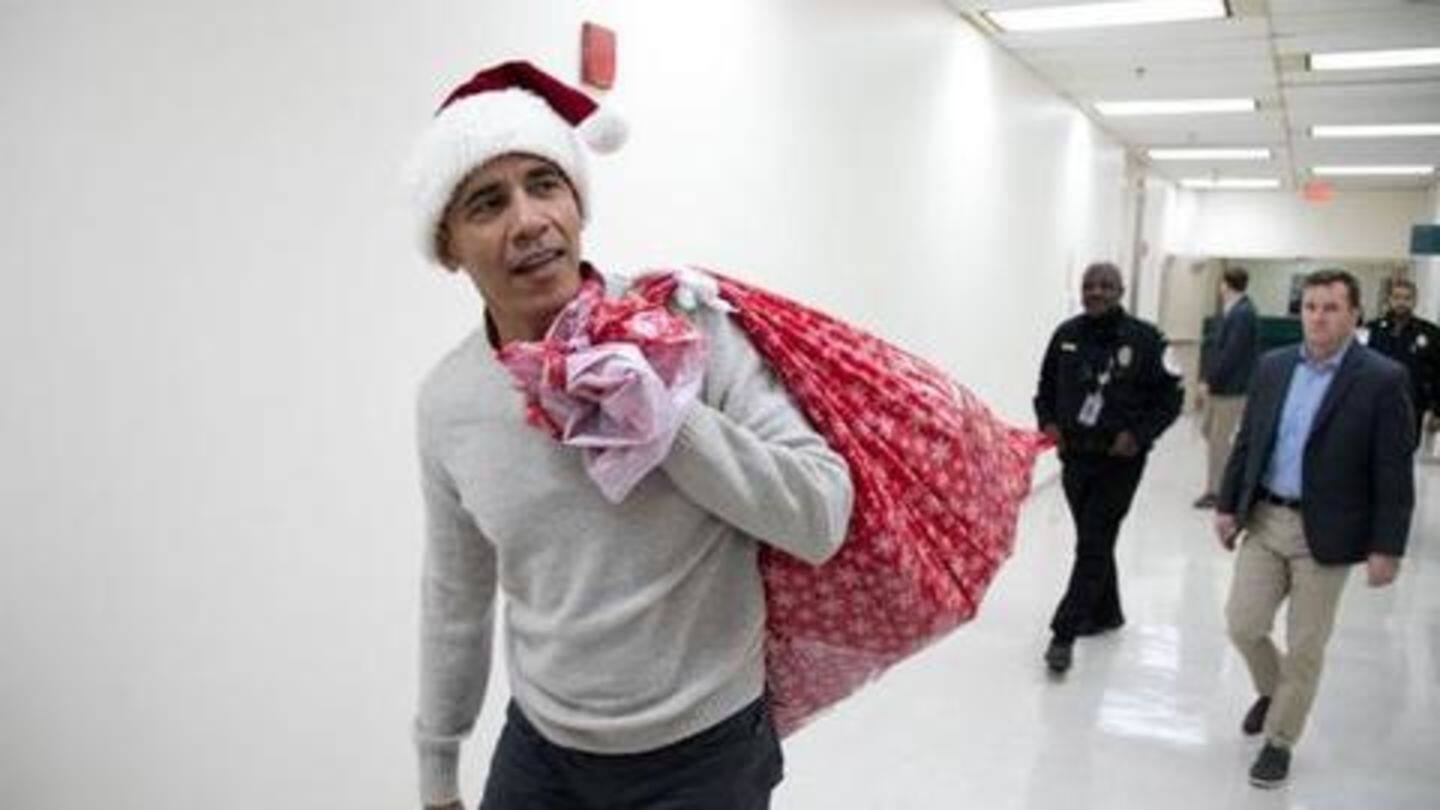 The world is no stranger to Barack Obama's love for children. Besides being a popular man, the former US President is known for supporting many charities dedicated to children's health. Yesterday, Obama turned Santa Claus and gave a surprise visit to the ailing children at the Children's National Medical Center in Washington, leaving a big smile on their faces (and ours). Here's more.
Obama wore Christmas hat, was greeted cheerfully in the hospital
Today, the hospital took to Twitter to express their delight over Obama's surprise and warm visit to the hospital and shared a video of his visit. In the video, Obama can be seen wearing the Christmas hat and entering the hallway of the Center. He was greeted cheerfully by the people inside as they all, including Obama, sang We Wish You A Merry Christmas.
Children were overjoyed after receiving presents from Obama
The video showed Obama distributing gifts and having a lovely time with the children admitted at the hospital. The video had stills of Obama joyfully entering the rooms of children holding their Christmas presents and children gasping with elation. Obama could be seen talking and hugging the children and their parents, who seemed overjoyed by the former President's visit.
Obama thanks hospital staff, appreciates their work for ailing children
Obama told the hospital staff, "I just want to say thank you to all of you guys. We have had the chance to talk to some of the wonderful kids and their families." "As the dad of two girls, I can only imagine in that situation to have nurses and staff...and looking after them...that's the most important thing there is," he added.
'Thank you for making our patients' day so much brighter'
Obama spreads Christmas joy this holiday season
Obama keeping up with tradition, surprised kids last year too
This isn't the first time Obama left his tailored suit for something more festive for children. Last year, he donned a brown leather jacket and Christmas cap and visited an NGO, Boys and Girls Club, in Washington. He not only handed over gifts to about 50 children but also spread a Christmas cheer among the children. Did Obama just win the perfect Santa award?