Despite coronavirus pandemic, people worldwide refuse to stay indoors
Despite coronavirus pandemic, people worldwide refuse to stay indoors
Written by
Siddhant Pandey
Mar 23, 2020, 04:49 pm
3 min read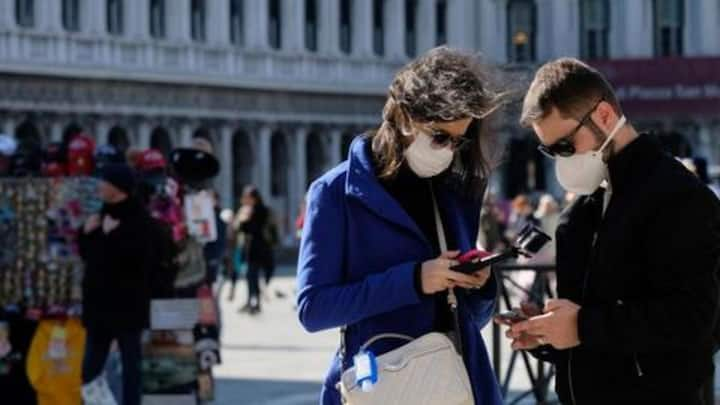 Around the world, the coronavirus outbreak has compelled authorities to impose strict regulations advising social distancing and urging people to stay indoors. However, in spite of the high stakes in this pandemic that has already killed over 14,000 people, many continue to venture out, throw "corona parties," risking further spread of the coronavirus disease (COVID-19). Here's what's happening around the world.
Police officers assaulted, threatened in France
According to the Associated Press, in the Paris suburb of Clichy-Sous-Bois, a person bit a police officer trying to enforce confinement rules. A large crowd also threatened to spit at cops planning to disperse them in Lyon. French authorities have also had to send security forces to prevent people from leaving for their vacation homes, risking potential spread of the disease to the countryside.
'Breaking rules doesn't make you a hero, you're an imbecile'
French Interior Minister Christophe Castaner said, "Some consider they're little heroes when they break the rules...Well, no. You're an imbecile, and especially a threat to yourself." France has reported over 16,000 coronavirus cases and 674 deaths.
People hold 'corona parties' in Germany; cough at elderly
In Germany's Bavaria, Governor Markus Soeder said that people are still organizing "corona parties." Soeder added, "There are young people who cough at older people and shout corona for fun and, above all, there are an incredible number of groups being formed." There are nearly 25,000 coronavirus cases in Germany, out of whom, 266 have recovered. The national death toll stands at 94.
People continue to leave homes even in Italy
Reportedly, even in Italy, which has the highest number of coronavirus infections in Europe, authorities are trying to keep people indoors as they try to leave their homes for fresh air or the sun. Italy has reported the highest number of deaths worldwide, 5,476.
Spain uses helicopters to spot people outdoors
In Spain, where a state of emergency has been declared, a person was seen walking a goat in Catalonia, seemingly to exploit the pet-walking exemption. Another man was spotted wearing a full-body dinosaur costume in Murcia. The police are also using helicopters to spot people outdoors, and sending agents to break up gatherings. Spain has almost 30,000 coronavirus infections and 1,813 deaths.
In US, authorities shut beaches to prevent college student crowds
In the United States—with over 35,000 cases and 458 deaths—people continue to venture out in New York City's large park network. New York Governor Andrew Cuomo warned people, "You're not Superman, and you're not Superwoman." In Florida, officials had to shut down beaches to prevent spring break college crowds from gathering. In the state, some businesses reportedly continue to try and draw in tourists.
In India, people left homes in groups despite nationwide curfew
In India, Prime Minister Narendra Modi called for a nationwide curfew last Sunday and had requested people to clap their hands from their balconies at 5 pm. Instead, in several parts nationwide, rowdy crowds ventured out in the streets. People have also violated home quarantines. In Madhya Pradesh, BJP leaders celebrated outside the party office in a large gathering after the Chief Minister's resignation.
Globally, coronavirus cases surpass 3 lakh
Across the world, the coronavirus outbreak has infected almost 3.5 lakh people and killed over 14,000. Over 98,000 people have also recovered from the disease, caused by a novel coronavirus called SARS-CoV-2. Notably, China, where the disease emerged, has not reported any new cases of the disease. Over 3,200 people have died in the country and out of the 81,000 infected 72,000 have recovered.