Cuba: Ageing airliner crashes shortly after take-off, kills 100
Cuba: Ageing airliner crashes shortly after take-off, kills 100
May 19, 2018, 09:25 am
2 min read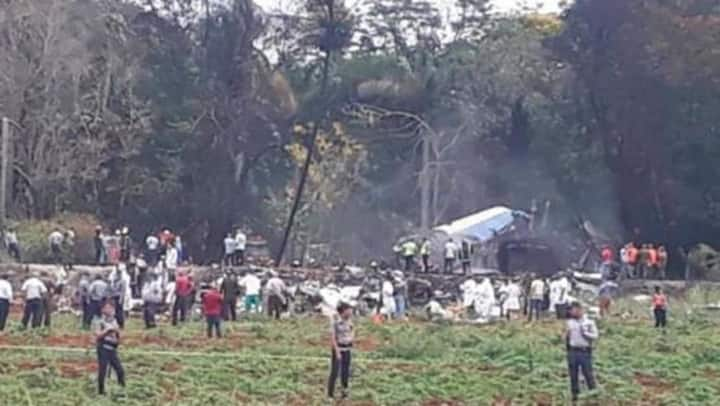 In what is being called the worst aviation accident to hit Cuba in the last three decades, an ageing aircraft crashed shortly after takeoff on Friday, leaving 100 people dead. 3 survivors were rushed to the hospital. The Boeing 737 bound for the Eastern city of Holguin went down, soon after take-off from Jose Marti International Airport. The witnesses said they saw thick black smoke.
The ill-fated aircraft changed hands 15 times
The aircraft began its career in 1979 with Piedmont Airlines. Later airlines in Canada, Chile, Cameroon, Benin and the Caribbean, flew it. The US Navy also used it for at least five years. It was being flown by a small charter company named Global Air. The plane crashed in a cassava field and appeared heavily burnt. Firefighters were deployed but tragedy couldn't be averted.
104 passengers, six crew members were onboard
State media reported the aircraft took a sharp right turn after take-off. At the time of the accident, skies were overcast and rainy at the airport. A special team has been formed to understand the cause of the crash. 104 passengers and 6 crew members were onboard the flight. "My daughter is 24, my God, she's only 24," said a mourning Beatriz Pantoja, whose daughter Leticia was on the plane.
President issues statement after tragic accident
"There is a high number of people who appear to have died. Things have been organized, the fire has been put out, and the remains are being identified," Cuban President Miguel Diaz-Canel said from the scene.
Third major airline accident in recent years to jolt Cuba
Last year, a Cuban AN-26 transport plane carrying military personnel crashed in the Western province of Artemisa, killing everyone onboard. In November 2010, an AeroCaribbean aircraft went down in bad weather, killing all 68 people including 28 foreigners from different nationalities. Many ageing planes have been taken out of service by Cubana de Aviación, because of mechanical problems.