Owing to Pakistan government's negligence, terrorist Saeed might go scot-free
Owing to Pakistan government's negligence, terrorist Saeed might go scot-free
Oct 11, 2017, 07:19 pm
2 min read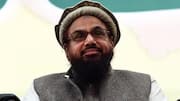 Hafiz Saeed, 26/11 Mumbai attacks' mastermind and JuD chief, might go scot-free if the Pakistan government fails to provide evidence against him to continue his house arrest, the Lahore HC warned. Lahore HC was hearing a plea against Saeed's detention and the interior secretary was supposed to be present in court with the case's complete records. But, his absence irked the court.
When was Hafiz Saeed placed under house arrest?
On January 31, Saeed and his four associates were placed in house arrest under the anti-terrorism act. This crackdown allegedly came after the US threatened Pakistan with sanctions if JuD would not be banned. On September 25, the house arrest was extended by the Punjab government, which has strongly advocated for Saeed's house arrest to maintain public order, for 30 more days.
What did the Lahore HC say?
Lahore HC expressed disapproval about the interior secretary's absence and said "no citizen can be detained for an extended period on the basis of merely press clippings" and the government's conduct shows that they have no "substantial evidence" against Saeed. Justice Syed Mazahar Ali Akbar Naqvi also lamented the consistent requirements for adjournment and asked if the government wanted courts to stop working.
What does this imply for Pakistan?
The government said the secretary couldn't attend the proceedings because of some unavoidable commitments. However, if Pakistan fails to detain Saeed by preparing a full-proof case indicting him, it will face international criticism. The US has acknowledged his involvement in terrorist activities by announcing a $10 million bounty on his head; India has also held him responsible for the 26/11 attacks killing 160 people.