Trump, Modi, and Conte: How are world leaders tackling coronavirus
Trump, Modi, and Conte: How are world leaders tackling coronavirus
Mar 25, 2020, 09:19 pm
6 min read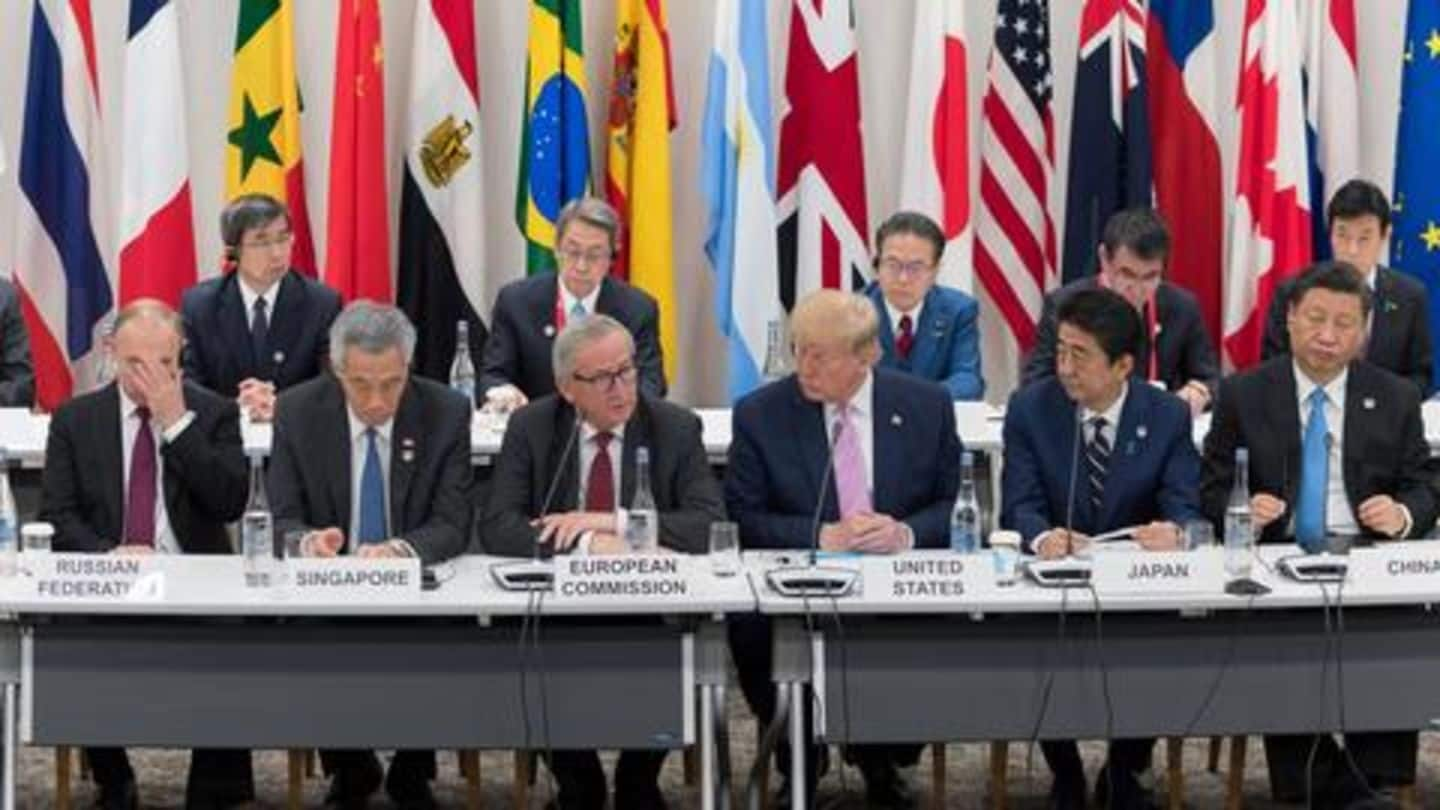 The world will be categorized into the pre-coronavirus phase and the one after that. Unlike other problems where world leaders can exploit their friendships, this time all countries are left to fend for themselves. As their leadership skills are being tested, some politicians have risen to the occasion while others have failed monumentally. Here's taking a look at how leaders are handling the pandemic.
When the first case of coronavirus was reported from China in mid-December, little did anyone know that the disease would be defining their day-to-day lives. Several countries have been put under lockdown to contain the virus' spread, hitting the economies drastically. So far, 18,931 have died and 424,114 have been infected. The World Health Organization asked countries to test more and get more aggressive.
Xi Jinping muzzled concerns about new virus
China's approach towards coronavirus has been catastrophic, to say the least. When a doctor, Dr. Li Wenliang, tried talking about the new virus, he was forced to sign an undertaking that he was spreading rumors. After contracting the virus, he died. The administration under Xi Jinping informed about human-to-human transmission as late as January when lakhs had already fled the epicenter Wuhan.
China confirmed human-to-human transmission really late
It was only on January 20 that the Chinese government admitted that coronavirus transmitted through humans. Around this time, Xi weighed in on the matter for the first time saying, "People's lives and health should be given top priority and the spread of the outbreak should be resolutely curbed." By then, things had already gotten out of hand, and the virus had crossed boundaries.
Italy was shut down, dead bodies piled up nevertheless
Though the virus originated in China, it affected Italy, a nation roughly 7,500 km away, the worst. Italy's world-class health infrastructure has collapsed, as the death toll stands at 6,820 currently, almost double of China's. Prime Minister Giuseppe Conte announced sweeping restrictions this month that brought the nation to a standstill, but the lockdown came after immense damage was already caused.
Lockdown will have to be extended, Conte announced
The lockdown was supposed to end on April 3, but Conte recently said it would have to be extended. "The total blockade will go on. The measures taken, both the closure of (public) activities and the ones concerning schools, can only be extended," he added. He has also asked the European Union to use its bailout rescue fund to rescue countries, including his.
Help countries fight the consequences of COVID-19
"The route to follow is to open ESM (European Stability Mechanism) credit lines to all member states to help them fight the consequences of the COVID-19 epidemic, under the condition of full accountability by each member state on the way resources are spent," he said.
Trump was in awe of Xi's ways, then slammed him
Separately, US President Donald Trump announced a national emergency in the country this month, but the way he has been dealing with crisis has got him ire. Trump is now facing criticism for saying in February that Xi "was doing a very good job with a very tough situation". And this week, he blasted the Chinese government for not telling about the situation earlier.
Trump wants restrictions to be lifted by Easter, experts disagree
Trump also referred to the virus as the "Chinese virus" inviting more flak. He said he wants the restrictions to be lifted by Easter since the holiday "is a beautiful day". Easter falls on April 12. But experts don't want him to rush. Dr. Anthony Fauci and Dr. Deborah Birx, who are members of the coronavirus task force, don't agree.
You have to be really flexible: Fauci
"You can look at a date but you've got to be very flexible and on a literally day-by-day and week-by-week basis. You need to evaluate the feasibility of what you're trying to do," Fauci said after Trump spelled out his plans.
Canada's PM fumed at countrymen for flouting rules
In neighboring Canada, PM Justin Trudeau, much like other world leaders, is upset because people aren't adhering to lockdown rules seriously. "You all think you're invincible. You're not. Enough is enough," Trudeau told on Monday. He is currently in self-isolation after his wife Sophie Trudeau tested positive. He also said his government will spend up to $82 billion to help businesses and Canadian workers.
In Germany, Chancellor Angela Merkel, who herself tested negative for COVID-19, gave a hard truth to citizens this month when she said that two in three Germans would get infected and the idea is to slow the spread. However, the death toll has been less. Though 34,009 have been infected, 172 have died. This, experts believe, is because Germany is testing aggressively.
The world may have been taken over by the pandemic, but Brazil's President Jair Bolsonaro sees it as nothing more than "hysteria". Recently, he asked Brazilians to get back to work just as the country's largest city São Paulo went under lockdown. "We must return to normality. The few states and city halls should abandon their scorched-earth policies," he said.
According to Bolsonaro, 90% won't get affected
"What is happening around the world has shown that the at-risk group are those over 60 years old. So why close schools? ... Ninety percent of us will show no sign [of infection] if we are infected," he argued.
Entire Indian population was locked down after cases trumped 500
Closer home, PM Modi put the entire country, having a population of 1.3 billion, under lockdown saying there wasn't any other way. The restrictions will last for three weeks. He urged citizens to cooperate and stay where they are, but after his speech, hundreds came on roads to stock essentials and several migrant laborers now face the biggest crisis - how to return home?
The WHO Chief is complicit too
Most disturbingly, Dr. Tedros Ghebreyesus, who heads WHO, turned a blind eye to the disaster for far too long. From saying that he was satisfied with China's "transparency" (when the country was doing exactly the opposite) to calling sealing borders an overreaction, Tedros has harmed us all. When he was nominated to the post in 2017, China supported him. Is this quid pro quo?