Trump declares national emergency in US as coronavirus crisis deepens
Trump declares national emergency in US as coronavirus crisis deepens
Mar 14, 2020, 09:29 am
3 min read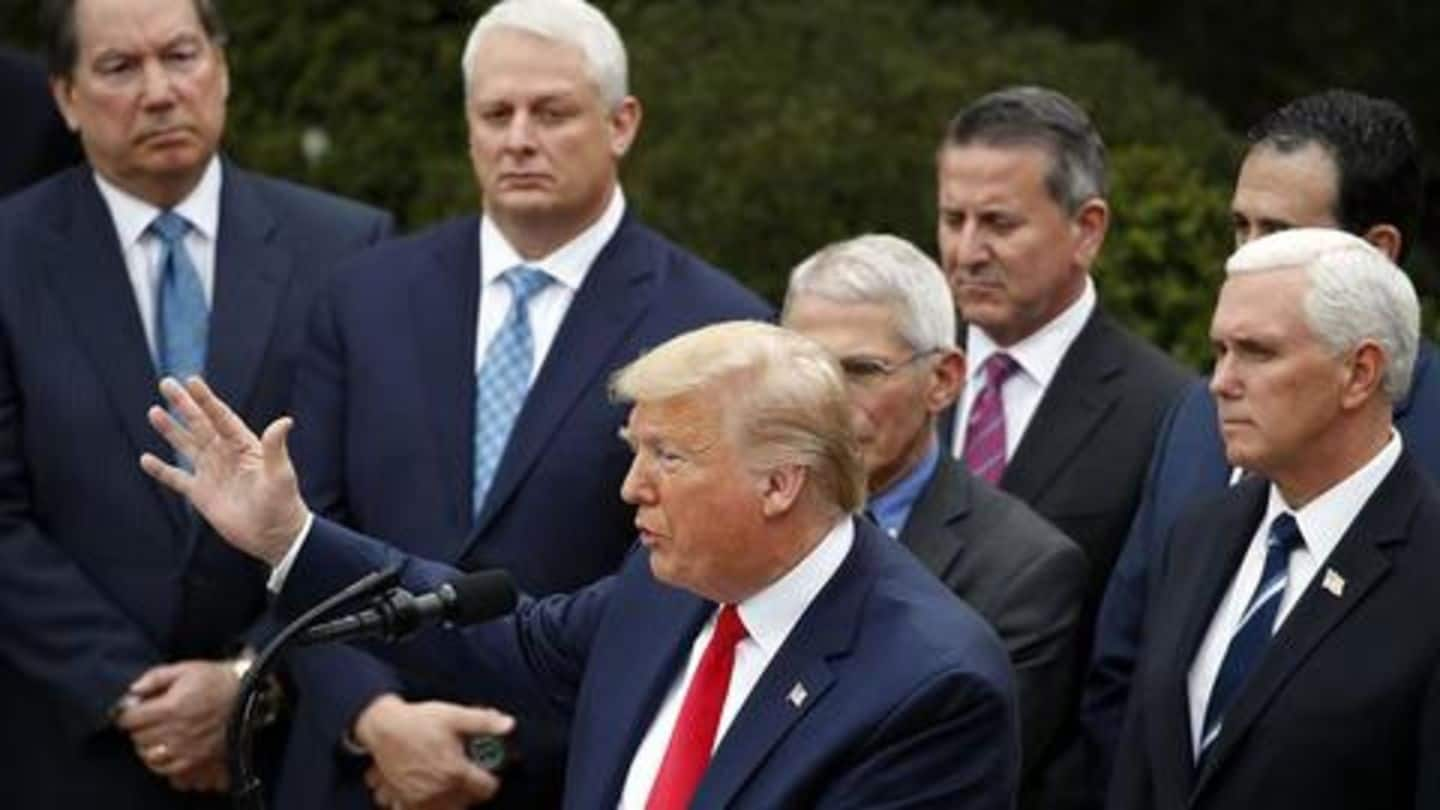 After worrying and angering his countrymen with his lax approach towards the coronavirus problem, United States President Donald Trump on Friday declared a national emergency. Speaking at White House, Trump said, "To unleash the full power of the federal government for this effort today I am officially declaring a national emergency - two very big words." Coronavirus has reportedly killed 41 in the States.
Enough people weren't getting tested, the virus spread soon
The US' way of handling the problem, which was declared a pandemic by the World Health Organization (WHO) this week, sparked concerns. Not enough people were tested, hence, the deadly virus' spread across 46 states and infected at least 2,000. In a bid to change this, Trump said 1.4 million additional tests will be available next week, and nearly 5 million within a month.
Trump didn't take responsibility for testing failures
The US President, who is seeking a second term, also refuted allegations that he was responsible for the mayhem which sparked in absence of tests. "I don't take responsibility at all. We were given a set of circumstances and we were given rules, regulations, and specifications from a different time," he said. Trump added getting everyone tested was "totally unnecessary".
In 2000, Bill Clinton announced national emergency
Further, the US President claimed he didn't know that a pandemic preparedness team, within the National Security Council, was dismissed in 2018. The declaration comes under the 1988 Stafford Disaster Relief and Emergency Assistance Act, which allows the Federal Emergency Management Agency (FEMA) to give funds to state/local governments and deploy support teams. In 2000, former President Bill Clinton made a similar announcement for the West Nile virus.
Funds will now flow freely
"The action I am taking will open up access to up to $50 billion - a very important and a large amount for states and territories or localities in our shared fight against this disease," Trump told reporters.
At the press meet, Trump was also asked if he would take the coronavirus test since he was photographed with Brazilian President Jair Bolsonaro's press secretary, who tested positive. After saying "no" initially, Trump added, "Most likely, yes." He had to be told that he was putting other people at risk for him to agree for testing. Reportedly, Bolsonaro also took the coronavirus test.
President said companies will aid in testing, they aren't sure
Trump said private companies, including Google, Target, and Walmart, will facilitate coronavirus testing. His deputy, Mike Pence said, "Very soon, Americans will be able to go to these drive-in sites (for tests)." But later, some companies said they didn't know how many tests they can offer, or when would the kits be made available. Another claim of Trump, pertaining to Google, also fell flat.
Google is not building a nationwide website
Trump said the tech giant was building a nationwide website that will help people determine whether and how to get themselves tested, a claim Google denied. In fact, Alphabet, Google's parent company, is working on a smaller website that will direct residents of California to testing centers. Verily, a subsidiary that is working on the idea, is planning a pilot next week.
The website is in its initial phases
"We are developing a tool to help triage individuals for Covid-19 testing. Verily is in the early stages of development, and planning to roll testing out in the Bay Area, with the hope of expanding more broadly over time," the company's statement read.