In conservative Saudi, youngsters are taking the 'risk' of dating
In conservative Saudi, youngsters are taking the 'risk' of dating
Feb 13, 2020, 04:41 pm
3 min read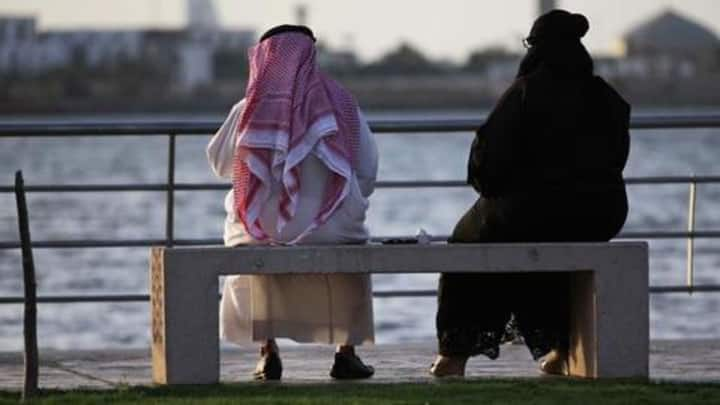 Saudi Arabia's conservative society bans a lot of things and a relationship before marriage is one of them. Though the fear of getting punished exists, young people in the Kingdom are defying it to live a life they want. Dating is laying roots in the Kingdom and couples are often spotted in public together. But it's all pretty risky.
Women didn't sit next to unrelated men. Now, it's changing
Until recently, Valentine's Day and anything related to it, including gifts and red roses, were frowned upon. A young filmmaker likened selling roses to selling drugs. But there has been a shift, he informed AFP. In a country where women couldn't sit next to an unrelated man, women are asking men out for dates. "It was unthinkable," he told the agency.
Saudi issued a fatwa banning 'all things love'
Last year, Saudi saw unprecedented scenes before V-Day. For as long as one can remember, the Kingdom and its religious fanatics launched a crackdown against anything that was remotely linked to the celebration of love. In 2008, a fatwa was announced banning the sale of cards, roses, and red objects. Even, restaurants were not allowed to create the "Valentine's Day" atmosphere.
Saudi didn't officially lift ban, but policing wasn't done either
In 2018, Riyadh hinted that it might relax the rules. And next year, Saudi finally embraced the day of love. Though the government didn't say anything about the ban being lifted officially, Valentine's paraphernalia was being sold openly. This change in Riyadh's approach is credited to Mohammad bin Salman (MbS), who "liberalized" the Islamic nation. MbS' resume, however, is controversial.
Not getting caught is couples' number one priority
But the celebration of love isn't restricted to just February. Young residents of Saudi are looking for ways to escape the strict eyes of the administration and their guardians. For this, they turn to Snapchat, Twitter, and Swarm (an app meant to log places but is used as a dating website). The young ones meticulously plan their outings with their partners.
Couples fear not only the administration but their families too
Take Samirah for example, who gave a pseudo name to the news agency. The 27-year-old finance executive feared her relationship would be disclosed to her parents, as the mother of her partner caught her love letter. Her boyfriend managed to make his mother understand, but the fear was real. Even if the policing from administration takes a step back, that from families doesn't.
Women fear their kin are spying on them
A woman in her late 20s told AFP her "control-freak" brother could be spying on her. Another one, named Nour, said, "Many suffer from the Madonna-whore complex. Just because you are willing to go on date does not mean you have a loose character."
Breaking up on bad terms has its own consequences
Another fear that keeps them alert is that of blackmail. Sex outside marriage is forbidden and women constantly worry if their partner filmed them during the act. "It's a big concern if you break up on bad terms," Samirah said. Meanwhile, men also deal with other problems. Unless they can prove the woman with them is their wife, they seldom get hotel rooms.
In changing Saudi, men and women attend concerts too
Despite dating still seen as haraam by many in Saudi, couples are going all out. Until two years ago, no one would have imagined men and women could mingle on roads, and now they even attend concerts.