Internet is going gaga over this 5-year-old's gorgeous hair!
Internet is going gaga over this 5-year-old's gorgeous hair!
Written by
Pallabi C Samal
Sep 02, 2018, 02:08 pm
2 min read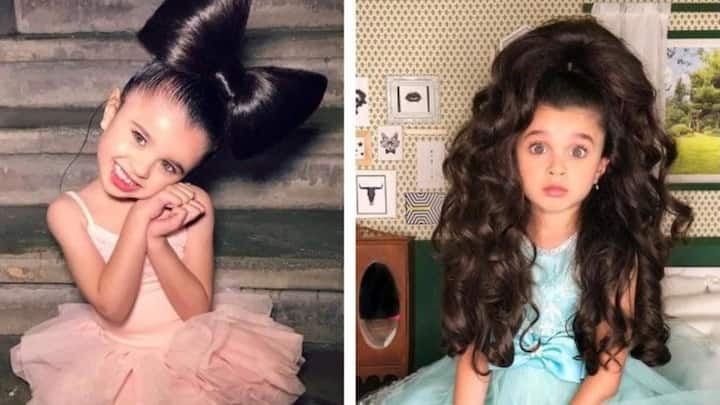 Hey shampoo and hair-oil brands, your ambassador is here! Meet Mia Aflalo Shunem, who's smashing the Internet with her jaw-dropping gorgeous black, thick mane, hazel eyes, spotless skin and lovely smile. And she's all of five years, an age when most of us would be clumsy, either getting bathed in mud-water or eating random things. But this child is a future star, for sure!
Her first photo showed her playing with a rabbit
Mia, a native of Tel Aviv, Israel, who already has an Instagram account, had her first photo posted in April'17, where it showed her playing with a rabbit. Her hair didn't get pronounced then. But when her second photo showing her styled-up hair got posted last December, social media went crazy. A massive 11,000 people liked it and it garnered close to 500 comments.
Hair styled by Sagi Dahari, who's worked with Gal Gadot
Since then there has been no stopping her. Today the modern-day Rapunzel boasts of over 78,000 followers on Instagram with just 12 posts, the last one dated this March, where she was seen playing with her beautiful hair. Her hair in most of the photos has been done by fellow Israeli Sagi Dahari, a stylist who has also worked with the Wonder Woman Gal Gadot.
Many criticized Mia's parents, while many said 'let her enjoy'
Though Mia took our breath away, there were many who criticized her parents for 'exposing her to the world and giving encouragement to pedophiles.' Fearing for her safety, many asked her parents to let her enjoy her childhood. But there were many who were vociferous in their praises, saying this attention is giving confidence to the little girl, and should be appreciated.