At Jamal Khashoggi's memorial, Jeff Bezos hugs his fiancée
At Jamal Khashoggi's memorial, Jeff Bezos hugs his fiancée
Oct 03, 2019, 01:42 pm
3 min read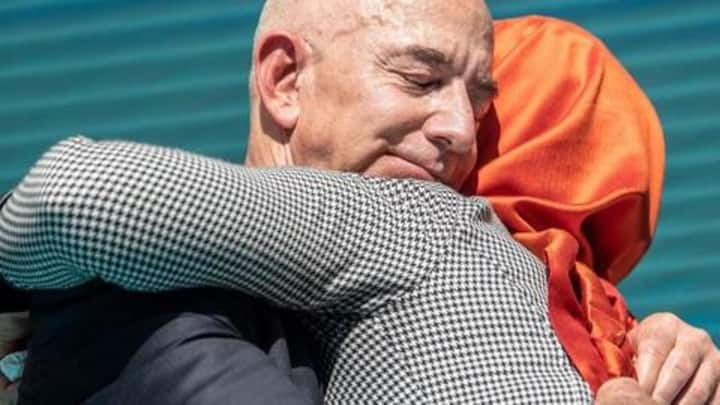 A year ago, journalist Jamal Khashoggi was inhumanely murdered inside Saudi Arabia's consulate in Istanbul. On Wednesday, activists and his fiancée, Hatice Cengiz gathered outside the embassy to remember him. And this memorial service was attended by Amazon CEO and owner of The Washington Post, Jeff Bezos. To recall, Khashoggi was a columnist at The Post and was highly critical of the Saudi regime.
The murder which shook the world's conscience
On October 2, 2018, Khashoggi had gone inside the embassy to collect documents needed to marry Cengiz. There, Saudi operatives were "waiting" for him. After murdering him, they dismembered his body. A recent report has said prior to killing Khashoggi, the "agents" cracked jokes. Thereafter, his death was slammed by rights activists and ruptured the "modernizer" image of Saudi's crown prince Mohammed bin Salman.
Despite never commenting on murder publicly, Bezos attended the memorial
The site where the infamous consulate stood, no longer houses it. In September, Saudi's foreign ministry "strictly and quickly" sold off the consulate. But that didn't stop activists from lodging a statement. Their protest was emboldened after Bezos decided to attend the event. He came to the spot in a black car. To note, the billionaire has never commented on the murder publicly.
Spot visuals: Bezos made a surprise visit at the event
You are not alone: Bezos told Khashoggi's fiancée
At the event, Bezos had comforting words for Khashoggi's fiancée. "No one should ever have to endure what you did. Right here, where you are, you paced that street for hours, pacing and waiting. And he never came out. It is unimaginable, and you need to know that you are in our hearts. We are here and you are not alone," he said.
Separately, Cengiz demanded answers, said she still seeks justice
When Bezos was done with his speech, he hugged Cengiz. "After the worst year of my life, I stand here broken but proud. I still seek justice. I want to know what happened to his body. I want his friends to be released from jail. I want those in power to be held accountable for their actions," she said in her speech.
A year has passed. Will Khashoggi's killers be punished?
Interestingly, United Nations Special Rapporteur Agnes Callamard, who had earlier said there was enough evidence to link MbS with the murder, also attended the ceremony. "We will not stop until justice is served," she said. Last week, MbS denied being involved with the horrific episode but took "full responsibility" saying it happened "under his watch". But a year has passed and Khashoggi still awaits justice.