Malaysian PM Mahathir Mohamad resigns amid talks of new coalition
Malaysian PM Mahathir Mohamad resigns amid talks of new coalition
Written by
Siddhant Pandey
Feb 24, 2020, 08:07 pm
3 min read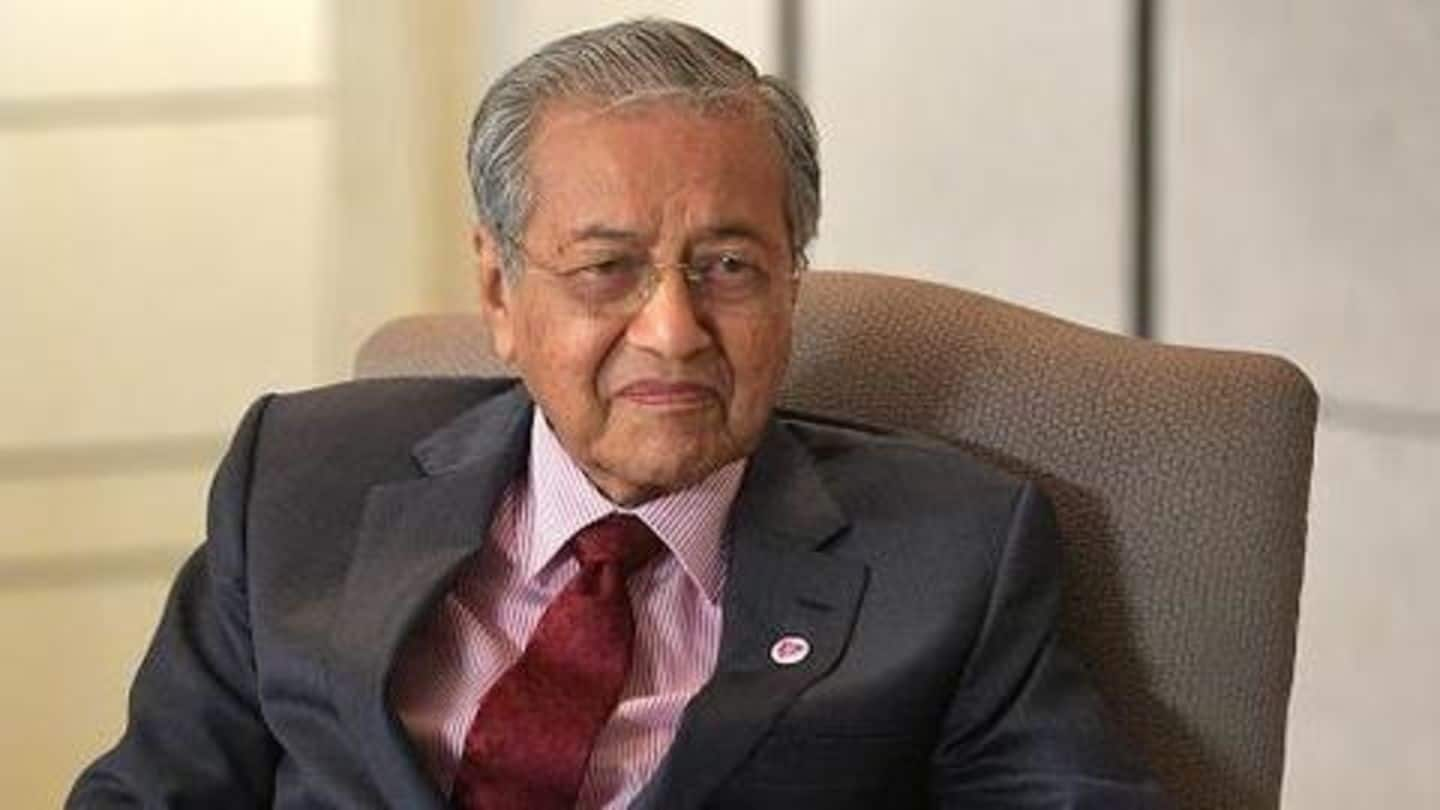 In a shocking move, the Prime Minister of Malaysia, Mahathir Mohamad (94), resigned on Monday. The PM tendered his resignation to Malaysia's king amid turmoil in the ruling coalition over Mahathir's successor. Notably, his party also exited the ruling coalition. Apparently, the party is now planning to form a new government, that would exclude his anointed successor, Anwar Ibrahim (72). Here are more details.
Mahathir resigned at 1 pm on Monday
In a brief statement, Mahathir announced that he had sent his resignation to Malaysian King Sultan Abdullah Sultan Ahmad Shah at 1 pm local time (10:30 am IST) on Monday. Mahathir's party, Parti Pribumi Bersatu Malaysi (Malaysian United Indigenous Party), also quit the ruling coalition Pakatan Harapan (Alliance of Hope), said party chief Muhyiddin Mohd Yassin. Mahathir had come to power in 2018.
Mahathir's resignation comes amid political turmoil in Malaysia
Lately, there has been growing concern over a plan by Mahathir's supporters to team up with Opposition parties to form a new government, allowing the 94-year-old to serve a full five-year term instead of transferring power to Anwar. Anwar had helped Mahathir win the 2018 elections in exchange for being named successor. Anwar has now accused Mahathir of betraying promises.
Aware of attempts to bring down Pakatan Harapan: Anwar
Anwar reportedly said, "We know there are attempts to bring down Pakatan Harapan and form a new government." Referring to the alleged new alliance, Anwar added, "It involves our former friends in Bersatu and a small faction of traitors from PKR." The PKR is notably the biggest constituent of the Pakatan Harapan alliance. However, the party is plagued by infighting.
Mahathir's supporters, Opposition members held talks on Sunday
On Sunday, Mahathir's supporters, "traitors" from Anwar's PKR, and members of Parliament from the Opposition United Malays National Organization (UMNO) held talks on the outskirts of Kuala Lumpur. Although it remains unknown what was discussed at this meeting, it is speculated that talks of a new coalition were on the agenda. A party needs 112 out of 222 Parliamentary seats to form a government.
Mahathir allied with Anwar to win 2018 general elections
In 2018, Mahathir had won the general elections with former rival Anwar as his running mate. The elections witnessed the defeat of the six-decade-long rule of the UMNO-led Barisan Nasional coalition and the removal of then-Prime Minister Najib Razak. Incidentally, Mahathir had served his first term as PM from 1981-2003 under UNMO. Anwar served as his deputy then, however, he was sacked in 1998.