Customer demands dress-pictures, seller sends of himself wearing them
Customer demands dress-pictures, seller sends of himself wearing them
Jan 29, 2019, 12:58 pm
2 min read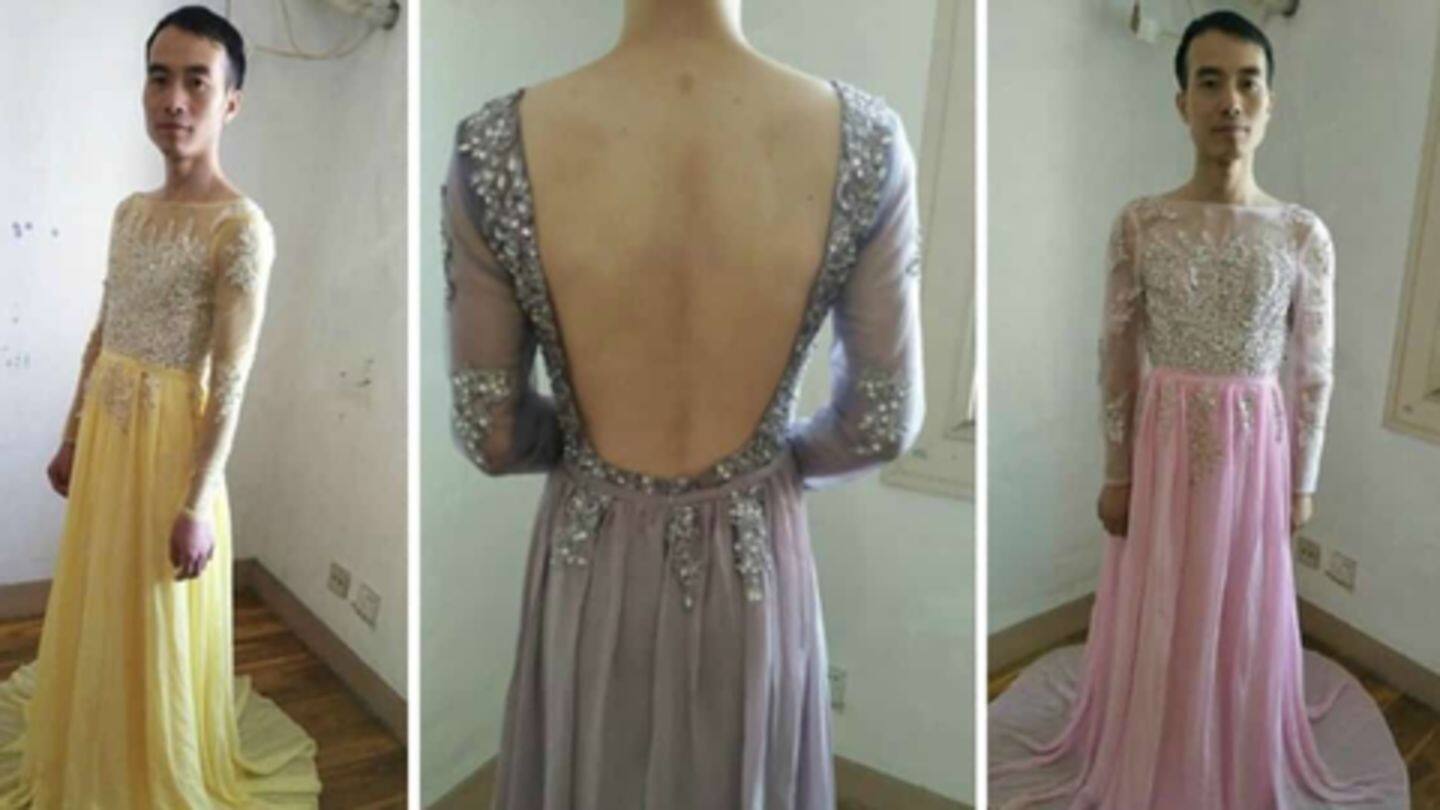 Living in a world where people have received bricks instead of a smartphone they paid for, people are bound to get skeptical while shopping online. However, when a US customer asked an online seller for the real pictures of a prom dress she was interested in, he went an extra mile and sent her pictures posing with the dress himself. Here's what happened.
Dress was bejeweled, backless and came in many colors
Andreea Patriche was searching for gowns on AliExpress, a company owned by China-based Alibaba. She found a stunning bejeweled backless dress in chiffon fabric that came in many different colors, including pink, orange, yellow, peach, and purple. The dress was made from spandex, polyester, and synthetic leather, and was customizable. In simple words, for her, it looked too good to be true.
Andreea was doubtful of dress, asked seller for real pictures
A skeptical Andreea, thus, messaged the seller asking for actual photos of the dress, which were available from size 2 to 20, as per US standard. Now, like every other customer, Andreea expected the seller would share pictures of the dresses lying on a table or a mannequin wearing them. However, the seller came up with a better idea to prove the dresses' authenticity.
Seller wore the dresses, shot pictures in modeling poses
To Andreea's surprise, the seller, with AliExpress username Shop739960 Store believed to be from China, shared pictures of himself donning the beautiful dresses. And stunning her, he actually pulled them off pretty nicely! In fact, in some pictures, the seller did some modeling poses wearing the sparkly backless dresses for her. She shared her experience on Reddit and netizens loved every bit of it.
Netizens lauded seller's effort, also called him 'Disney Princess'
Although the item is no longer available on AliExpress, Andreea's post has gone viral and it has received hundreds of comments with many netizens calling the seller 'Disney Princess'. Netizens on Reddit lauded the seller's integrity and his efforts of going beyond the usual approach to provide actual pictures of the product. This Chinese seller has just raised the customer satisfaction bar!