Hungry man eating pizza photobombs live reporting of Cohen testimony
Hungry man eating pizza photobombs live reporting of Cohen testimony
Feb 28, 2019, 05:47 pm
2 min read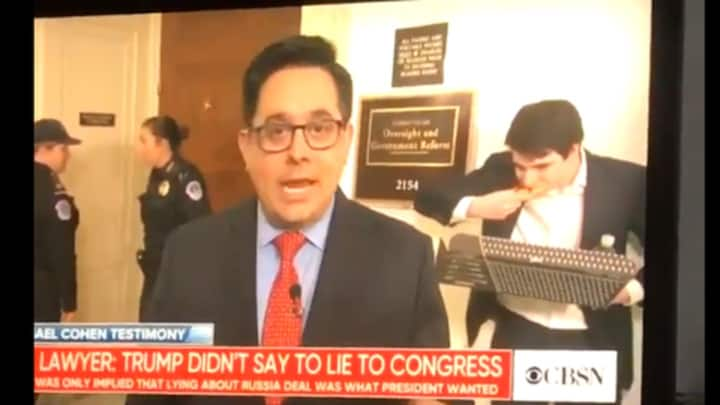 If you were ever so famished during a boring event that you gobbled some food soon after it finished, you'd understand the 'Hallway pizza guy'. On Wednesday, a CBS reporter was covering the testimony of Michael Cohen, former attorney of Donald Trump. While the reporter was giving his byte, a Congressional staffer appeared behind him devouring a pizza, totally oblivious of his photobomb stunt.
Man couldn't take eyes off pizza; was unaware of camera
Yesterday, Ed O'Keefe, a political correspondent with the US-based CBS News, was reporting on the testimony of Cohen, live on TV. Just then, a young and hungry Congressional staffer appeared behind him holding a pizza from &pizza, a pizza chain, and started feasting on it. He couldn't take his eyes off the pizza, and thus was completely unaware of his photobomb act.
After being informed, pizza guy gives astonishing look at camera
As O'Keefe went on talking about what Cohen revealed in his testimony, somebody thought to inform the pizza guy about his appearance. After being informed, the man looked at the camera with his mouth full of pizza and his astonished reaction was undoubtedly hilarious.
When he realized everyone is watching how hungry he is
Netizens loved the video, named him 'Hallway pizza guy'
The pizza man's photobomb video went viral in no time and the Internet is loving every 'byte' of it. Netizens gave him a tongue-in-cheek name, 'Hallway pizza guy'. Many of them could relate themselves to him as one wrote, "We've all been hallway pizza guy at some point." Others couldn't stop laughing at the video as another commented, "Eat like no one is watching."
Previously, bird lands on anchor on CBS News 8
This is not the first time reporters went through entertaining photobombs on live TV. Around the same time last year, on CBS News 8 in San Diego, a scarlet ibis landed on the head of an anchor, Nichelle Medina. She was reporting alongside fellow anchor Eric Kahnert, who said, "How's that for an introduction," referring to the amusing landing of the bird.