MbS orders release of 850 Indian prisoners, increases Haj quota
MbS orders release of 850 Indian prisoners, increases Haj quota
Feb 21, 2019, 10:22 am
3 min read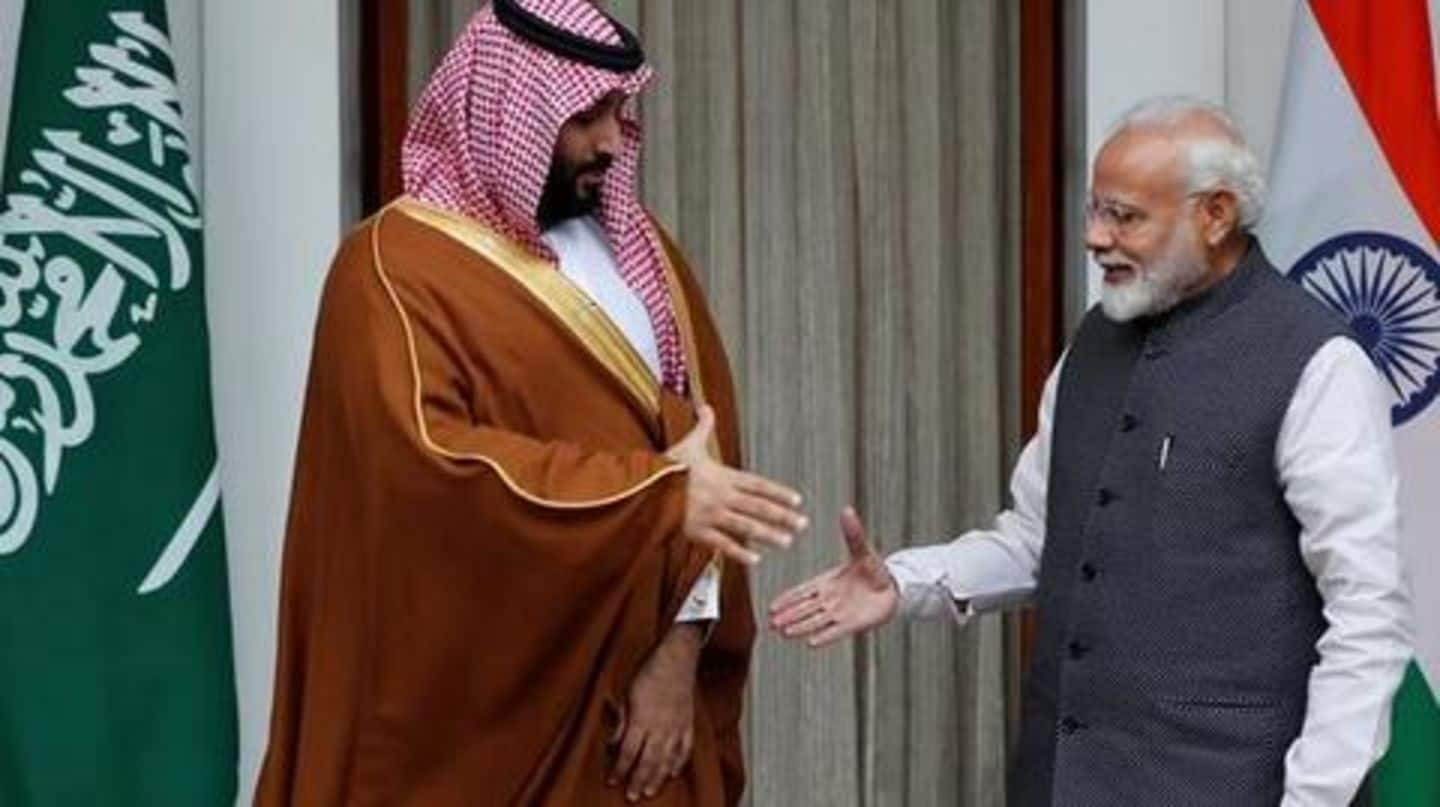 Saudi Arabia's crown prince, Mohammad bin Salman, who arrived in India on Tuesday for bilateral talks, ordered the release of 850 prisoners on the request of Prime Minister Narendra Modi. MEA spokesperson Raveesh Kumar made the announcement on Twitter calling it a "big deliverable". Apart from this, the heir apparent of the Kingdom also increased India's Haj quota to 200,000. Here's more.
More than 2,000 Indians are imprisoned in Saudi Arabia
Notably, as many as 2,224 Indians are lodged in Saudi jails, the MEA had informed during the budget session. There are 1,606 Indians in UAE prisons. The total number of Indians in the jails of gulf countries stands at 4,705.
Saudi Arabia has invested $44 billion in India
MbS praised ties between India and Saudi Arabia calling it "older than history". "We have invested around $44 billion in India. There are opportunities to invest over $100 billion in India," said MbS. He added ties between both countries got better after PM Modi visited Saudi Arabia in 2016.
MbS promises to help India in fight against terror
MbS' visit comes after the horrendous Pulwama attack in which 40 CRPF personnel were martyred. On terrorism, MbS said, "We want to tell our friend India that will provide all cooperation to India be it intelligence sharing or any other aspect." Separately, PM Modi said Pulwama attack showed the "menace of terror" while adding that both countries have agreed to destroy "infrastructure of terror".
Earlier, MbS visited Pakistan, invested money
Before coming to India, MbS paid a visit to Pakistan. He had announced investments worth $20 billion. He also ordered the release of 2,100 Pakistani prisoners while adding "he can't say no to Pakistan". Meanwhile, India has been trying to isolate Pakistan diplomatically as Jaish-e-Mohammed, the group which executed the Pulwama attack, operates from there. MEA said Pakistan-sponsored terrorism was discussed with MbS.
MbS was told about Pakistan's complicity, says MEA
MEA secretary TS Tirumurti said Pakistan's complicity in dealing with terrorism was underlined in the meeting. "They (PM Modi and MbS) agreed on the need to create necessary conditions for the resumption of talks. Both leaders underlined the importance of comprehensive sanctioning of terrorists and their organizations by the United Nations," Tirumurti said. According to Tirumurti, MbS praised PM Modi's initiative of peace with Pakistan as well.
Meanwhile, opposition slammed PM Modi's 'hugplomacy'
PM Modi welcomed MbS with a hug at the airport, a gesture which didn't sit well with many. Referring to money MbS pledged for Pakistan, Congress' Randeep Singh Surjewala tweeted, "National Interests V/S Modiji's 'hugplomacy'. Breaking protocol, Grand welcome to those who pledged $20 Billion to Pak & praised Pak's 'anti-terror' efforts. Is it ur way of remembering martyrs of Pulwama (sic)."