#RussiaProbe: Trump's ex-lawyer Michael Cohen sentenced to 3yrs in prison
#RussiaProbe: Trump's ex-lawyer Michael Cohen sentenced to 3yrs in prison
Written by
Ramya Patelkhana
Dec 13, 2018, 12:25 am
3 min read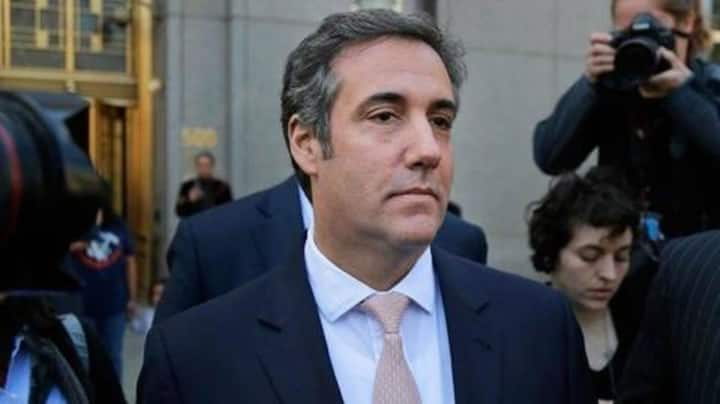 US President Donald Trump's former personal lawyer, Michael Cohen, has been sentenced to three years in prison by a Manhattan federal court. He is guilty of lying to the Congress, bank fraud, tax evasion, campaign finance crimes, and hush-money payments, which according to prosecutors, were ordered by Trump. Cohen's sentence is so far the longest in Special Counsel Mueller's Trump-Russia probe. Here's more.
Cohen to report to prison in March next year
Michael Cohen will reportedly surrender to prison on 6 March 2019. Before the sentencing, in the Manhattan federal court, he said: "I take full responsibility for each act that I pled guilty to — The personal ones to me and those involving the president of the United States of America." The judge has, according to The Guardian, noted that Cohen acted "at Trump's direction".
Blind loyalty led me to path of darkness: Cohen
In the court, Cohen also said: "'Blind loyalty' to Trump led me to take a path of darkness instead of light." And that loyalty - Cohen told a judge - had led to his attempts to "cover up the President's dirty deeds".
Cohen pleaded guilty to eight charges in August
Earlier in August, Michael Cohen had pleaded guilty to as many as eight charges, including breaking campaign finance laws, tax fraud, excessive campaign contributions, and lying to banks. These charges are part of a case filed by the US Attorney's Office for the Southern District of New York but not directly by Robert Mueller. Cohen has received the three-year sentence in this case.
Federal prosecutors wanted a much longer sentence for Cohen
Cohen's sentence of three years is lesser than what the federal prosecutors had suggested as appropriate for the crimes he is guilty of. They urged Judge William Pauley to sentence Cohen to five years or more in prison. The sentence is, however, much more compared to what his lawyers had asked for - they requested "no prison sentence" for Cohen.
In November, Cohen also admitted to lying to Congress
Apart from the imprisonment, Michael Cohen has been ordered to pay a fine of $50,000 for lying to the Congress about a proposed Russian real estate project by Trump Organization. In November, Cohen pleaded guilty to "deliberately" lying to the Senate Intelligence Committee in 2017 about the Trump Tower deal "out of loyalty" to Trump. This case was filed by Special Counsel Robert Mueller.
The importance of Trump Tower deal in Russia probe
The real estate deal for building a Trump Tower in the Russian capital, Moscow, has been a major focus of Special Counsel Robert Mueller's probe. Mueller is investigating whether the Trump campaign has conspired with Russia to influence the 2016 US presidential election.
'The misfortune to have been counsel to the president'
"Life is tough and Michael Cohen accepts that. We accept that. Mr. Cohen had the misfortune to have been counsel to the president," Cohen's lawyer Guy Petrillo argued in the court, before the sentencing. However, Judge William Pauley, before imposing the sentence, said: "Mr. Cohen pled guilt to a veritable smorgasbord of fraudulent conduct. And each of these crimes standing alone warrant considerable punishment."