Musk downplays coronavirus outbreak, draws flak from health experts
Musk downplays coronavirus outbreak, draws flak from health experts
Mar 15, 2020, 01:43 am
2 min read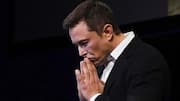 Elon Musk, the boss of SpaceX and Tesla, is drawing flak for downplaying the threat of COVID-19 - the deadly disease caused by the outbreak of coronavirus. The billionaire wrote an email to his employees, telling them that they were more likely to die in a car accident than from the virus. Incidentally, the virus has claimed over 5,500 lives worldwide in three months.
Musk's email to SpaceX employees
As reported by BuzzFeed News, Musk gave SpaceX employees "a basis for comparison" for the COVID-19 situation by noting that the risk of death from the disease "is vastly less than the risk of death from driving your car home." He also claimed that the evidence he's seen on the outbreak suggests it's not even in "top 100 health risks in the United States."
Health experts called Musk's remark 'dangerous'
The casual response from the tech mogul on the situation, which has already claimed thousands of lives and triggered an emergency in US, drew widespread flak from health experts, who described the remark as disingenuous and dangerous. Meanwhile, BuzzFeed News noted that comparing the outbreak with car accidents doesn't make sense, as the latter cannot transmit from one person to another and grow.
Either way, he advised SpaceX employees to work from home
Throughout the letter, Musk continued to stress on why he thought that the outbreak of coronavirus has been overstated but advised workers to stay home if they felt sick, nevertheless. According to an internal memo seen by Business Insider, Tesla employees have also been instructed to work remotely if they felt unwell or contacted someone with the novel coronavirus.
This isn't the first time Musk has downplayed coronavirus
Notably, the weird comments from Musk come just a few days after he tweeted out that "the coronavirus panic is dumb." So far, neither SpaceX nor Tesla has commented on his casual attitude towards the deadly outbreak.
Over 1,53,000 infected, with 5,500+ deaths
At the time of writing, coronavirus is confirmed to have infected over 1,53,000 people, of which some 5,700 have passed away. In the US alone, 2,500+ cases are confirmed, and health experts predict that the figure can rise up to 214 million - with as many as 1.5 million deaths - if the outbreak isn't contained effectively in the near future.