No bed, dirty toilets for Nawaz Sharif in jail: Lawyers
No bed, dirty toilets for Nawaz Sharif in jail: Lawyers
Jul 15, 2018, 10:42 am
3 min read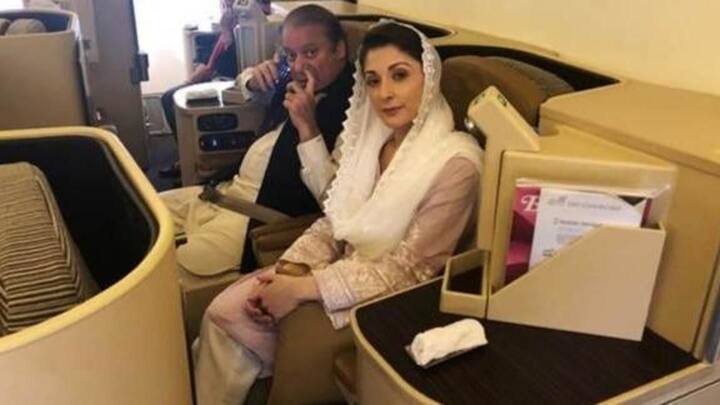 Former Pakistan PM Nawaz Sharif and his daughter Maryam, who were arrested in the Avenfield corruption case Friday night, are being lodged in sub-standard facilities, their lawyers have alleged. Though initial reports suggested they were being lodged in the superior Class B facilities, lawyers have alleged Nawaz hasn't been given even a bed, or newspapers. The washroom too is reportedly in a despicable condition.
About the Avenfield corruption reference
The National Accountability Bureau (NAB) had filed three corruption references against the Sharifs. One among them was Avenfield. This pertains to ownership of the Park Lane apartments in London, UK, specifically flats 16, 16-A, 17, and 17-A Avenfield House. According to the prosecution, the family acquired the flats through illegitimate sources. The Sharifs have consistently denied the allegations.
Nawaz got 10 years in jail, Maryam got seven
On July 6, an Islamabad court sentenced former Nawaz to 10 years in prison in the case, and fined him £8mn. Maryam was given seven years' imprisonment and fined £2mn. Son-in-law Capt (Retd) Safdar got one year in prison. Separately, Maryam was sentenced to one-year imprisonment for submitting false documents. Nawaz's two sons are also accused. They were declared proclaimed offenders after repeated no-shows.
Nawaz and Maryam arrested after they arrived from London
At the time of sentencing, Nawaz and Maryam were in London to care for their cancer-ridden wife and mother Kulsoom, who's in a coma. They were arrested upon their arrival in Lahore Airport Friday night, and placed in a special flight to Islamabad to be transported to Adiala Jail in Rawalpindi. Talking to journalists before taking off from Abu Dhabi, he hinted at political persecution.
Initial reports claimed Class B facilities for the Sharifs
Rooms in Class B facilities, as initial reports claimed the Sharifs will get, generally include more than basics: a cot, chair, teapot, lantern (if needed), shelf, and washing and sanitary appliances. They can also get a TV, AC, fridge and newspapers at their own cost, with permission from the jail department. For them, "rigorous punishment" isn't hard labor, but work like educating other prisoners.
Contrarily, legal team not even allowed to meet them properly
Yesterday, after meeting Sharif for five minutes, his lawyers had contrary allegations. Nawaz has no bed, newspaper or AC at Adiala, they claimed. He was sleeping on a mattress on the floor. The legal team reportedly wasn't even allowed to meet Maryam; only her legal counsel could meet her.
Action against Sharifs draws criticism, even of rivals
Action against the Sharif has triggered widespread allegations of the military attempting to secure PTI Chief Imran Khan's win in the upcoming elections. Even the Pakistan People's Party, rival of Nawaz's PML-N, questioned why his supporters weren't being allowed to gather. "Right to peaceful protest is fundamental for democracy," tweeted party leader Bilawal Bhutto Zardari. The military has categorically denied allegations of political interference.