Disgraced Hollywood producer Harvey Weinstein sentenced to 23 years imprisonment
Disgraced Hollywood producer Harvey Weinstein sentenced to 23 years imprisonment
Written by
Ramya Patelkhana
Edited by
Shikha Chaudhry
Mar 11, 2020, 10:34 pm
3 min read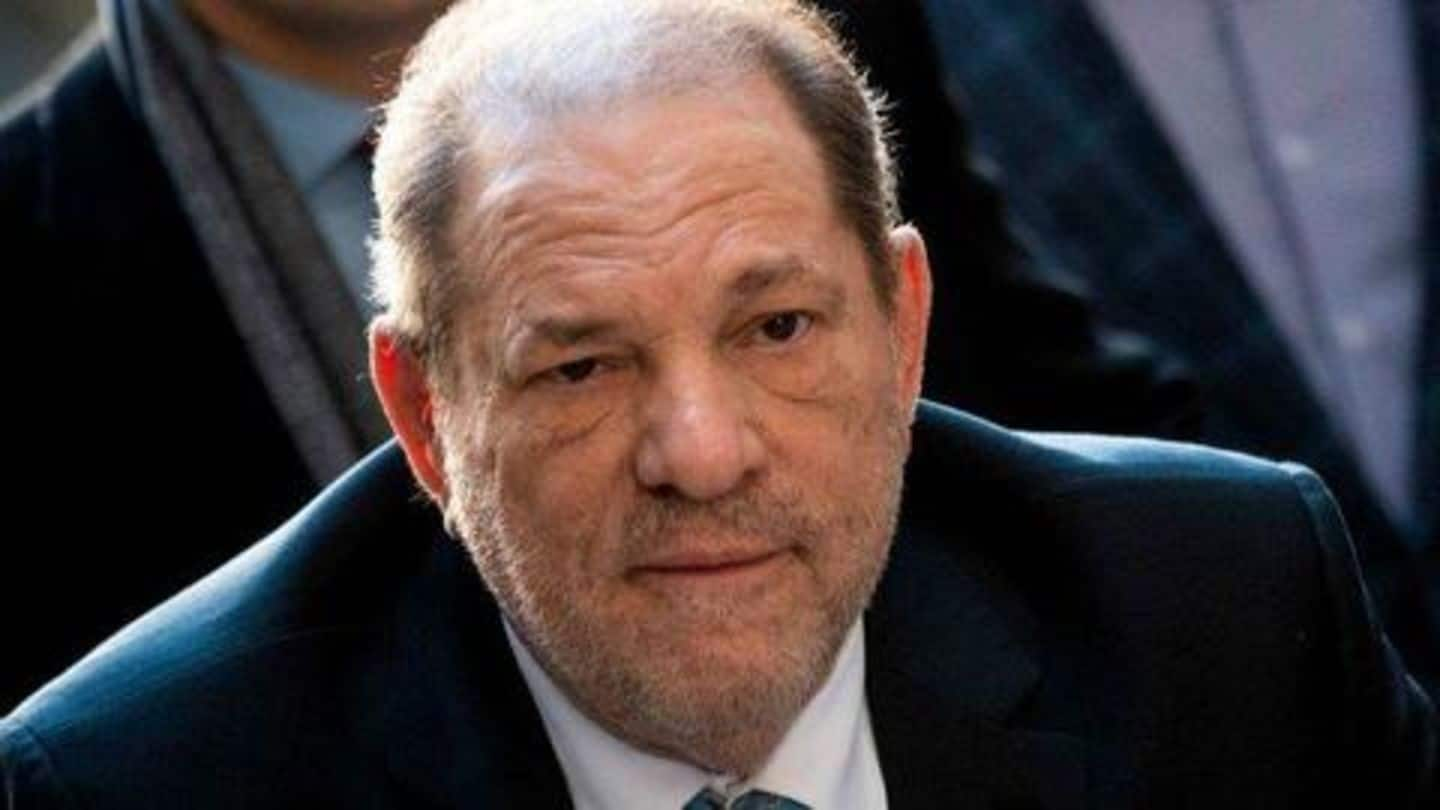 Disgraced Hollywood producer Harvey Weinstein has been sentenced to 23 years in prison for rape and sexual assault by a New York court on Wednesday, marking a landmark moment in the #MeToo movement. He was convicted last month on first-degree criminal sexual act and third-degree rape based on testimony by former production assistant Miriam Haleyi and aspiring actress Jessica Mann. Here are more details.
I am relieved, says Haleyi
"If Harvey Weinstein had not been convicted by this jury, it would have happened again and again and again," Haleyi said in court. "I'm relieved he will now know he's not above the law. I'm relieved there are women out there who are safer because he's not out there," she added. Weinstein has been accused of violating a number of women.
What are the allegations against Weinstein?
Haleyi, a former production assistant, has alleged that in 2006, Weinstein took her to his New York apartment and forced himself on her. He allegedly yanked out her tampon and performed oral sex on her, leaving her "motionless like a dead fish." Mann, an aspiring actor, alleged that Weinstein raped her multiple times, once leaving her like a "rag doll" in 2013.
Actor Annabella Sciorra claimed Weinstein 'violently raped' her
Meanwhile, Sopranos actor Annabella Sciorra also alleged that Weinstein "violently raped" her at her New York home in the 1990s. However, Sciorra was not named on the charge sheet as the allegations fell outside the time limit of the statute of limitations.
'No amount of jail-time will repair the lives he ruined'
The Silence Breakers, a group of two dozen women who accused Weinstein of sexual misconduct, released a statement after his sentencing. "Harvey Weinstein's legacy will always be that he's a convicted rapist. He is going to jail - but no amount of jail time will repair the lives he ruined, the careers he destroyed, or the damage he has caused," the group's statement read.
TIME'S UP tweeted Silence Breakers' statement after the sentencing
BREAKING: Harvey Weinstein has been sentenced to 23 years in prison for his February conviction of criminal sexual act in the first degree and rape in the third degree.

The following is a statement from 24 #silencebreakers in response: pic.twitter.com/6LhmIhDaMz

— TIME'S UP (@TIMESUPNOW) March 11, 2020
A handcuffed Weinstein arrived at court in wheelchair
Weinstein, who was once one of the most powerful figures in Hollywood, came to the New York courthouse in a wheelchair and handcuffs. Following his convictions last month, he had been admitted to Bellevue Hospital for heart surgery. Earlier in March, however, the former film producer was shifted to a Rikers Island jail from the hospital after undergoing surgery.
Really feel remorse for this situation: Harvey
"I really feel remorse for this situation. I feel it deeply in my heart. I will spend my time really caring and really trying to be a better person," said Weinstein in court before the sentencing was done. "I'm not going to say that these (his accusers) aren't great people. I've had wonderful times with these people," the 67-year-old former Hollywood producer added.
Weinstein faced between 5 and 29 years in prison
Judge James Burke of the New York Supreme Court in Manhattan handed 20 years in prison to Weinstein for a first-degree criminal sex act and three years' imprisonment for third-degree rape. Both the prison terms will run consecutively and they also include a five-year supervision post-release. He faced between five and 29 years in prison for his convictions in February.
Weinstein's lawyers requested for shortest possible punishment of five years
Before his sentencing, Weinstein's defense attorneys also addressed the court. They had requested judge Burke for the shortest possible punishment of five years for the disgraced Hollywood producer. They pleaded the judge to consider Weinstein's age, poor health, and young children, and also once again pointed out their client's charitable endeavors and accomplishments over the years.