Pakistan leaders remember Vajpayee for his Indo-Pak peace agenda
Pakistan leaders remember Vajpayee for his Indo-Pak peace agenda
Aug 17, 2018, 02:25 pm
2 min read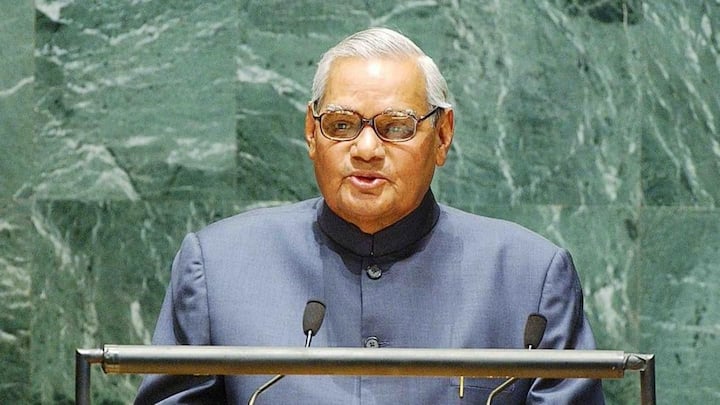 The Pakistan Government and its top leaders have paid respects to Atal Bihari Vajpayee and said the former Indian Prime Minister contributed to bringing a change in bilateral ties and remained a key supporter of regional cooperation for development. Pakistan Prime Minister-in-waiting Imran Khan also expressed condolences over Vajpayee's demise, saying his efforts for India-Pakistan peace will always be remembered. Here's more.
Atal Bihari Vajpayee died yesterday at 93
Vajpayee, one of India's most charismatic leaders and inspirational orators, died yesterday at the age of 93. His death was announced by the All India Institute of Medical Sciences (AIIMS) hospital in Delhi where he was admitted on June 11 with a variety of ailments.
Vajpayee was key supporter regional cooperation: Pak Foreign Office
"Mr. Vajpayee was a renowned statesman who contributed to bringing a change in India-Pakistan relations and remained a key supporter of SAARC and regional cooperation for development," Pakistan's Foreign Office spokesman Mohammad Faisal said in a statement. The government and people of Pakistan extend their heartfelt condolences to Vajpayee's family and to the government and people of India, the spokesman said.
Atal ji's death created a big void: Imran Khan
Cricketer-turned-politician Imran Khan said Vajpayee's death has created a big void. "As Foreign Minister, Vajpayee strived to open up ways towards normalization of relations between India and Pakistan and had successfully taken this agenda to new heights after assuming the office of PM," he said. He further said, "Only by creating peace between the two countries, we can truly recognize the service of Vajpayee."
PML-N President Shahbaz Sharif tweets a few words for Vajpayee
In the death of former PM Atal Bihari Vajpayee, India has lost a leader whose services to regional peace will be remembered for long time. He Nawaz Sharif launched a sincere peace effort b/w neighboring countries in 1999. Wish India builds on his legacy by giving peace a chance

— Mian Shahbaz Sharif (@m_shahbazsharif) August 17, 2018
Vajpayee, Sharif's Indo-Pak peace efforts were hindered by Mussharaf: PML-N
According to the PML-N, Vajpayee and Sharif had initiated peace efforts between the two countries after the former's historic bus journey to Lahore in 1999 but General Pervez Musharraf did a Kargil misadventure, sabotaging their efforts and later overthrowing the Sharif government.