Pittsburg Shooting: Who is Robert Bowers who reportedly killed 11
Pittsburg Shooting: Who is Robert Bowers who reportedly killed 11
Oct 28, 2018, 09:47 am
3 min read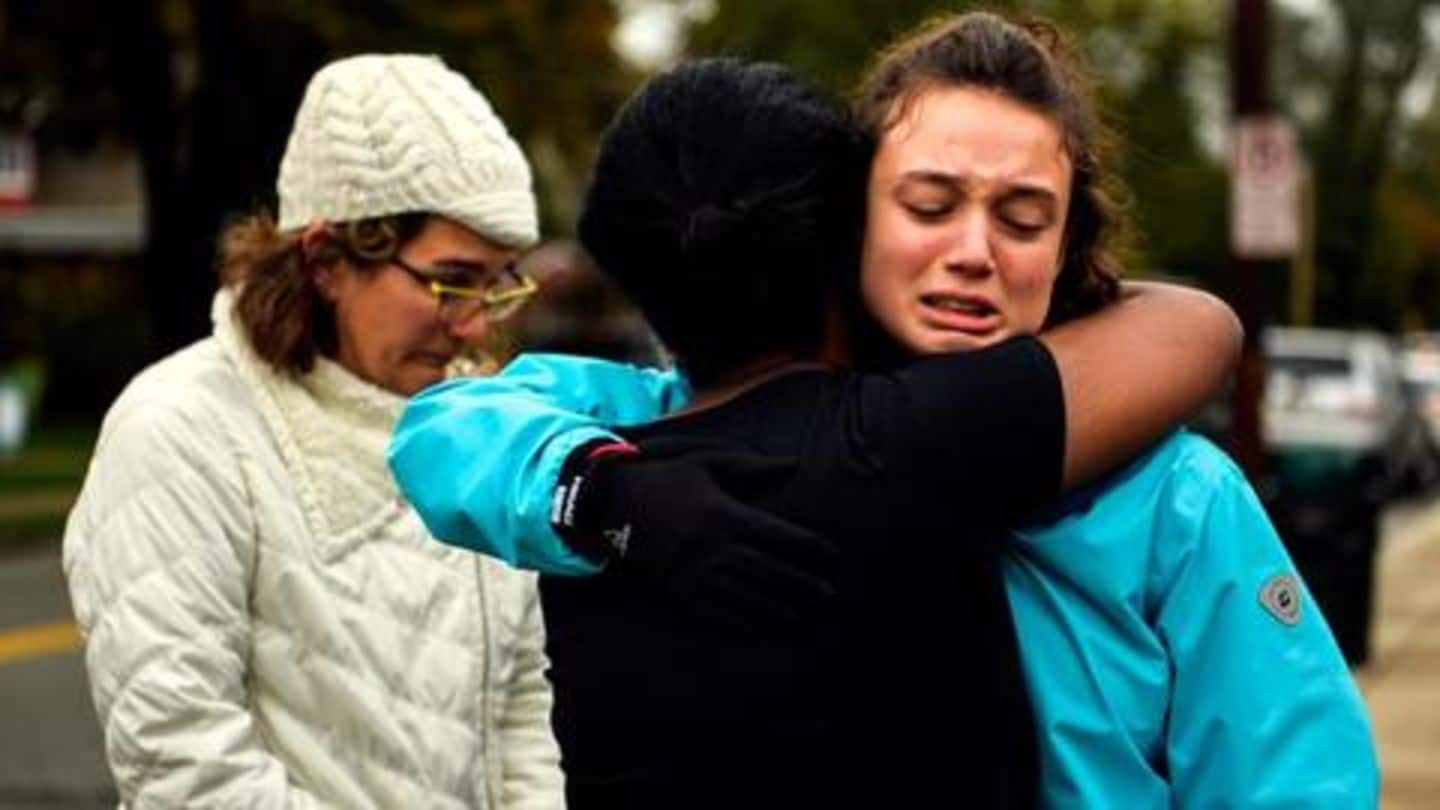 At least 11 people have been killed in Pittsburgh, Pennsylvania after a gunman open fired at Tree of Life synagogue on Saturday. The mass shooting injured six, among whom two are critical, with President Donald Trump calling the incident 'anti-semitic act of mass murder'. The suspect Robert Bowers was arrested and taken to hospital as he suffered multiple gun wounds. Here's more on this.
Worshippers gathered for baby-naming ceremony, suspect entered and opened fire
Worshippers had gathered at the synagogue for a baby naming ceremony. Just then Bowers entered the building and opened fire. Investigators found one rifle and three handguns with him. Reportedly, he was leaving when a police officer engaged with him. Subsequently, he went back into the synagogue and barricaded himself in a room. Two police officers and two SWAT officers were also injured.
Bowers had a license to purchase firearms, made anti-Jewish comments
Bowers, a man in his 40s, made anti-Jewish comments after being apprehended, police said. FBI Pittsburgh special agent Bob Jones said Bowers was not known to law enforcement before this incident. He had a license to purchase guns. Since 1996, he purchased six firearms and posted photos of his collection on Gab.com, last month. It is believed he acted alone.
Bowers posted he can't see his 'people getting slaughtered'
On his Gab account, Bowers regularly posted content slamming Jews. He alleged Jews transported migrant caravans and described Jewish refugee advocacy group HIAS as a 'sugar-coated evil'. In his last post, just five minutes before police learned of the shooting, Bowers wrote, "Can't sit by and watch my people get slaughtered. Screw your optics, I'm going in". Notably, there is no censorship on Gab.com.
Bowers faces multiple charges, including hate crime
Bowers, a resident of suburban Baldwin, faces 29 charges in total. Attorney General Jeff Sessions said he will be charged with hate crime 'including charges that could lead to the death penalty'. Law enforcement officials described the incident as worst they have ever seen. Pittsburgh Public Safety Director Wendell Hissrich said these incidents usually occurred in other cities, but today it hit home.
Jewish NGO calls it worst attack on community in US
The crime was condemned by one and all. Anti-Defamation League, a Jewish NGO which battles anti-semitism, said this was the worst attack on the community in United States' history. Pittsburg team and athletes expressed their sorrows. Before Game 4 of the World Series in Los Angeles between the Dodgers and Red Sox, a moment of silence was observed.
In Israel's Tel Aviv, victims were remembered
Trump says armed guard at synagogue could've stopped shooting
Expressing his views, Trump called for death penalty laws. He said anyone who attacks innocent people like this, should be given a death sentence. He also said had there been an armed guard at the synagogue, the outcome of the incident would have been different. On this when he was asked if he promoted the idea of guns inside places of worship, Trump said, "No, it's certainly an option".
We didn't learn from the past, believes Trump
"This was an anti-Semitic act. You wouldn't think this would be possible in this day and age, but we just don't seem to learn from the past. There must be no tolerance for anti-semitism in America or for any form of religious or racial hatred or prejudice," Trump said.
Barack Obama says it's necessary to fight anti-semitism
We grieve for the Americans murdered in Pittsburgh. All of us have to fight the rise of anti-Semitism and hateful rhetoric against those who look, love, or pray differently. And we have to stop making it so easy for those who want to harm the innocent to get their hands on a gun.

— Barack Obama (@BarackObama) October 27, 2018