Kazakhstan: Plane carrying 100 crashes into building; 14 dead
Kazakhstan: Plane carrying 100 crashes into building; 14 dead
Dec 27, 2019, 11:15 am
2 min read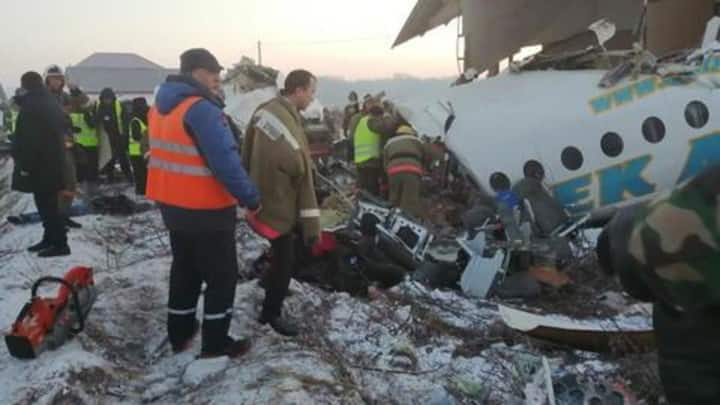 In a tragic incident, a passenger aircraft carrying 100 people (95 passengers and 5 crew members) crashed near the city of Almaty in Kazakhstan on Friday. Latest reports suggest 14 people lost their lives. Separately, the city's mayor said 22 were hospitalized in "grave condition". The Flight Z2100, run by Kazakhstan-based Bek Air, was bound for the capital city Nur-Sultan. Here are more details.
Plane lost altitude, hit a building: Officials
Detailing about the accident, the country's Civil Aviation Committee maintained that the aircraft "lost altitude during take-off and broke through a concrete fence" at 7:22 am (local time). Thereafter, the ill-fated plane hit a two-story building. There was no immediate fire after the crash, but a Reuters reporter said thick fog covered the area. The crash site in Almerek village has been cordoned off.
Here are the visuals from the spot
Plane crashed just 19 seconds after take-off: Report
As per data provided by Flightradar24, the aircraft crashed merely 19 seconds after the take-off. Spot images showed that while the plane broke into parts, much of the fuselage remained intact. Meanwhile, videos that were recorded shortly after the accident showed rescue teams searching through rubble for survivors. In the footage, a woman was heard crying while another shouted for help.
Bek Air is yet to comment on the accident
The plane was identified as a Fokker-100, which is a medium-sized, twin-turbofan jet aircraft. In 1996, the company which manufactured the aircraft went bankrupt. The following year, the production of Fokker-100 stopped. All Fokker-100 flights have been suspended, pending investigation. Bek Air, which calls itself Kazakhstan's first low-cost airline, hasn't released a statement about the crash, yet.
Country's President promised to take action against those responsible
After the news surfaced, Kazakh President Kassym-Jomart Tokayev expressed condolences. "Those responsible will face tough punishment in accordance with the law," the country's leader tweeted. Meanwhile, a special commission will be formed to investigate the crash, authorities confirmed.