Trump eyeing crowd of millions; Modi promises memorable welcome
Trump eyeing crowd of millions; Modi promises memorable welcome
Feb 12, 2020, 02:14 pm
3 min read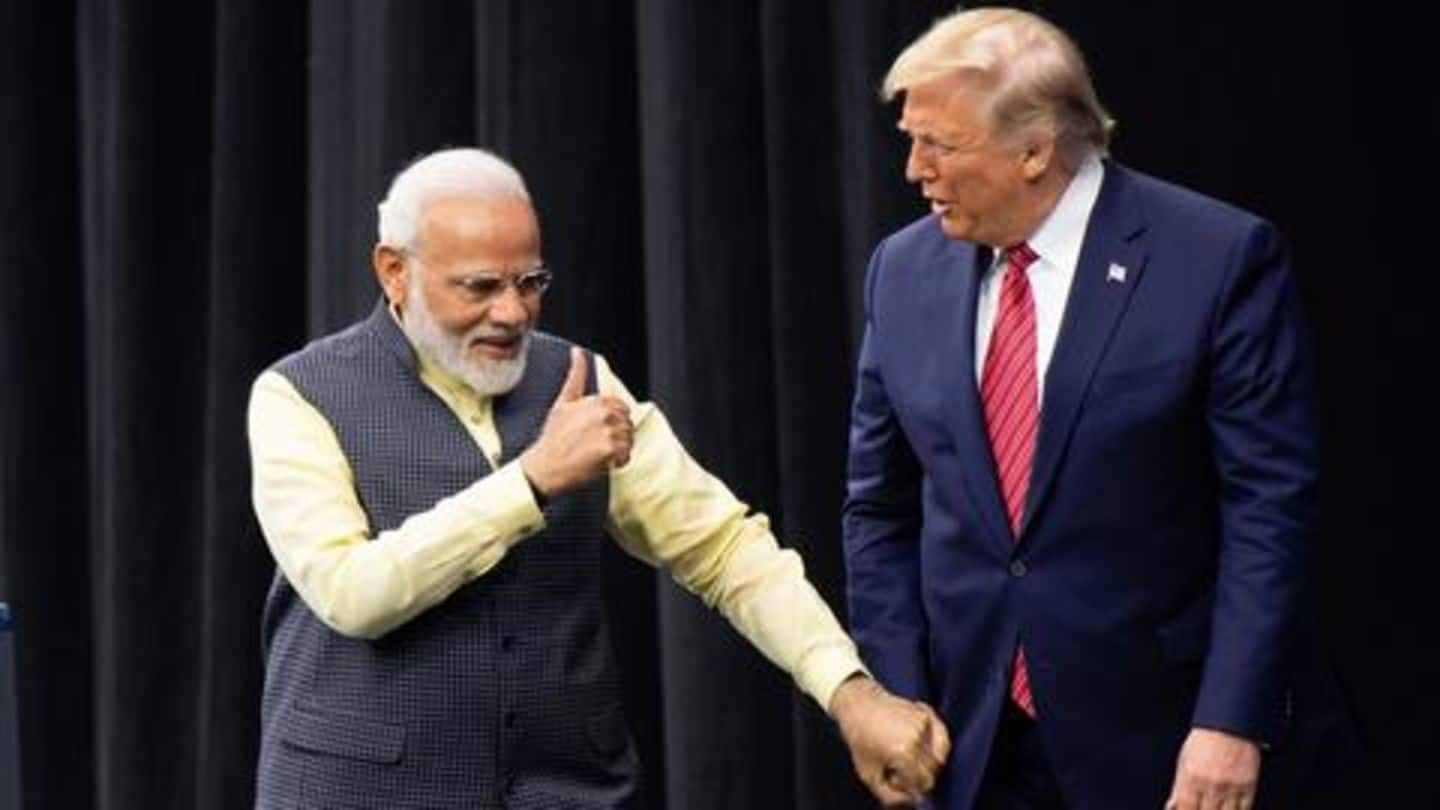 US President Donald Trump will be visiting India on February 24 and 25, for the first time since he assumed office. Aimed at boosting ties, Trump's visit could also end with the inking of the much-awaited trade deal. The President, who is seeking re-election, hopes to be greeted by millions and his 'friend' Prime Minister Narendra Modi said he won't be disappointed.
Modi told Trump about large crowd, setting his expectations high
Trump, whose penchant for hyperbole is known globally, told reporters at White House, "He (Modi) said we will have millions and millions of people (to welcome them). He thinks we will have 5 to 7 million people just from the airport to the new stadium (Motera in Ahmedabad)." He called PM Modi his 'friend' and signaled that he might ink the trade deal.
On lines of 'Howdy Modi', an event is being planned
In his home state, PM Modi is planning a grand event for Trump, on the lines of "Howdy Modi!" that happened in Houston last year. For now, the event is being referred to as "Kem Chho, Trump (How are you, Trump)". As per reports, the Gujarat government, headed by BJP leader Vijay Rupani, has directed authorities to gather a crowd of 1.25 lakh.
Some people might sit on the ground
"As per the instructions from the PMO, the Gujarat government has directed its departments and agencies to ensure that a crowd of 1.25 lakh is organized. The stadium's seating capacity is 1.10 lakh; 15,000 people will be seated on the ground," The Hindu reported.
Modi and Trump have displayed bonhomie several times
When PM Modi visited the White House in 2017, he repeatedly hugged the newly-elected President, to send a message about the US and India being allies. With time, their friendship grew deeper. Last year, they met multiple times on various forums and spoke richly about one another. After the 'Howdy Modi!' event, Trump likened the Indian leader to rockstar Elvis Presley.
Trump is no fan of India's tariffs
As much as Trump "likes" PM Modi, he also disapproves of India's way of doing trade. Keeping up with his 'America First' policy, Trump called New Delhi 'tariff king'. His administration also stripped India of the Generalized System of Preferences (GSP) tag. But both countries might sign a trade deal. Robert Lighthizer and Commerce Minister Piyush Goyal have been in talks for the same.
Trump is hoping to sway Indian diaspora away from Democrats
It's rare for the POTUS to step out of his country on a solo visit. The Asian countries that he has visited include Vietnam, the Philippines, China, and Japan. But this time, along with First Lady Melania, Trump is visiting India, with a motive to impress Gujaratis. The Indian diaspora in the US has largely voted for Democrats, but Trump wants a change.
India will accord a memorable welcome: PM Modi
On Trump's publicized visit, PM Modi tweeted that he's delighted. "Extremely delighted that @POTUS @realDonaldTrump and @FLOTUS will visit India on 24th and 25th February. India will accord a memorable welcome to our esteemed guests. This visit is a very special one and it will go a long way in further cementing India-USA friendship," he tweeted. He also spoke about India and the US' similarities.
"We are cooperating on a wide range of issues"
India and USA share a common commitment to democracy and pluralism. Our nations are cooperating extensively on a wide range of issues. Robust friendship between our nations augurs well not only for our citizens but also for the entire world.

— Narendra Modi (@narendramodi) February 12, 2020