Politician who watched Putin's speech with noodles to face court
Politician who watched Putin's speech with noodles to face court
Mar 03, 2023, 07:27 pm
1 min read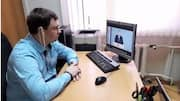 Russian politician Mikhail Abdalkin will appear in court on Tuesday for allegedly discrediting the army in a viral video, Reuters reported. On February 21, Abdalkin posted a video of himself listening to President Vladimir Putin's speech with noodles hanging over his ear. The clip alluded to a Russian saying that when noodles have been hung on somebody's ear, that person has been fooled.
Here's the viral video of Mikhail Abdalkin
There's a Russian idiom, "Ne veshai lapshu na ushi", which literally translated means "stop hanging noodles on my ears" and figuratively means "stop bullshitting me." https://t.co/mqQ7lEmotz

— Zoya Sheftalovich (@zoyashef) February 23, 2023
Lawmaker already reprimanded by his party
A Communist party lawmaker in the Samara regional parliament said that Abdalkin has already been reprimanded by his party. "We will fight to prove our non-involvement and innocence," he wrote on VKontakte, the Russian equivalent of Facebook. To note, since invading Ukraine last year, Russia has been accused of silencing dissent, imposing fines, and even imprisoning people who criticize the army.