Protests near Sri Lankan President Gotabaya Rajapaksa's home; 45 arrested
Protests near Sri Lankan President Gotabaya Rajapaksa's home; 45 arrested
Written by
Pratyush Deep Kotoky
Apr 01, 2022, 11:23 am
3 min read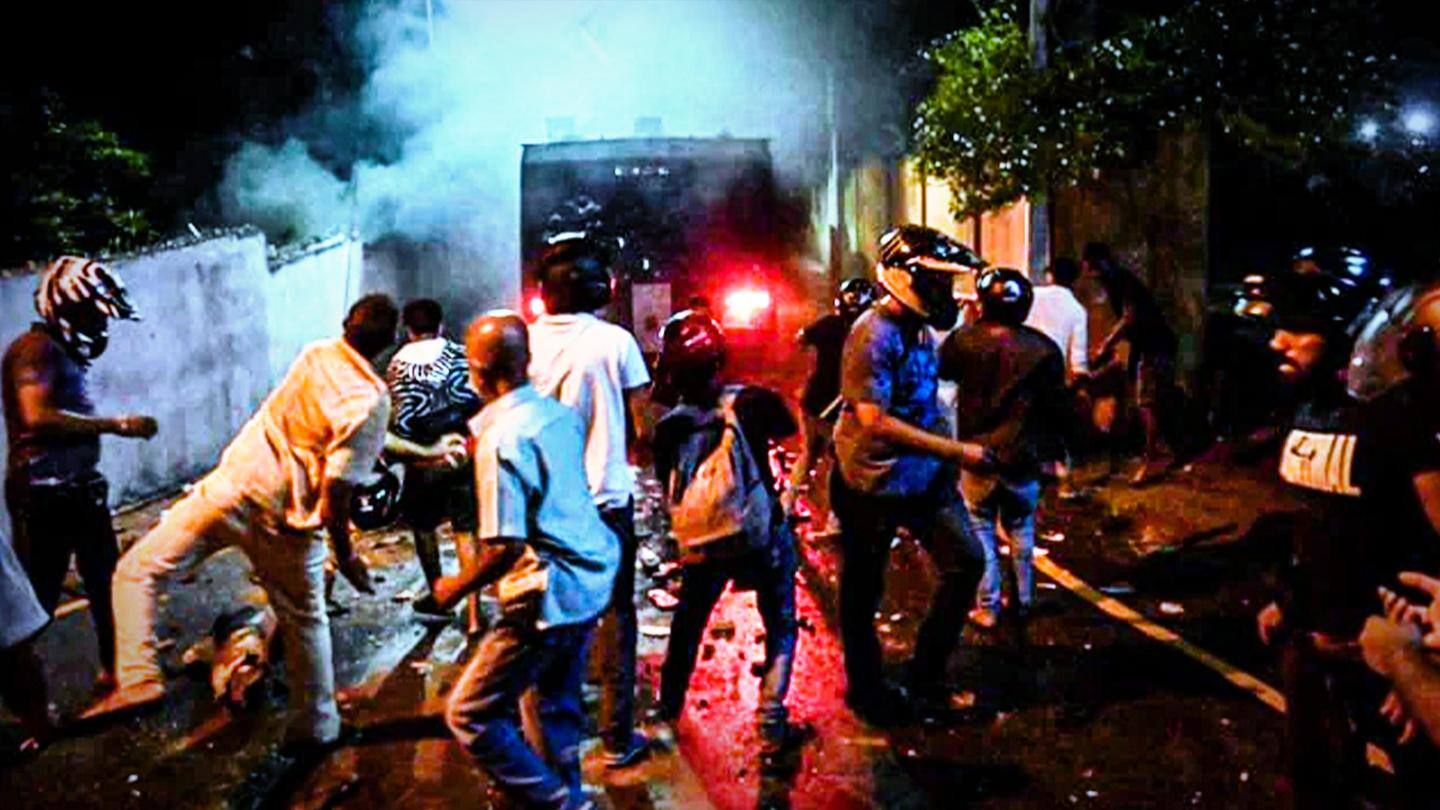 Thousands of people descended on the streets of Sri Lankan capital Colombo near President Gotabaya Rajapaksa's house on Thursday night, demanding that he step down. The protesters also clashed with the police, and a paramilitary police unit, the Special Task Force, had to interfere to quell the demonstration. This came at a time when Sri Lanka is witnessing its worst economic crisis since independence.
Why does this story matter?
The protests are a result of the terrible economic crisis the Lankan citizens have been suffering under for weeks.
There has been a critical shortage of food and essential items, fuel, and gas for weeks in the country.
The Lankan government is reportedly seeking a bailout from the International Monetary Fund (IMF) to weather the crisis, and also sought loans from India and China.
Government blames 'extremists' for protest; police arrests 45
Meanwhile, the government claimed an "extremist group" organized the Thursday protests, adding, "Majority of the perpetrators have been arrested." The police said, "45 people [were] arrested and five police officers injured including an ASP and being treated at hospitals (sic)." They further said a police bus, one police jeep, and two motorbikes were burnt and one water cannon truck was damaged during the protests.
What do we know about Thursday night's protest?
Reportedly, people started converging on the road near the house of President Rajapaksa by Thursday evening. However, the situation escalated when the police attempted to disperse the protesters, who were holding posters and shouting slogans against Rajapaksa. The mob then hurled bottles and stones at the cops, following which the police used tear gas and water cannons to control the mob.
How is the situation in Sri Lanka?
On Thursday, diesel reportedly was no longer available in the island country, leaving its 22 million people under a 13-hour power blackout and holding transport off the roads. The blackout had also affected the already strained state-run hospitals that had earlier stopped surgeries owing to the shortage of medicines. The blackout also hit mobile phone base stations, impacting the quality of calls.
Colombo Stock Exchange limits trading hours
Meanwhile, power cuts also forced the Colombo Stock Exchange to limit trading by half to two hours. Also, offices have asked non-essential staff to stay home. Street lights were being turned off to save electricity, Power Minister Pavithra Wanniarachchi was quoted as saying by Reuters.
Why Sri Lanka is facing the economic crisis?
Sri Lanka's economic crisis stems from its massive foreign debts, dwindling foreign currency reserves, series of lockdowns, soaring inflation, fuel supply shortage, and devaluation of the currency. It, however, has its root in the Lankan government's move to ban imports in March 2020 to save foreign currency for its $51B foreign debt. This led to a widespread shortage of essential items and skyrocketing prices.