Russia's Putin and China's Jinping flip pancakes during economic forum
Russia's Putin and China's Jinping flip pancakes during economic forum
Sep 12, 2018, 07:50 pm
2 min read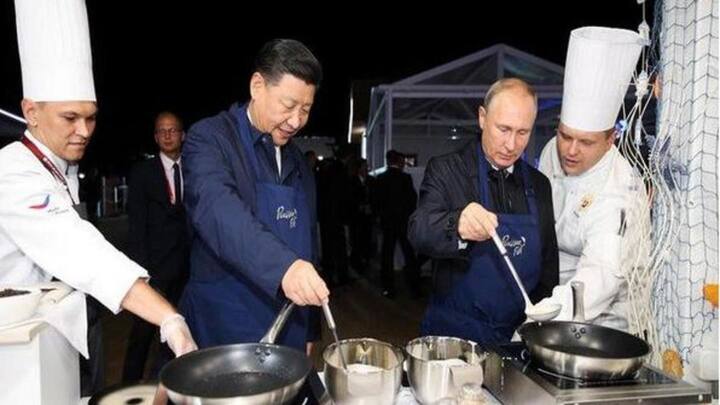 On the sidelines of an economic forum, Russian President Vladimir Putin flipped pancakes with his Chinese counterpart Xi Jinping, on Tuesday. Jinping is one of the biggest names to attend what Russia calls its largest war games since the Soviet Union fell. North Korea's leader Kim Jong-un was also invited. Taking a break from high weight diplomacy, the leaders showed their cooking skills.
Chef says Putin made better pancakes
The event is happening in Russia's far eastern city of Vladivostok, close to the country's borders with China and Mongolia. About the pancakes of the world leaders, the Chef of the restaurant said Putin's were better than Jinping's. After the dish was ready, Jinping wanted to eat it using a fork but Putin insisted he follows the Russian tradition of eating with bare hands.
Watch: The leaders put on aprons
Meanwhile, thousands of Chinese, Mongolian forces join Russia
The war games started on September 11 and will continue till September 17. According to the Russian Ministry of Defense, 300,000 Russian troops, 36,000 vehicles and 1,000 aircraft, are participating in the event. They will be joined by thousands of troupes of China and Mongolia. China reportedly said this event wasn't against any third party but would focus on 'defenses, firepower strikes and counterattack'.
Amid US unilateralism, China, Russia work towards boosting ties
The deepening of ties between Russia and China comes in the backdrop of US-led sanctions against the former, and escalated trade wars with the latter. Speaking about relations between the countries, Jinping said China and Russia would work to maintain stability and peace in the world. He spoke about constructing a new type of international relations and "a community of shared future for mankind".
Russia and China's trade turnover to hit $100 billion soon
The result of better ties between Russia and China reflected in trade. In 2018, trade turnover between both countries increased by 50% and is expected to reach $100 billion by year-end, Russia's state media TASS reports. Several agreements are said to be inked on Jinping's visit to the nation. Notably, this is the third meeting between Putin and Jinping this year.