Saudi Arabia's oil production hit after Houthi drone-strikes
Saudi Arabia's oil production hit after Houthi drone-strikes
Written by
Siddhant Pandey
Sep 15, 2019, 02:51 pm
3 min read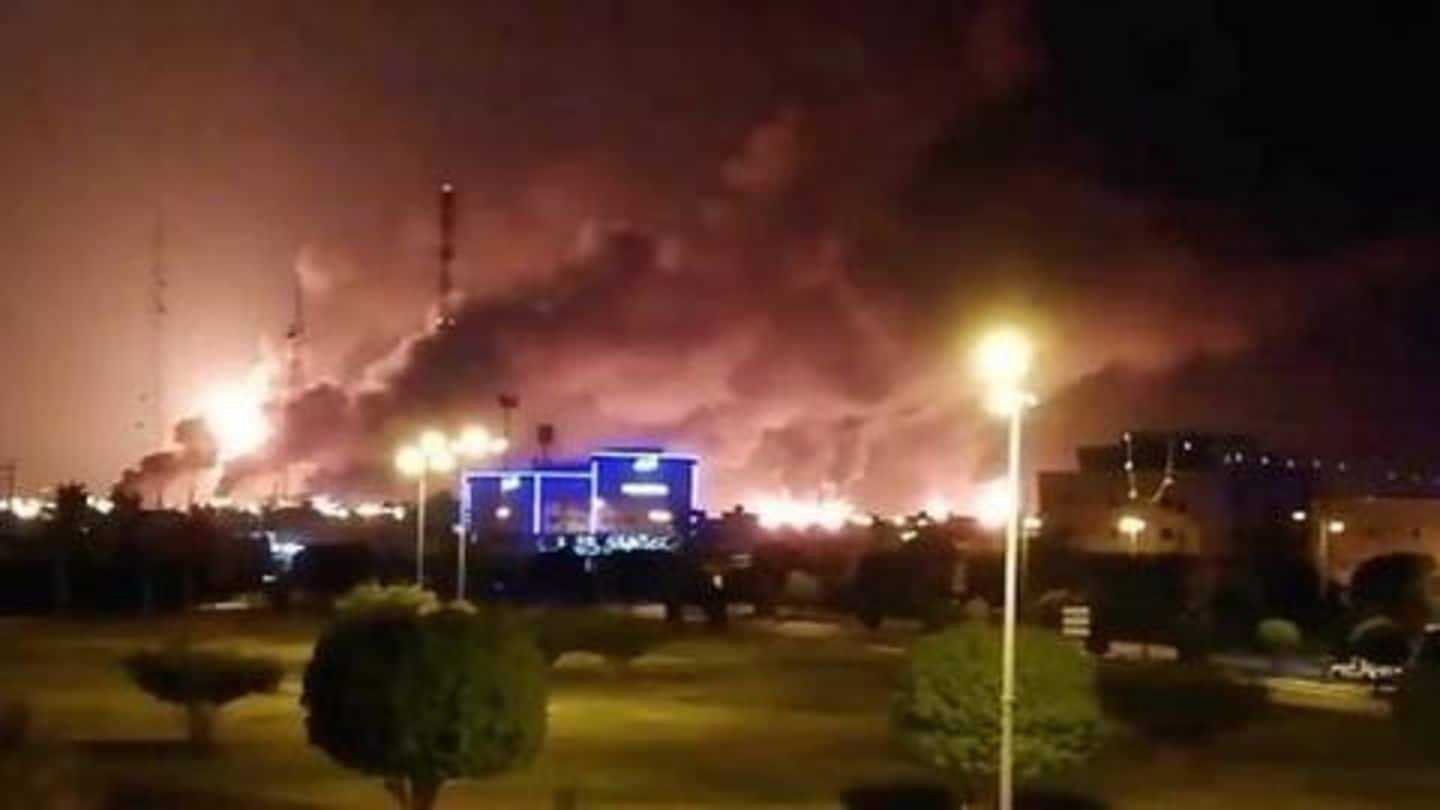 Global oil supplies are likely to take a major hit following drone attacks on two oil facilities of the state-owned company Aramco in Saudi Arabia on Saturday. The attack was claimed by Yemen Houthi rebels, who deployed 10 drones for the attacks targeting facilities in Khurais and Abqaiq districts. Saturday's drone strike is the most serious attack on Saudi Arabia's oil infrastructure in decades.
Drone strikes occurred at 4am; no injuries reported
Notably, Aramco CEO Amin Nasser said "no injuries" were reported in the attacks conducted by Iran-aligned Houthi group in Khurais and Abqaiq at 4am. The fires have since been contained. The attacks highlight the Houthis' rapidly advancing military prowess. The US believes 15 structures were damaged in Abqaiq on the west-northwest-facing sides.
Here's a video of the fires in Abqaiq
Saudi Arabia, US blame Iran for backing Houthi rebels
Both Saudi Arabia and the United States have blamed Iran for supplying Houthis with military equipment, however, Iran has denied these allegations. Over the past year, there have been many single drone attacks on Saudi Arabia's oil fields, but none this severe.
Attacks interrupted 50% of total oil production
The attacks "resulted in a temporary suspension of production at Abqaiq and Khurais plants," Energy Minister Prince Abdulaziz bin Salman said, adding that they have led to an interruption of 50% of the total production. Notably, Abqaiq is the site of Aramco's largest oil processing plant. Separately, Aramco said, "These attacks resulted in production suspension of 5.7 million barrels of crude oil per day."
Restoration works are underway; production stalled until further notice
Reportedly, Aramco's daily production accounts for half the Kingdom's output and 6% of the global oil supply. Aramco said restoration works are underway and an update would be provided in two days. However, it didn't give a timeline on how long production would remain stalled.
Kingdom willing and able to confront terrorist aggression: Crown Prince
Blaming Iran, US Secretary of State Mike Pompeo tweeted, "Amid all the calls for de-escalation, Iran has now launched an unprecedented attack on the world's energy supply." Pompeo did not provide any evidence to back the claims. Reportedly, Crown Prince Mohammed bin Salman (MbS) told Trump on Saturday, "The Kingdom is willing and able to confront and deal with this terrorist aggression."
Trump assured US's readiness to cooperate with the Kingdom
Speaking to the Crown Prince, Trump reportedly "expressed his country's readiness to cooperate with the Kingdom in supporting its security and stability, stressing the negative impact of the recent terrorist attacks against Aramco facilities on the American economy, as well as the global economy."
Global oil prices could suffer due to halted oil production
Now, experts say the attacks could have a significant impact on global oil prices. Oil consultant at IHS Markit, Roger Diwan, told Guardian, "Abqaiq is the heart of the system; it just had a heart attack." For every dollar increase in oil prices, India's import bill could raise by Rs. 10,000 crore, Livemint reported. India spent $111.9 billion on oil imports in 2018-19.