Saudi Crown Prince signs $20bn investment agreements with Pakistan
Saudi Crown Prince signs $20bn investment agreements with Pakistan
Written by
Shiladitya Ray
Feb 18, 2019, 11:45 am
3 min read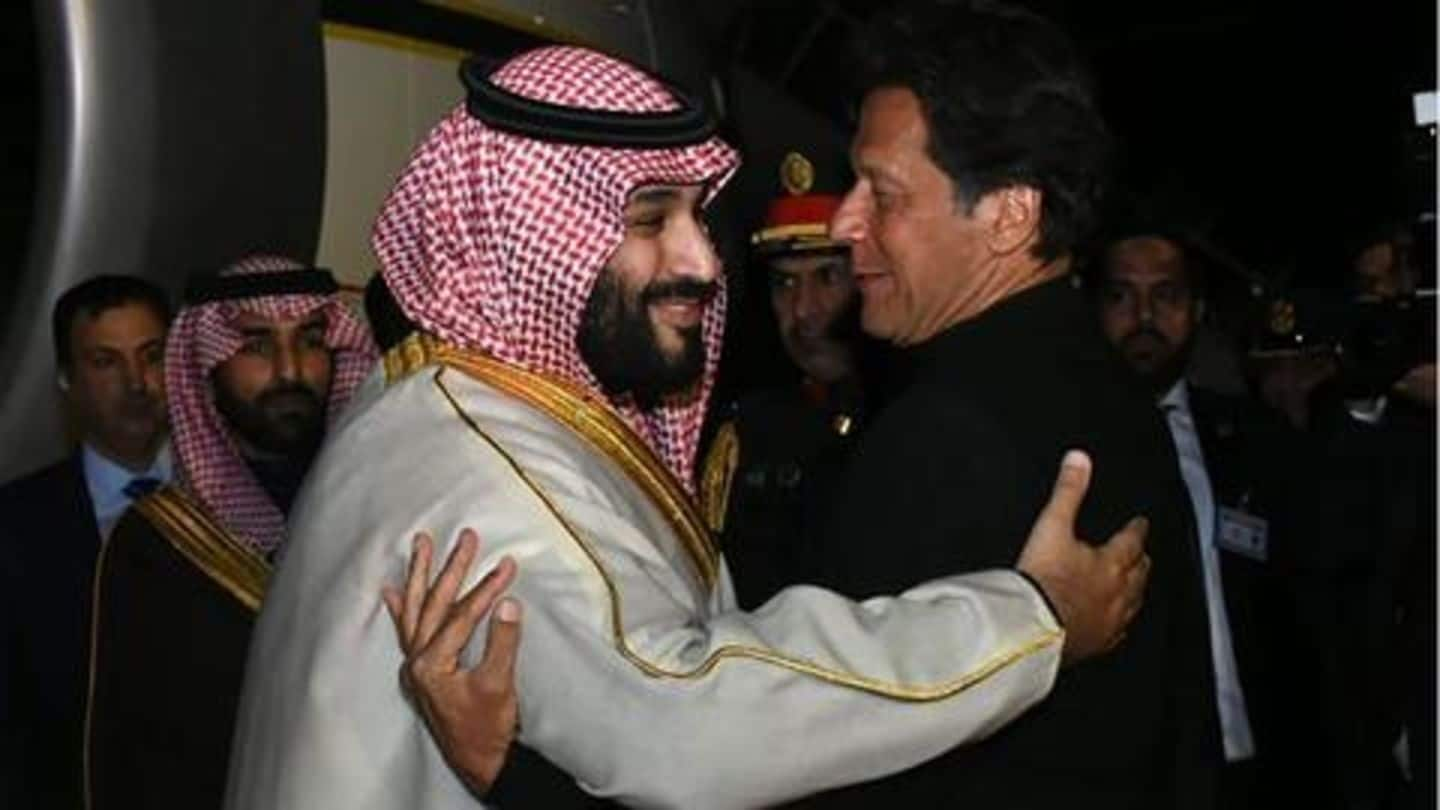 On Sunday, Saudi Arabia's Crown Prince Mohammed bin Salman signed a clutch of investment deals with Pakistan worth $20bn. The visit marks the beginning of MbS' Asia tour, through which he's seeking to emerge from the Jamal Khashoggi affair which brought the ire of the international community upon Saudi Arabia. After his Pakistan visit, MbS is slated to visit India and China. Here's more.
The Crown Prince had arrived in Pakistan on Sunday
Despite concerns about MbS canceling his trip in light of security concerns over the Pulwama attack, the Crown Prince touched down in Pakistan on Sunday, and was greeted by Prime Minister Imran Khan at the Nur Khan airbase. MbS, who is visiting Pakistan for the first time since becoming heir to the throne in 2017, was also accorded a 21-gun salute.
Pakistan, Saudi Arabia taking relationship to next level: Khan
"Pakistan and Saudi Arabia are now taking this relationship to a level which we never had before. A relationship where it will now be investment between the two countries which will mutually benefit from it," said PM Khan, commenting on Saudi-Pakistan ties.
What we know about the investment deals
After MbS was greeted with much fanfare, Pakistan and Saudi Arabia inked deals - seven separate agreements and Memoranda of Understanding (MoU) in the domains of petrochemicals, energy, minerals, sports, and other sectors - worth $20bn. The investment comes a time when the Pakistan economy has been struggling with a balance of payments crisis and slowing domestic growth.
Pakistan will be very important in future: MbS
"We believe Pakistan is going to be a very important country in the coming future, and we want to be part of that," said MbS, having signed the investment deals.
What we know about MbS' India, China visits
On Monday, MbS is slated to meet Pakistan Army chief General Qamar Javed Bajwa and President Arif Alvi. After the meetings, he is slated to fly to India on a two-day visit wherein he will meet with Prime Minister Narendra Modi and Petroleum Minister Dharmendra Pradhan. Then, MbS is expected to visit China on Thursday and Friday, before concluding his Asia tour.
Saudi Arabia is looking to diversify its diplomatic ties
"The changing situation is that Saudi is now in this diplomatic offensive, not just with Pakistan, but with India and China, too. So that shows that Saudi royalty wants to diversify its relationships abroad. The signal is quite clear," said Zahid Hussain, an Islamabad-based analyst.
MbS' visit comes days after the horrific Pulwama attack
MbS' visit to Pakistan and India comes at a time when India has vowed to isolate Islamabad internationally, as retaliation against the Pulwama attack that left over 40 CRPF jawans dead. However, Pakistan has denied having a hand in the attack. Further, both India, and the US has called on Pakistan to take action against JeM and other terror outfits that have taken shelter in the country.