For the first time, Saudi Arabia will issue tourist visas
For the first time, Saudi Arabia will issue tourist visas
Sep 27, 2019, 04:43 pm
3 min read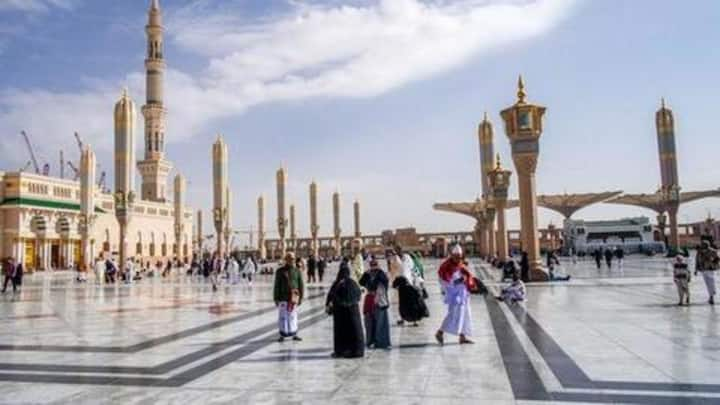 For the most part of its existence, Saudi Arabia has been off-limits for the tourists, but it's going to change soon. On Friday, the Kingdom announced it will issue tourist visas for the first time in its history. This move was spearheaded by Crown Prince Mohammed bin Salman, who wants to reduce the country's economical dependence on oil by 2030. Here are more details.
We have a lot to offer, said tourism chief
The Saudi Commission for Tourism and National Heritage (SCTH) made the announcement at Ad-Diriyah, an old city which has now become a sought-after tourist destination. Calling it a historic moment, Tourism Chief Ahmed Al-Khateeb said, "Visitors will be surprised... by the treasures we have to share - five UNESCO World Heritage Sites, vibrant local culture and breathtaking natural beauty."
Riyadh hopes to change its perception with this move
When Khateeb was asked about the "wrong perception" of the Kingdom in the West, he replied, "I'm very, very sure they will have a better judgment when they come and experience the life here in Saudi Arabia, and I promise them they will leave with great memories." Till now, visas were only issued to expat workers, their dependents and Muslim pilgrims.
Saudi has also relaxed rules for foreign women
With this change, citizens of 49 nations, including 38 European countries, 7 Asian countries, the United States, Canada, Australia, and New Zealand, can apply for visas. In a bid to make the Kingdom "tourist-friendly", Riyadh has also decided to allow foreign women to roam about without wearing an Abaya, which is still mandatory for Saudi's females. However, they are expected to dress "modestly".
Non-Muslims will be restricted from visiting Mecca and Medina
According to the Saudi Gazette, women, who aren't accompanied by a male relative, can perform Umrah through this visa. Though there is no need to fill the "religion" column, non-Muslims will still not be allowed to visit Mecca and Medina.
Saudi has high expectations from tourism
According to Khateeb, the Kingdom needs an estimated 250 billion riyals ($67 billion) of investments to drive growth. Some 500,000 new hotel rooms are also needed. Currently, tourism contributes to 3% of GDP and the plan is to take it to 10% by 2030. The tourism sector is also expected to create jobs, at a time when unemployment is high in the Kingdom.
Will MbS succeed in making Saudi a hot tourist spot?
While Saudi has taken steps to ease tourism, its diktat against alcohol could drive tourists away. In his bid to "liberalize" the Kingdom, the de-facto ruler MbS allowed women to drive, let the release of movies, and opened sporting extravaganzas. But his image was ruined by a number of controversies, the biggest one pertaining to the murder of dissident journalist Jamal Khashoggi last year.