Sri Lanka: Emergency declared after unrest over economic crisis
Sri Lanka: Emergency declared after unrest over economic crisis
Edited by
Abhishek Sharma
Apr 02, 2022, 12:27 pm
3 min read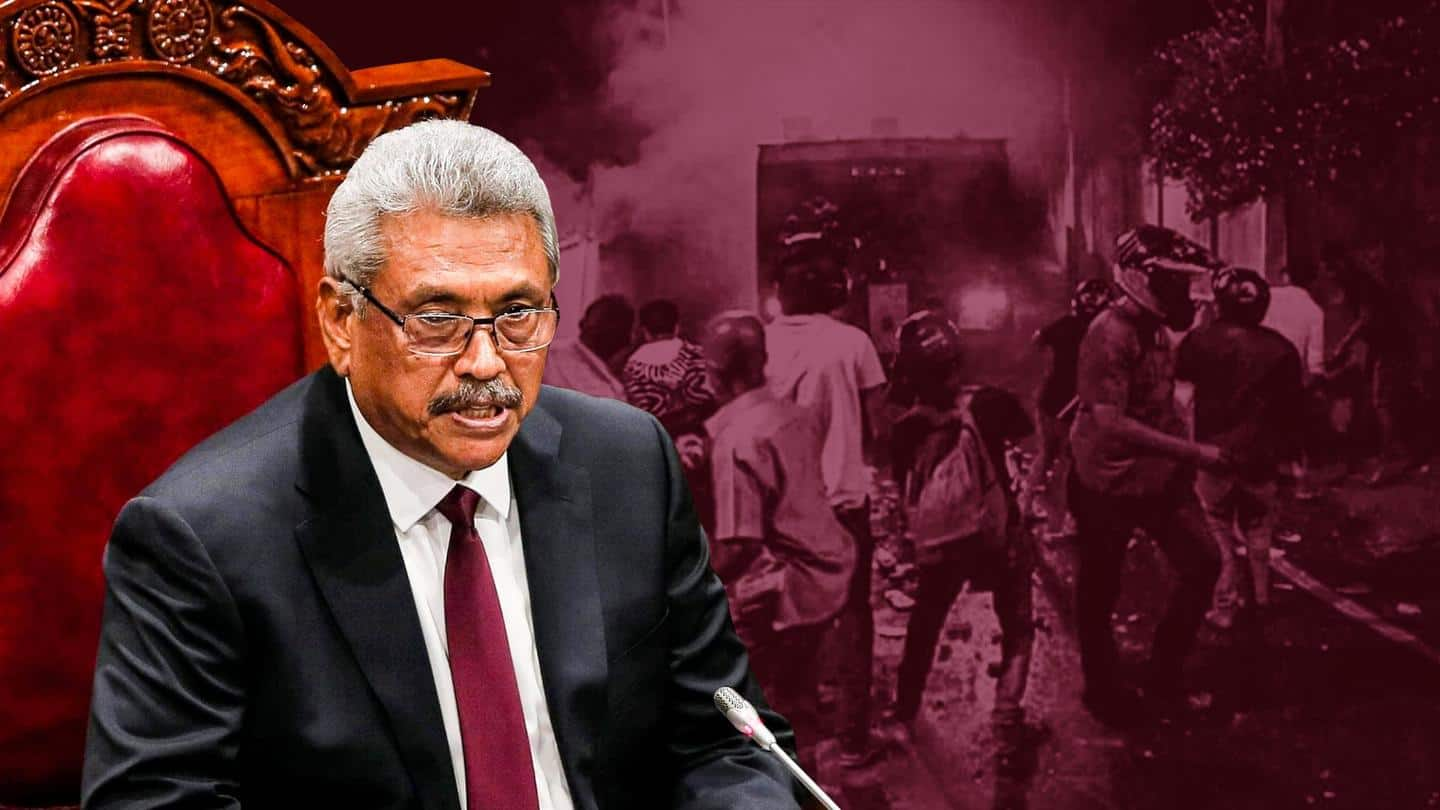 Sri Lankan President Gotabaya Rajapaksa declared a state of emergency on Friday, a day after hundreds attempted to storm his house in protest of the country's unprecedented economic crisis. As protests calling for his ouster spread across the South Asian nation, the President invoked the laws, giving security forces broad powers and allowing them to detain suspects for long periods without trial.
Why does this story matter?
The 22-million-strong country is experiencing severe food shortages, sharp price increases, and crippling power outages in its most distressing economic crisis since gaining independence from Britain in 1948.
According to official data released on Friday, inflation in Sri Lanka reached 18.7% in March, the sixth consecutive high.
Food prices have increased by an all-time high of 30.1%.
State of emergency declared for the 'protection of public order'
A state of emergency has been declared for the "protection of public order and the maintenance of supplies and services essential to the life of the community," Rajapaksa said in a pronouncement while also reimposing a police curfew in the Western province on Friday. Earlier, dozens of human rights activists protested in the capital Colombo with placards and oil lamps at a busy intersection.
What is the reason behind the economic crisis?
The crisis is reportedly a result of the mismanagement of government finances and ill-timed tax cuts. The country was in the midst of a deep financial downturn when the COVID-19 pandemic struck, reducing foreign workers' remittances and crippling the lucrative tourism sector—a key source of the country's revenue. Sri Lanka's foreign currency reserves have now hit rock bottom—plummeting 70% in the last two years.
What happened on Thursday?
Hundreds of people protested outside the President's residence on Thursday night, demanding his resignation. Protesters chanted "lunatic go home" while police fired tear gas and used water cannons. Two military buses, a police jeep, two patrol motorcycles, and a three-wheeler were set on fire by the demonstrators while hurling bricks at police officers. As per the police, 53 protesters were arrested and two injured.
'This is a major intelligence failure': Health Minister
"We had information of a demonstration, but nothing suggesting that it could turn violent. This is a major intelligence failure," Keheliya Rambukwella, Minister of Health, stated. Another minister referred to Thursday's protesters as terrorists. According to Rajapaksa's office, the protesters wanted to spark an "Arab Spring," a reference to anti-government protests that swept West Asia in 2011 in response to corruption and economic stagnation.
Meanwhile, Lanka IOC, the subsidiary of Indian Oil Corporation in Sri Lanka, has supplied 6,000 MT of fuel to Sri Lanka to ease the power shortages, the Indian Embassy in the country informed. On the other hand, Indian traders on Saturday said they were in the process of sending 40,000 tonnes of rice to the crisis-hit country, according to a report by Reuters.