Pakistan-backed terror hits India, Iran; Sushma Swaraj makes Tehran stopover
Pakistan-backed terror hits India, Iran; Sushma Swaraj makes Tehran stopover
Feb 17, 2019, 02:45 pm
3 min read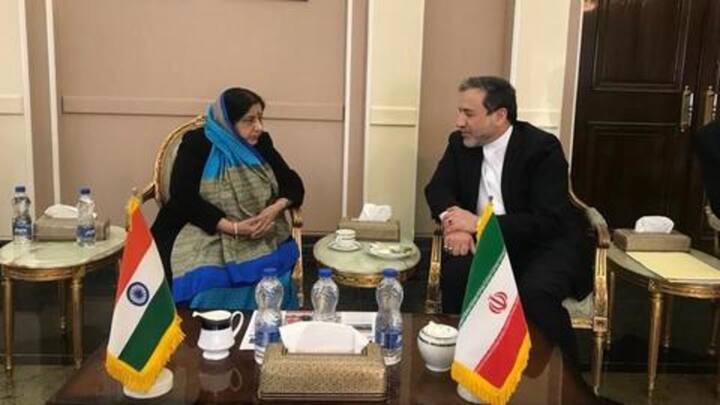 Sending a strong message that Iran and India are united against Pakistan sponsored terror, External Affairs Minister Sushma Swaraj made a stopover in Tehran on Saturday and met Iran's Deputy Foreign Minister Seyed Abbas Aragchchi. Swaraj, who is on a three-nation tour, was bound for Bulgaria when she took a detour and discussed important matters with Aragchchi. Earlier, Iran warned Pakistan of consequences.
Enough is enough, tweets Iran Minister
Iran India suffered from two heinous terrorist attacks in the past few days resulted in big casualties. Today in my meeting with Sushma Swaraj the Indian FM, when she had a stopover in Tehran, we agreed on close cooperation to combat terrorism in the region. Enough is enough! pic.twitter.com/uvwlx45pZ6

— Seyed Abbas Araghchi (@araghchi) February 16, 2019
Understanding what happened in Iran
On Wednesday, a suicide attack on Iran's border killed 27 of the country's elite Revolutionary Guards. Iran claimed the terrorists were supported by Saudi Arabia, UAE, and Pakistan, though all countries denied being involved. On Saturday, tens of thousands in Iran gathered to mourn the loss of the soldiers while shouting 'Revenge, Revenge'. Iran's Shi'ite Muslim authorities claim terrorist outfits are operating from Pakistan.
Pakistan will pay high price, said Iran's army chief
Understanding the palpable anger among countrymen, Revolutionary Guards chief Major General Mohammad Ali Jafari said Pakistan will pay a heavy price for harboring terror outfits. Sunni jihadist outfit Jaish al-Adl claimed responsibility for the attack. "Why do Pakistan's army and security body ... give refuge to these anti-revolutionary groups? Pakistan will no doubt pay a high price," Jafari said.
Jafari asks Rouhani to give them a free hand
"We will avenge the blood of our martyrs from the Saudi and UAE governments and ask the President (Hassan Rouhani) ... to leave our hands free more than ever for reprisal operations," Jafari told the crowd.
After Iran, Pakistan-based outfit attacked India's CRPF
A day after Iran lost its soldiers to a suicide bomb attack, 40 CRPF personnel of India were martyred in Pulwama, Jammu and Kashmir. In a Syria-style attack, a car bomber rammed his explosives-laden vehicle into one of the buses of the convoy triggering an intense blast. Soon after the attack, Jaish-e-Mohammed, which functions from Pakistan, claimed responsibility for the attack.
India warned Pakistan in strong words
The emotions running in India and Iran are the same. Both countries want Pakistan to take action against their homegrown terror. MEA issued a strong-worded statement after Pulwama attack, highlighting Pakistan's failure to do anything against terrorism. It also asked the international community to designate Masood Azhar, JeM's leader, a global terrorist. However, China, Pakistan's all-weather ally, spoiled India's bid.
Pakistan wants 'evidence' to prove its involvement
Giving a standard reply after being cornered from all sides (the US also directed Pakistan to act against terrorism), Pakistan Foreign Minister Shah Mahmood Qureshi said his country was ready to cooperate in the probe. "If India has any evidence, it should share with us. We will investigate with full honesty and see if it was right," Qureshi said on Saturday.