Mission to rescue football-team trapped inside flooded Thai cave underway
Mission to rescue football-team trapped inside flooded Thai cave underway
Written by
Ramya Patelkhana
Jul 08, 2018, 12:58 pm
3 min read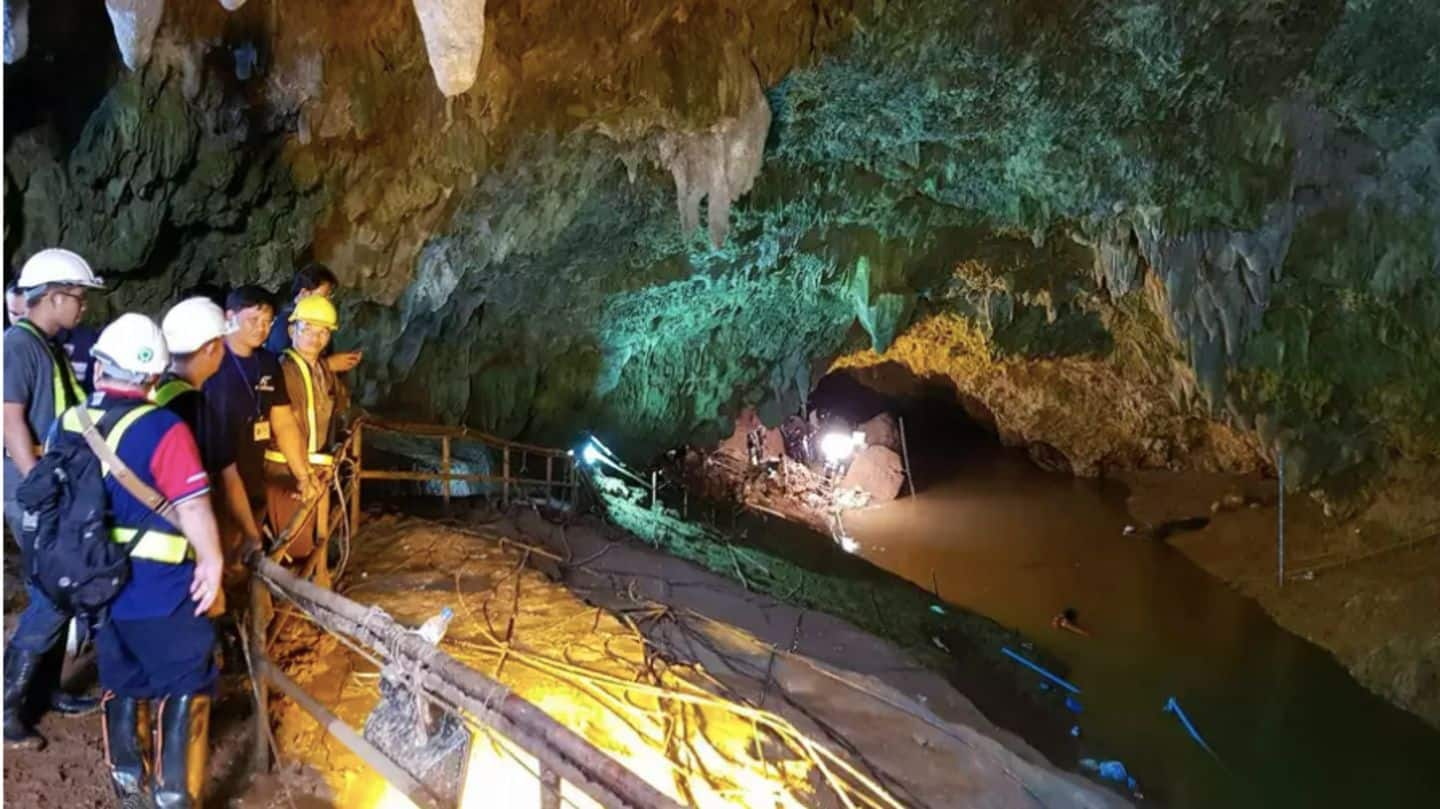 Rescue efforts have begun for 12 boys and their football coach who've been trapped in a cave in northern Thailand for over two weeks, the head of the mission said. The "Wild Boars" team has been confined in a cramped chamber several kilometers inside Tham Luang cave complex since June 23, when they went in after practice and were hemmed in by monsoon floods.
Football team's plight transfixed Thailand and rest of the world
Thai authorities have struggled to devise a plan to extract the boys and their coach through twisting, narrow, and jagged passageways that in some places are completely flooded. The boys, aged from 11 to 16, and their 25-year-old coach were found by British cave diving specialists nine days after they ventured in, disheveled and hungry, on a ledge several kilometers inside the cave.
Today is the D-day, says rescue mission chief
"Today is the D-day. Boys are ready to face any challenges," rescue chief Narongsak Osottanakorn told said as the threat loomed of monsoon rains causing more flooding in the cave and blocking off a rescue bid. Narongsak said the first boy was expected to be brought out of the cave by around 9:00 pm (local time), meaning the trip would take around 11 hours.
Narongsak earlier described the rescue operation as 'Mission Impossible'
Narongsak previously dubbed the rescue effort "Mission Impossible" as some trapped boys couldn't swim and had no scuba experience. Also, the death of a former Thai Navy Seal diver who ran out of oxygen in the cave earlier underscored the danger of the journey. After Saturday night's rainfall and with worse weather forecast later on Sunday, Narongsak said authorities had to act immediately.
Had to act immediately; will lose opportunity otherwise: Narongsak
"There is no other day that we are more ready than today. Otherwise, we will lose the opportunity," Narongsak said. Sustained heavy rains could make the water rise, leaving an area "less than 10 square meters" to the team, he added. Initial euphoria over finding the boys alive turned into deep anxiety as rescuers struggled to find a way to get them out.
Air pipe installed to restore oxygen levels in cave
Rescuers fed a kilometers-long air pipe into the cave to restore oxygen levels; the team was sheltering with medics and expert divers. Over 100 exploratory holes had been bored - some shallow, but the longest 400 meters deep - into the mountainside in an attempt to open a second evacuation route and avoid forcing children into a dangerous dive through submerged tunnels.
Notes written by trapped boys published
On Saturday, Thai Navy SEALS published touching notes scrawled by the trapped footballers to their families, who had been waiting for them agonizingly close by outside the cave entrance. In notes handed to divers, the boys urged their relatives "not to worry".