"Traffic jam" on Mt Everest leads to 2 deaths
"Traffic jam" on Mt Everest leads to 2 deaths
Written by
Siddhant Pandey
May 24, 2019, 03:47 pm
3 min read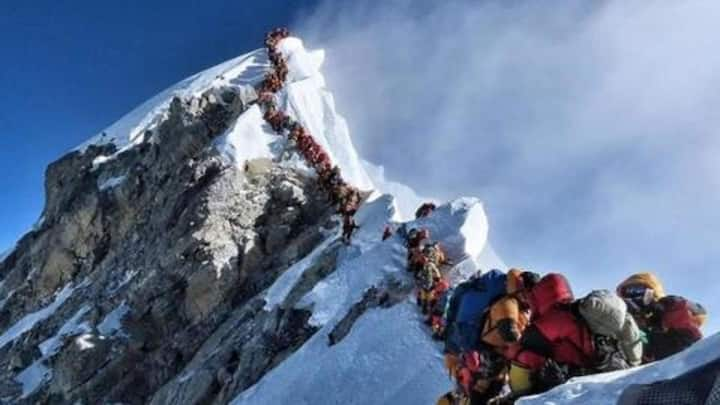 As mountaineers neared the summit of Mount Everest, the world's highest peak, to enjoy a breathtaking view of the entire Himalayan range, they were welcomed by a traffic jam-like situation. On Wednesday, they remained stalled for about three hours as over 200 mountaineers formed a single line along a precarious cliff on Mt Everest. Reportedly, two climbers lost their lives.
Over 200 climbers moved from South Col to summit
"Over 200 climbers including high-altitude climbing guides headed from the South Col to the summit point early this morning after they found a second weather window to attempt to stand atop the roof of the world," Gyanendra Shrestha, the Tourism Ministry's liaison officer at the Everest base camp, told The Himalayan Times. Two climbers have died on Everest, reportedly due to the traffic situation.
Anjali Kulkarni from Mumbai, Donald Cash from US among fatalities
Standing stationary for hours under extreme conditions as those on Everest can be deadly as climbers risk frostbites and oxygen depletion. Mumbai-based climber Anjali Kulkarni (55) died as heavy traffic delayed her descent from the top, expedition organizers reported on Thursday. Separately, a 55-year-old American climber, Donald Lynn Cash, collapsed while taking photos at the summit. Both corpses were brought down by Sherpa guides.
Here's the reason behind the Wednesday rush on Everest
Everest witnessed heavy traffic on Wednesday as many mountaineers reached Camp IV early morning and pushed for the summit, wanting to take advantage of clear weather. Speaking to The New York Times, Pioneer Adventures manager Nivesh Karki said, "It was such a clear day," adding, "Once the weather is bad, no one can summit, so in good weather, everyone will try for the summit."
Nepal government issued record 381 permits to climbers this spring
The Nepal government had also issued a record 381 permits to mountaineers from 44 teams this spring. This year, Nepal opened the climbing route to the 8,848-meter peak on May 14 after a group of eight Sherpas successfully scaled Everest.
Several climbers got frostbites; sustained other injuries
Even under normal circumstances, heavy traffic on the mountain can dial-up the risks for mountaineers. Two other climbers are also believed to have died last week in connection with the growing crowd - one Indian man, who was found dead in his tent, and an Irishman, who went missing after a fall, NYT reported. Several other climbers reportedly returned with frostbites and other injuries.
An Odisha climber also died on Everest this week
In an unrelated incident, a 49-year-old climber from Odisha, Kalpana Das, died above the balcony area on Everest this Thursday. Das had successfully reached the summit, however, she fell ill on her descent and died. Das is the fifth fatality on Everest this climbing season.
In 2018, 563 climbers scaled Everest from Nepal
Many climbers make an attempt to scale Everest in Spring (March-June). In 2018, 563 people reached the Everest summit from Nepal, the country's Tourism Ministry states. This year is expected to be even busier. The increasing climbers also add to Everest's growing trash problem. Since Edmund Hilary and Sherpa Tenzing Norgay first conquered the mountain in 1953, over 4,400 have scaled the peak.