Why do Americans hate this Indian in Trump's administration?
Why do Americans hate this Indian in Trump's administration?
Written by
Ramya Patelkhana
Nov 24, 2017, 12:35 am
3 min read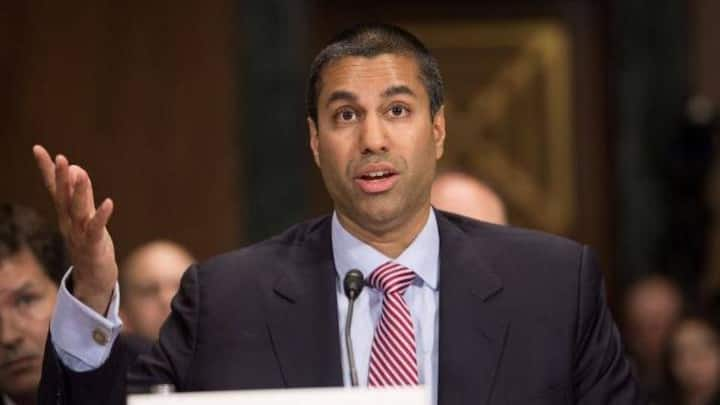 Ajit Pai, President Donald Trump's Indian-origin Chairman of the US Federal Communications Commission (FCC), is at the center of a controversy after proposing an end to net neutrality. FCC plans to pull the plug on net neutrality, which would make accessing Internet difficult and expensive. This follows FCC's other controversial decisions, including canceling "Lifeline" program that provides cellular/broadband services to low-income consumers. Here's more!
What has Ajit Pai done so far?
Since his appointment as FCC's Chairman in Jan'17, Ajit Pai rolled back rules that protected local media competition, ended Lifeline Program, and eliminated competition for incumbent internet providers in the market. His plan to repeal net neutrality -that requires all data be treated equally- would be a significant win for American telcos. The move would, however, force consumers to follow what Internet providers dictate.
What is Pai's take on it?
Trump administration's FCC is pushing the controversial idea of repealing net neutrality ahead of the 2018 midterm elections even as Trump's presidential popularity rating is low. However, Pai feels the plan would allow help smaller companies to invest in Internet infrastructure. He added, "All we are simply doing is putting engineers and entrepreneurs, instead of bureaucrats and lawyers, back in charge of the Internet."
Pai's decision could "negatively" impact American consumers
Pai is already being criticized online and offline by citizens, and the changes he is trying to bring by repealing net neutrality rules could impact people's quality of life, warn consumer advocates. People and companies (including Apple and Samsung) are speaking against FCC's decision to rollback the "subsidized" Lifeline program, due to which millions would lose access to cellular and broadband services.
Comedian John Oliver makes fun of Pai on his show
People in the US reportedly started hating Pai for all his decisions as FCC Chairman. The "anti-Ajit sentiment" gained momentum after late-night comedian John Oliver, who supports net neutrality protest against FCC, criticized Pai in a "Last Week Tonight" episode in May'17. Mocking Pai's habits and everything, Oliver said, "The dangerous thing about Pai is he presents himself as a fun, down-to-earth nerd."
Pai's reign devolved into farce and tragedy: Former FCC Commissioner
Activists are threatening to challenge Pai's decisions on Lifeline and net neutrality in court. Michael Copps, a Former FCC Commissioner, said: "He (Pai) sees himself as a very successful FCC commissioner. We'll have to wait and see if he can survive inspection by the courts."
Ajit Pai was born in New York's Buffalo City in 1973. His parents, from India, are doctors who migrated to the US. He is an alumnus of the University of Harvard and Chicago Law School. Pai, a former attorney at Verizon, was appointed to FCC as a Member in 2012 by President Obama. He was named FCC's Chairman by President Trump in Jan'17.